Reliving 2020!!! Yes, We Have Reasons to Be Thankful.
Bravo, if you've made it this far!
We are grateful to all our clients and employees for sticking with us throughout the 2020 madness. In this blog, we are taking a quick tour on 'Bridge Global 2020' – the major and minor incidents and milestones in the year 2020 that made us humble, thrilled, and proud.
Powered by over 15-years of experience, we could continue to put a smile on the faces of many through our unique custom software solutions and the forbearance to change with times.
Indeed the year wasn't exactly what humanity had expected and hoped for. But it's worthwhile to take stock of good memories because goodness prevails amid chaos. The year 2020 has treated us with some transformative paths, and we're happy to review them as we step into 2021. Here we go…Let's explore Bridge Global 2020.
IT Futsal Challenge 2020
Bridge Global conducted the 4th edition of IT Futsal Challenge on February 14-16 & 21-23, 2020 at the United Sports Center, Kochi. The event witnessed exciting participation of about 150 teams from various IT companies. The six-day sports gala had a vibrant closing ceremony with Bridgys performing an incredible flash mob stealing the show. This was indeed a memorable Bridge Global 2020 feat.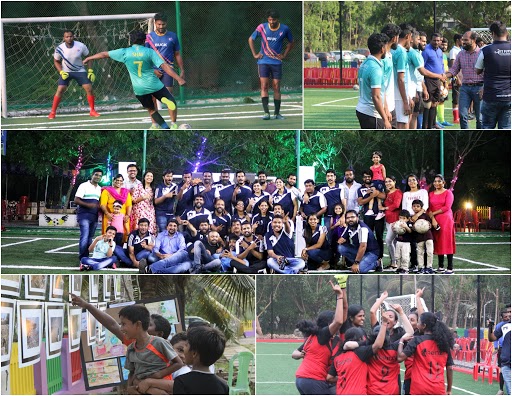 Embraced the 'New Normal' for Our Employees
The COVID-19 pandemic has surely caught us all by surprise. The teeny-weeny virus was strong enough to force us to stay indoors indefinitely. As soon as the pandemic had set in, we allowed all our employees to shift to the work from home mode. They can continue so until it is safe to return to the office in full capacity. We keep our office open (following all safety protocols) for those who wish to work from the office due to the internet or other infrastructural issues.
We have supported our employees with COVID-19 allowance and COVID-insurance packages to keep them financially comfortable, emotionally peaceful, and physically healthy.
Embraced the 'New Normal' for Our Clients
We are committed to delivering digital products on mobile, web & connected platforms to our clients around the globe. Regardless of how complex and unprecedented the situation is, we reaffirmed our commitment to help our clients, partners, and communities to embrace the massive transformation.
We are getting through this with compassion, patience, and partnership. Check out how we are moving forward and making a difference.
Celebrations Went Virtual
Though most of the employees are working from home, we can never ditch our celebrations. None of the festivals went unnoticed or celebration-less. We brought all Bridgys together through virtual festivities. We even celebrated our team as well as individual achievements, project milestones etc. through our virtual weekly meetings.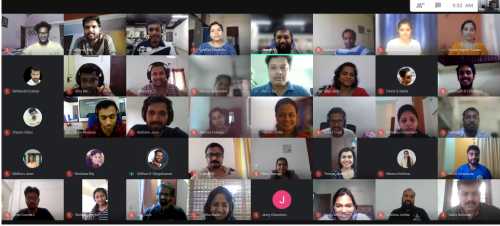 We had a vibrant Onam celebration (Kerala's most important festival) with pomp and splendour. Our sports and arts committee, Sanskriti, glued us all together to the screen through fun games, contests, and entertainment programmes.
Revived the Joy of Receiving a Paper Greeting Card
As major part of the year being in a digital mode, we wanted something to be raw and non-digital. That's why we thought of sending a paper greeting card to all Bridgys for Onam 2020.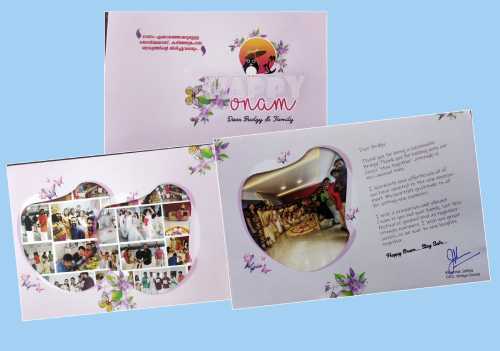 We took this as an opportunity to thank all our employees for sticking with us and making us proud each day with their innovation and dedication. This was a noteworthy Bridge Global 2020 anecdote.
15th Anniversary Year
The year 2020 marked our 15th anniversary. Bridge Global came to business in 2005 with a unique business model of offering highly-customized and agile teams of software professionals to global business. We have now become an established market leader in the software development services landscape.
We have also unveiled a commemorative logo to celebrate the auspiciousness of the anniversary year.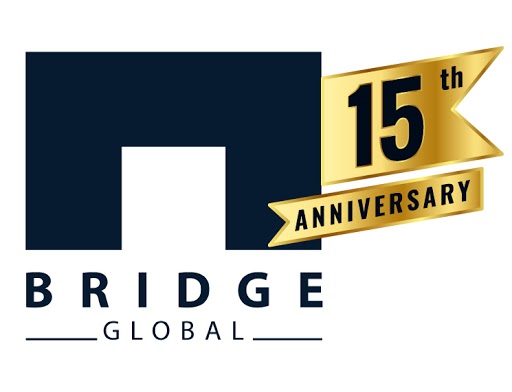 We conducted a virtual Bridge Day celebration to honor our Crystal Anniversary. Our founder Hugo Messer and CEO Krishna Jothis traversed us through the important organizational milestones. There is not doubt that it has been quite a journey to get where we are now.
We also took 2020 as a great occasion to salute and appreciate our long-term employees, whom we call 'Bridge Warriors', with a certificate of honor. It is great to ascertain that without them we could never reach this far.
Our Top 10 Blogs in 2020
Here is a quick peek into the blogs that performed well. This throws light on the most sought after content by our readers in one of the most challenging years that mankind has ever faced. Have a quick tour of the Bridge Global 2020 infotainment by exploring our trending blogs of the year 2020.
Wrapping Up
That pretty sums up our end of year reflection – Bridge Global 2020. Let's always remember that every year has its own share of cheerful and proud moments. Let's embrace new challenges and progress that are in store for us with confidence.