About Bridge
We are a bunch of wonderful IT talents, who work together to consistently deliver top-notch software solutions. We owe our success to our progressive culture that is rooted in self-organization. Our culture is built on transparency, trust and togetherness.
We have been in this amazing journey of empowering global enterprises with smart software solutions for more than 13 years. Hugo Messer - the renowned distributed Agile specialist, author and entrepreneur, founded Bridge Global in 2005.
Over the years, we have emerged as a successful name in the global IT collaboration scenario. Though our roots are in the Netherlands, we have business presence in the Western & Eastern Europe, the Americas, East Asia, India and the Middle East.
Our Teams are Unique! Checkout Why
We are the kind of people who work independently to attain a common objective. In other words, we self-organize around opportunities as and when the needs arise.
We consistently adapt and evolve for the betterment of solutions and achieve our mission without any kind of monitoring from the clients' side. We follow this inspiring approach to accomplish even the internal tasks of the organization.
Our self-organized nature has immensely boosted our Agility. We are a fully agile company with even the non-IT teams (like HR, Operations, Finance and Sales & Marketing) working in the agile model.
We don't limit ourselves as executors of clients' perspectives. Our experts are brimming with innovative and insightful ideas. They come up with improved and creative solutions to improve the existing idea. We help you implement your idea to create meaningful and successful products.
A Quick Look at our USPs
Competent IT talents from around the world
Self-organized and Agile work pattern
High levels of accountability, commitment and collaboration
On-demand and scalable cross-functional teams
Seamless collaboration with no cultural and geographical barriers
Onsite and offshore team visits
Client-friendly processes and contracts
Elite clientele across the globe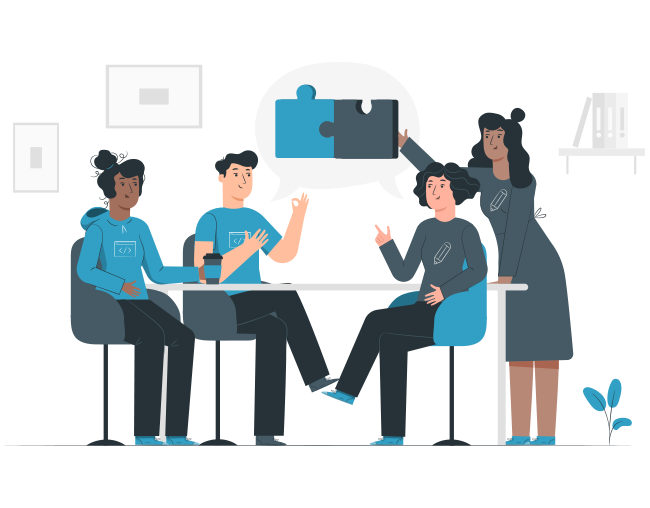 We assure bespoke IT solutions through our distributed teams that function as an extended arm of your in-house team. Hassle-free and high-quality IT partnership is our hallmark.
Core Values
The core values we hold are truly important for us as an organization. It defines how we work with each other; and with our clients. This helps us to continue to be successful. Have a look!
Life at Bridge
The Bridge experience - a vivacious workplace, where projects are handled keenly and employees are offered a friendly work space. With a diverse work culture, we give outmost significance to innovation, leadership, and individual initiatives.
Culture Book
This book is a reflection of how we value our employees in BRIDGE. We follow an open culture where employees feel comfortable sharing their ideas and suggestions. Read their opinions!
Recruitment Kit
We aim at identifying the right candidate for our happy customers. The Recruitment Kit explains the basic employee life cycle at BRIDGE. This would help you understand our candidate selection process.
Partnership and Aliances
Bridge continuously strives to improve its business and services through creating valuable alliances and partnerships.