Corporate Response to COVID-19. Some Inspiring Examples
Most of us must be wondering what is the most impactful corporate response to COVID-19 as we have been in this unprecedented situation for more than six months.
Here's a quick reflection on some significant strategies pertaining to corporate response to COVID-19.
Pandemic disruption has not spared any country. Its effects have been so rampant across lives, livelihoods, societies, and businesses.
A multitude of corporates have tasted the bitterness of instability and loss. As per the prediction by the International Labor Organization (ILO), approximately 25 million job losses may happen at the end of 2020.
But, During this chaos, many corporates have implemented a range of positive COVID-19 response measures.
Here, we're checking this brighter side.
According to Helene Melby Brodersen - Head of PR, Brand & Communication at Eco Online, "The crisis of the pandemic of COVID-19 has changed many rules on health, environmental and safety issues. For companies to be on top of the situation, they need to change their processes to adjust to the new rules."
Many corporates have genuinely expressed their concern for employees as well as the community in appreciable ways. Many have revamped their dependent policies, given allowances and special bonuses, and so on. These smart corporate responses to COVID are indeed a ray of hope.
Authorities and organizations around the globe have started initiatives to build back the world to a better place. The Great Reset initiative by the World Economic Forum is a prime example of this.
All these, along with small yet powerful ways, companies are helping employees in response to COVID by paving the way for an efficient revamp of all facets of our societies and economies. Survival rather than profit-making is the goal of corporates businesses around the globe now.
How do corporates respond to the COVID pandemic?
Backing up the physical and mental well-being of colleagues during a time of deep disruption is a crucial COVID response initiative.
Lets see workforce resilience measures that small and big corporates follow.
Work from Home
Many corporates have adopted new operating models like work from home to enable people to stay protected from the virus. This helps them to earn their livelihood even as they stay at their homes. Working parents find this as a relief, though they have to multitask evermore with unending household chores, children management, etc.
There is no doubt that a sustainable and thriving virtual workforce is the need of the hour.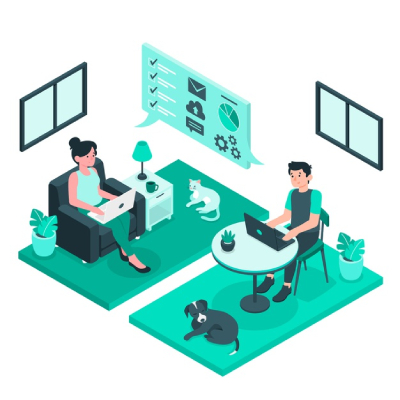 Cheerful social times, virtually
Hosting virtual social time is a lifesaver COVID response measure adopted by many corporates.
This helps their employees to feel relieved from the depressing social isolation. If your organization has a recreation club/ sports and arts committee, they can come forward and plan some joyful togetherness.
Festivals are a great time to spark togetherness be it covid or no-covid.
Assessment of people exposure and risks
The corporate leaders are putting in efforts to understand the effect of covid on their employees and partners.
Many are carrying out comprehensive risk calculations taking into account operational and geographical risks, safety impact, cybersecurity, tax, workforce, and reward impact.
There is a great need to identify the most affected group and offer them made-to-measure support to combat the risks.
Addressing the social stigma associated with the disease is another priority. It is imperative to ensure that the employees are complying with the local restrictions on travel and movements and are restricting from large gatherings. These simple steps are effective examples of corporate response to COVID-19.
Train for online collaboration
Though the employees are well-versed in collaborating online through the latest video conferencing and project management tools, it is imperative to ensure that they are productive remotely.
Corporate companies are giving training to their employees on the right technological tools and their apt usage.
Intensive web-based training sessions are helping people to resolve conflicts regarding their preference over collaboration and communication tools.
Constant communication is the cornerstone to proceed with the operations with efficiency.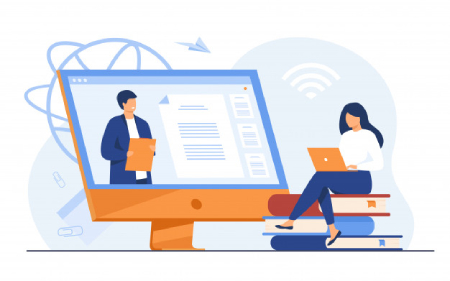 Financial support
Job security or financial security is the most imminent employee concern in this COVID situation. Offering additional financial support to employees is a soothing expression of care as we fight this epidemic. No other corporate response measures to COVID will be valued as high as this.
Taking actions to keep workers employed, paid, and insured is a virtue in this stressful situation.
Amazon.com has announced its plans to spend all of its profit for the second quarter of 2020 on its response to the pandemic.
A part of this will also be spent on higher wages for workers, personal protective equipment, better cleaning practices at facilities, etc.
Companies such as RewardGateway have gone creative by introducing a Work From Home Bundle benefit program.
The bundle includes a chair, desk, laptop stand, and a keyboard and mouse to facilitate efficient work from home.
Providing salary advances, small loans, access to the Employee Assistance Program (EAP), etc. are the popular ways many corporates have resorted to.
Employee Care Cards are another way some companies are helping their employees financially. The card is a stored-value card that enables employees to make payments at most major merchants.
A Quick Glance at Corporate Responses to COVID-19
Besides helping with workforce resilience measures, many tech giants and big corporates are proactively working towards assisting the public response to the pandemic.
Many corporate companies are donating personal protective equipment (PPE) or other critical supplies to their communities as their COVID-19 response measures.
Some are offering free access to their infrastructure, knowledge, logistics, transportation, equipment, and space for the good of the public.
Monetary commitments for healthcare, education, technology, and clinical research.
Corporate Response to COVID: How Bridge Global Sets the Example
Here is a snapshot of how Bridge Global is reinventing through creative covid response measures.
We always believe that doing something beyond our ordinary workflow and what is necessary for survival is a great virtue.
The sudden eruption of the pandemic has taught us to stick together and transform victoriously to prepare for the next normal.
Protecting our people, operations, and values have been the agenda of our corporate response to COVID-19.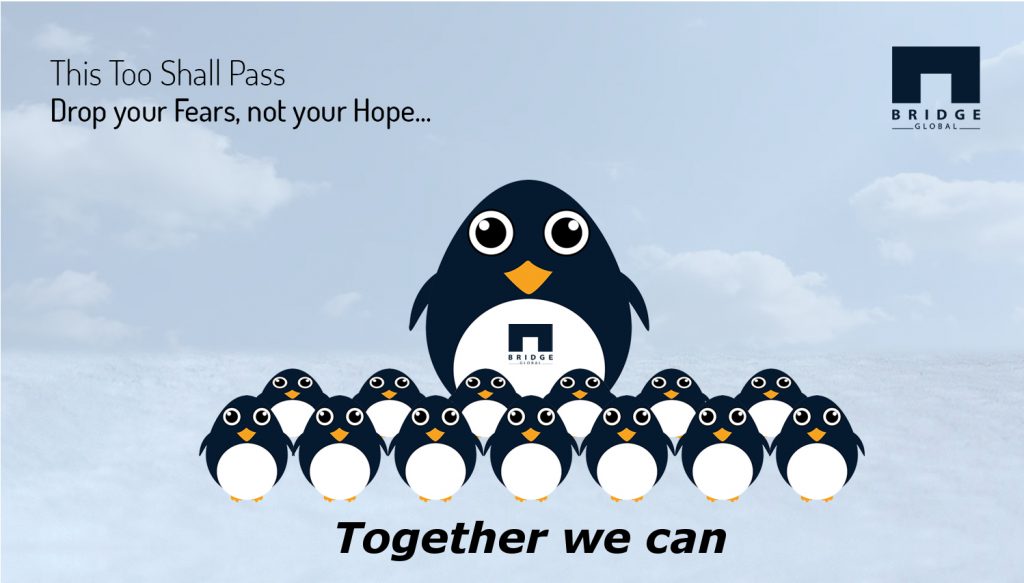 Offered a one-time covid Work From Home Allowance in the month of July. Bridgys were encouraged to buy the necessary equipment (work desk, chair, or any accessories) that support their smooth workflow at home.
Introduced covid Insurance to all employees as a corporate response to COVID initiative. This is indeed a reassuring step as everyone is living in fear of the high-risk virus. There is also an option for group insurance if anyone is interested in adding their family members. This is besides our regular employee health insurance that is a part of your compensation package.
At the onset of the pandemic itself, we had assured our existing and prospective clients that we were ready to solve their technology challenges without charging any margin. We have shifted our gears to a not-for-profit business model. Our leadership is putting great efforts to transform the challenges into progressive changes. This is a great corporate response to covid, unlike many other organizations.
We have offered free resources to one of our clients, who was experiencing a pandemic-induced business collapse. We continue to offer this till they bounce back and become stable. This has boosted their trust in us and our relationship has grown farther up.
We offered our clients the freedom to move from one engagement model to another. A few of our clients have moved from the dedicated team pattern to a model where the payment will be made only for the time and effort spent on development. This has proven to be a great help to these clients as they've been experiencing survival issues caused by customer backpedaling.
We are becoming true to our core existence as a Distributed Agile Team thanks to the new disruption. As we are becoming more relaxed about the physical presence of employees in the office building, we are able to think beyond borders when it comes to hiring new resources. Now we have a truly distributed team of software developers who are sitting in diverse geographical regions serving clients with a focused vision.
CARE, the CSR team at Bridge Global, is staying true to its values even during this crisis. We are able to extend financial support to the needed families and individuals uninterruptedly. This is counted as a unique corporate response to COVID.
Lots of fun-filled activities used to invigorate our lives when we were coming to our office. But, we've never said goodbye to them just because we are working from home. Our sports and arts committee, Sanskriti, is at the forefront of arranging virtual get-togethers, online contests, and other entertaining stuff. We had a pulsating online Onam celebration and Onam contest as well.
On a Final Note
It is reassuring to see that the corporate response to COVID is encircled with creativity and compassion. Lending empathetic support to the employees is the need of the hour.
Let's sum it all up with Charles Darwin's famous words. "It is not the strongest of the species that survive, nor the most intelligent, but the one most responsive to change."
Stay home, stay safe. We will be the ultimate winners.