Ezy
EZY is a technology provider specializing in airline IT & web solutions. With more than 20 years in the travel trade, EZY has acquired extensive experience with the online travel business. Ezy's solutions are developed and evaluated in cooperation with airlines, travel agencies, tour operators, and cruise lines among others.
Requirement Outline
EZY wanted the help of Bridge in developing an enterprise mobile platform for its customers from the Airline sector. The platform was to be integrated with the Radixx Air PSS (Radixx Air Passenger Services System), which needed skilled and capable developers.
We Step In With the Right Solution
Bridge worked with developers at EZY to develop innovation solutions for them and their clients. Our agile self-organized team of able developers worked with the developers at EZY to create booking engines for many airline companies.
View More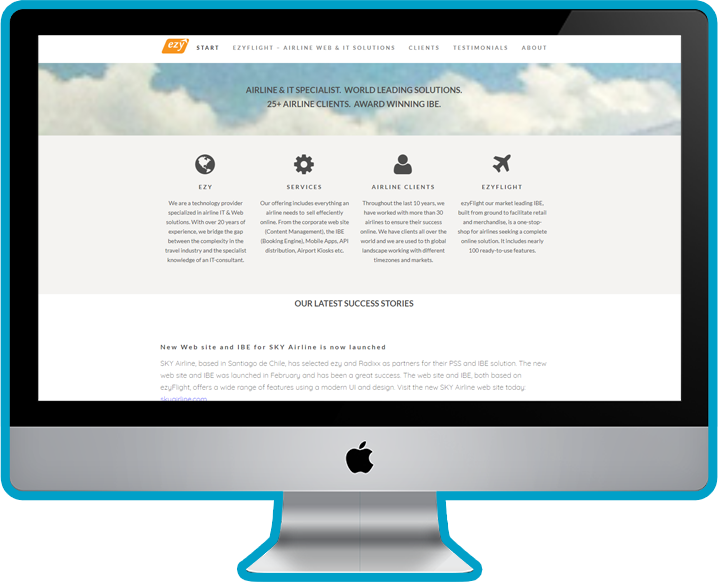 Our Approach
This was a shrink-wrapped product, which contains web, iOS, android, BB-10 applications with MEAP, MAM, MDM support.
The framework was developed by Bridge Global along with 50+ developers from 3 locations.

We have deployed almost 15 iOS, android and 2 BB -10 apps to the development environment
The framework contained booking engine, Package Manager, check-in, payment gateway integration, promotion support, Passbook integration, Credit Card scanning module, User account sections, Schedule Management, Analytics etc.
The technologies we used:
Objective-c, Java, C, C++, Web API, C#.net, HTML 5, Photoshop, REST, SOAP
The Outcome
Bridge has successfully worked with developers at EZY and come up with innovative solutions for them and their clients. Right now, this application framework is used by 15+ airline customers worldwide which include Go Air, Viva Aerobus, Viva Colombia, BMI Regional, Air Iceland (Flugfelag Islands), South African Airline, WOW Air, TUI Fly, Punto Azul, etc.
Bridge has also worked on these websites for EZY's clients:
View Less