Zmarta
Zmarta Group is a leading Nordic financial technology company headquartered in Sweden. They offer a broad range of consumer financial services to consumers.
Requirement Outline
Zmarta was looking for expert help to gain better control over their internal processes. They were looking to increase the quality of documentation in their internal systems.
With the Swedish government's finance Inspection rules getting more stringent, Zmarta needed to ensure superior quality and better control of their internal processes. Another challenge was that they weren't able to scale their business as quickly as their stakeholders wanted. Finding the right developers to meet the demand for knowledge and skills required to achieve all of this was a feat indeed.
View More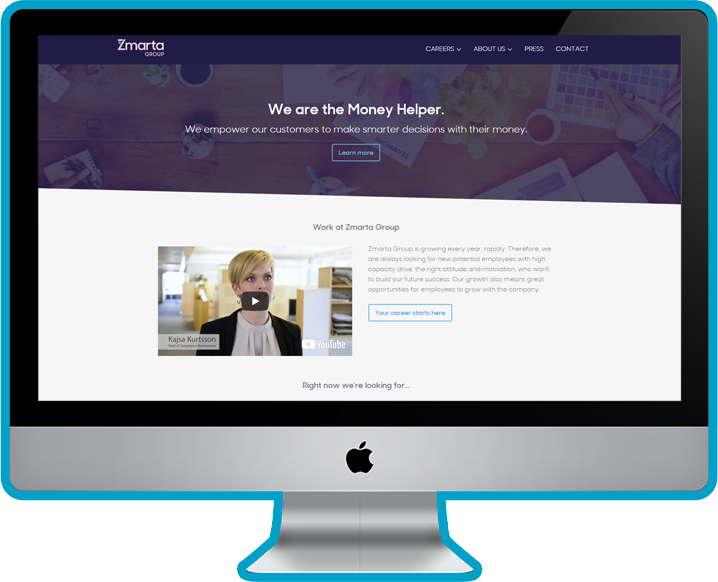 Our Approach and Solutions
Started off with a thorough analysis of Zmarta's requirements
Provided them with a Managed QA Service that perfectly fits their needs
Implemented automated and manual testing for the whole QA process
The client commissioned a dedicated QA team and Development team with Bridge
Our team handled three major projects of Zmarta: loan sites, insurance sites, and bank integration.
We helped them integrate the most important banks in Sweden, Norway, and Finland.

The system helps customers to access loan services of more than 20 banks in a single credit check.
We also take care of Zmarta Classic, their admin portal that manages their telecallers and business developers.
Developed the Corporate Web Portal for Zmarta Group in WordPress.
We followed the same methodologies, standards, and frameworks as our colleagues in Sweden, making the collaboration glitch-free.
Technologies Used
Laravel, MySQL, Angular Js, Vue.js, PHP, jQuery, Javascript, HTML, AWS
The Outcome
Our dedicated team has enabled Zmarta to scale their business and expand into new markets in Europe and enter new service areas. We have helped Zmarta to have superior quality in its internal systems. The collaboration between Bridge Global and Zmarta has been a highly successful and long-running one.
View Less