What is the role of empathy in an offshoring context?Wat voor rol speelt empathie in een offshoring context?Vad spelar empati för roll i ett offshoringsammanhang?Was ist die Rolle von Empathie in einem Offshoring-Kontext?
Last week, I gave a presentation at the Technical University in Delft and one of my topics was 'empathy'. I always get some questioning faces when I present a slide with a definition of empathy on it. Normally, technologists get taught about rationality and data, not about people and emphatic relationships.
The definition of empathy that I used: Identification with and understanding of another's situation, feelings, and motives.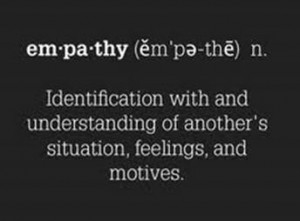 In my vision, empathy can help offshoring cooperations on several levels. The first level is in bridging the cultural differences, the second level is on the work itself (people, company and project).
First level: Empathy for bridging cultural differences
   * By empathizing, we can accept the differences. I believe the starting point to cooperate across cultures is that people acknowledge that the differences are there. People should not try to force their own value systems upon the people from the other culture. But they should try to understand what values the other people have and why and how they behave differently.
* From there we can organize around the differences: collaboration. Once we acknowledge that the differences ARE, we can find ways to manage around the differences. If for example, we acknowledge that in India, people say 'no' in a different way.Watch this video! We can use a different type of questioning to find out if they agree or not. Or we could spend some months in India to find out how this Indian yes-no works.
* If we do not accept the differences, cooperating can lead to frustration. I have seen in many cases that if a person holds on to his own world view and his own values, it can lead to frustration because one gets frustrated that the other person doesn't share his views. And this frustration can also lead to project failure.
Second level: Empathy in the works or projects
In the work itself, it helps to stimulate empathizing:
* Among team members: invest in trips. It helps if the onshore and nearshore team members meet eachother (regularly). People bond when they drink a beer or eat a chapatti together. This bonding promotes understanding and helps the team to produce better results.
* With the company culture: mission, vision, values. The offshore team doesn't drink coffee with you in the morning; they don't speak to the CEO who expresses his vision day in and day out. In the ideal case, the offshore people consider themselves colleagues and an essential part of the company. In order to realize this, they need to identify with the value system, the reason the company exists and the direction it is heading.
* With the products: Who uses them? Why? How do we earn money? Often, the onshore team has a deep knowledge about a software product. They have built it, they discuss it every day and the product is 'alove' they also live in the country where the product is used by people. For the offshore or nearshore team this is different. Transfer of domain and product knowledge is important, especially in the beginning stages. People offshore need to identify, empathize with the products and get a deep understanding.
Related articles
Indians can't say no, fact or fiction?
How software developers can overcome Cross-Cultural Communication mistakes in IT offshoring?
What tools do you use for managing global teams?
–This article is publishing under the series "Bridge the communication gap of virtual teams" by Bridge Global IT Staffing. Stay tuned for more article from this series…