What Is Cyber Security?
Cyber security is the technique of safeguarding your digital assets such as systems, networks, and programs against digital attacks.
Cybersecurity defines that these attacks - called 'cyber attacks' - are often intended to gain access to, change, or delete sensitive information; extort money from users, or disrupt routine corporate activities.
Implementing effective cyber security safeguards is more difficult nowadays since there are more technologies which means that attackers are becoming more creative. So, the cruciality of implementing a robust cyber security plan to provide a good security posture is more of a challenge.
But still, advanced cyber security technologies are being developed with the help of software development experts to prevent attackers or hackers. Accessing, altering, deleting, destroying, or extorting an organization's or user's systems and sensitive data is in every way collateral damage.
This is why cyber security is useful in preventing cyber attacks and other unfavorable scenarios aimed at disabling or disrupting the operation of a system or device.
So, let's get deeper into 'what is cyber security' so that you're well aware of what you need to get to speed.
What Is the Significance of Cyber Security?
1. Cyber security breaches are becoming more expensive
GDPR (General Data Protection Regulation) and DPA (Data Protection Act) protection act can result in hefty fines for organizations that experience cybersecurity defined breaches. Non-monetary expenses, such as reputational harm, must also be addressed.
2. The sophistication of cyber threats is advancing further
Modern-day cyber-attacks are becoming increasingly sophisticated with attackers employing a wide range of strategies. Social engineering, malware, and ransomware are examples of such modern cyber-threats.
3. Cyber security is a serious problem that must be addressed at the board level
Oversight of cyber security risks is becoming more difficult as a result of new laws and reporting standards. Management must assure the board that its cyber risk policies will lower the risk of attacks while also limiting financial and operational consequences.
4. Cybercrime is an Illegal, multibillion-dollar business
Cybercrimes cost global economic losses that are more than trillions each year. Cyber security attackers can be motivated by several factors that might be political, ethical, or even societal.
The Most Common Forms of Cyber Security Threats
Despite the efforts of cyber security experts to plug security breaches, attackers are always seeking new ways to avoid detection by IT, dodge protection measures, and exploit developing vulnerabilities.
The most recent cybersecurity defined risks are reinventing "well-known" vulnerabilities by using work-from-home setups, remote access technologies, and new cloud services.
Among the new risks are: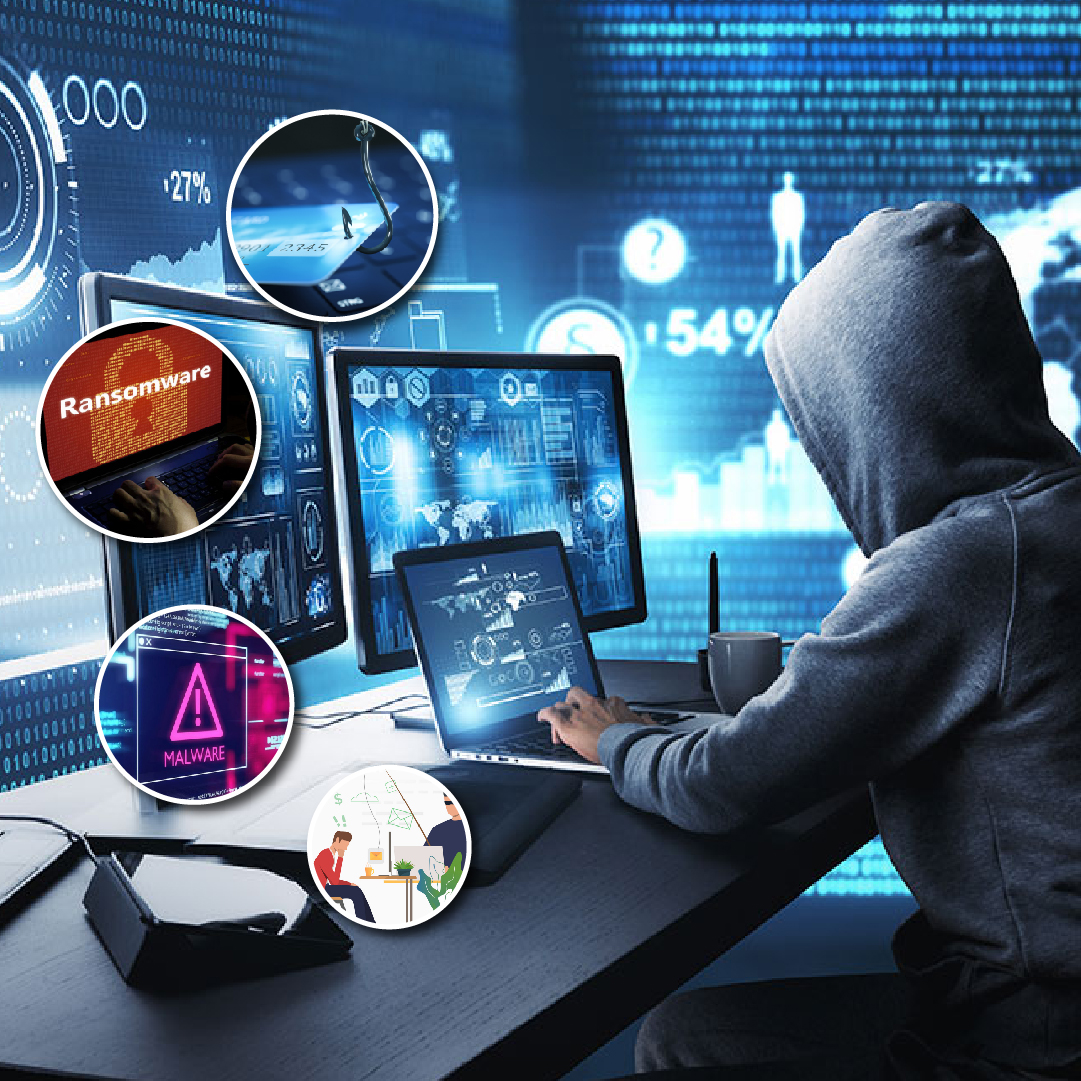 1. Phishing - It is the practice of sending false emails that appear to be from legitimate sources. The goal is to steal sensitive information such as credit card numbers and login details. It is the most prevalent form of cyber security attack. You can protect yourself by making yourself aware of the same or using a technological solution that filters out dangerous emails.
2. Ransomware - The term "ransomware" refers to a type of harmful software with the purpose to extort money from users. This cyber security attack prevents access to data or the computer system until a ransom is paid. Even if the ransom is paid, it does not ensure file retrieval or that your system will be restored.
3. Malware - This is a form of software that is meant to gain unauthorized access to a computer or to cause harm to it. This cyber security threat is mainly delivered through emails or as an authentic download.
4. Social Engineering - Adversaries employ this type of attack to deceive you into disclosing sensitive information. They might demand money or obtain access to your private information. This cyber security threat can be used in conjunction with any of the dangers outlined above to increase your likelihood of clicking on links, downloading malware, or trusting a malicious source.
Cyber Security Advice: How to Defend Yourself from Cyber Attacks?
Organizations and people must protect themselves against cyber threats. But how can they do it? Here are some of the top cyber security practices.
Updating your software and the operating system ensures that you have access to the most recent security updates
Using anti-virus software will help detect and eliminate threats. Also, keep the anti-virus software up to date to provide the greatest degree of cyber security.
Using strong passwords that are combinations of letters, characters, numbers, and different cases (upper or lower) will make them difficult to guess.
Email attachments from unknown senders should not be opened since they may contain a virus, compromising your cyber security.
Clicking on links in emails from unknown senders or unfamiliar websites is also not recommended as malware is commonly distributed in this manner.
In public spaces, avoid utilizing unsecured WiFi networks. These unsecured networks will expose you to various cyber security attacks.
Read More: Secure Your Website Using SSL Certificates
What Is Cyber Security: The Wrap
Cybersecurity defined for everyone's digital assets improves their chances of cyber defense strategies, especially in the modern age. A cyber security attack would otherwise result in everything from identity theft to extortion attempts to the loss of sensitive data. So it is always best to secure your assets by relying on key cyber security infrastructure to maintain continuity of critical operations.
We suggest you hire developers who have tremendous experience in building cyber security compliance software for many enterprises and companies across the globe.