What are the Americans doing that we Europeans are not doing?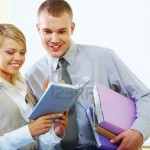 I frequently speak to people in India that run BPO or software firms and I am always astonished by the numbers. People tell me that they started their software company 5 years back and employ 2000 people today. In Management Team, a famous Dutch magazine, I just read an article about Intelenet. This Business Process Outsourcing (BPO) company, started 10 years back with 40 employees and today has 42,000 employees. The biggest part of the work that is moved to India comes from the US. So they are doing something different from us.
The Indian companies can grow with such speed, because the people are available. Infosys has started 25 years back with 10 people and employs over 100.000 people today. Such stories wouldn't be possible in Europe. But the work also needs to come in. Apparently, the US outsources much more than we Europeans. In the Netherlands, if we talk about a big software firm, we are talking about 100 people. In the outsourcing industry, a big firm in Eastern Europe doesn't employ much more than 1000 people. So what are the Americans doing different?
One obvious reason has to do with language. They can employ people in India to do a vast amount of work as they speak the same language.
It may also have to do with the opportunist mindset of Americans? When they see a business opportunity, they take it. Are we Europeans too conservative?
Does it have to do with money? I think that the salaries in Western Europe are at the same level or higher than in the US, so I can hardly imagine that there isn't enough incentive for us.
Availability of people? In the US, unemployment rates are towards 10%, while in many Northern European countries, they are around 5%.

Dear readers, it would be interesting to learn some perspectives of Americans and Europeans. What do you believe are the differences in our actions?