What can and cannot be done remotely?Wat kan er wel en niet op afstand gedaan worden?Vad kan och vad kan inte göras på distans?Was kann und was kann nicht in der Ferne ausgeführt werden?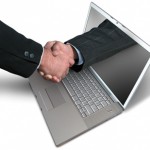 In the Netherlands, home-working has been growing rapidly in the past years. Existing companies are stimulating people to work (partly) from home, creating flexible desks in their offices. Many people become freelancers and work where and when they want. And more work is moved offshore or nearshore.
This trend is likely to continue and might even accelerate. The two main developments that will accelerate the speed:
1. People gain experience in how to manage people remotely (be it in their own country or somewhere else on the globe). Working together remotely requires different behavior, mainly because you don't see each other face to face all the time. I have seen this development in our own company, where in the beginning we had our team in the Netherlands in one office and suppliers offshore/nearshore. Right now, we have 7 sales people working from 5 different countries as one team. And on top of the suppliers, we have 3 development offices in 3 countries. This requires a very specific behavior of people.
2. Technological advancements. 6 years back there were almost no online project management tools. Today, there is abundant choice, both open source and paid. 6 years back, version control had just started. Today, we have github, which replaced svn, which replaced other systems that existed earlier. Version control gets integrated with project management tools so code is linked to specific tasks or functionalities. People invent new tools every day to facilitate remote working. Without the internet it was hardly possible to work remotely. Without skype, communication was very expensive. In 10 years we will have tools that will make us feel as if we are sitting next to eachother at the same desk (a solution already exists for this).
The question I raised in the title is what work could be done remotely. What is the limit to the type of work that can be done by someone sitting on the other side of the planet? I believe that anything that can be done using a computer and a wire, can be eligible for remote work.
In the world is flat, Thomas Friedman describes some cases that seem futuristic, but might become reality on a big scale. There are fast food restaurants in the US that have a drive-in where you ring the bell, the order is taken by someone in India, entered into a system and within minutes, your order is made ready by the local US person and you take it with you. I also spoke to someone at Deloitte who told me that they are flying in many consultants from India to their customers in the US and Europe. And the research and reports that they make are also created in India on a large scale. And that's just the beginning he told me.
In our company, we also try to do as much of the work from our Indian office. Our bookkeeping, financial reporting, lead creation, social media marketing is all done from India. I write a blog article and Sini in India coordinates the translation, then posts the article, uses the content in our newsletter and spreads it in social media. Babitha creates our invoices with Twinfield, an online system (which didn't exist few years back!), sends them to our clients and administers all reminders and payments. The only thing that we do locally is sales and personal support for our customers.
Bridgys from 6 nationalities are connected with a clear communication process…. 
Dear Reader,What do you think? What is the limit?