How do we solve communication problems in (offshore) outsourcing?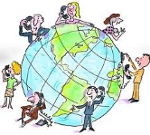 One of the most frequently cited causes of problems  in (offshore) outsourcing is 'communication problems'. When I hear people mention this, I always wonder what they mean by 'communication'.  Because the term itself is very broad and vague, I believe it can not lead us to the solution. More specific causes would be 'it was very hard for us to handle the extra documentation needed to transfer project requirements' or 'because we are not in the same room, we miss the frequent interactions which we normally have with colleagues'. If we look at such specific causes of problems, we get threads that lead to a clear vision of what to improve.
What can we do to improve communication?
I believe the starting point is not communication itself, but process. Of course it will help if we give the team members training in communication and if we teach them how the cultural differences influence communication. But the key to success lies in a clear process.
Three very practical process ingredients that accelerate performance in (offshore) outsourcing:
1. A tightly scheduled rythm of daily and weekly meetings.
This is by far the strongest tool available to the outsourcing world. In the Agile software methodology, daily standups are by default organized. But not all outsourcing is software development and not all software firms use Agile. By letting all the team members meet every day for 15 minutes and every week for about an hour, something happens. Communication problems seem to solve itself, because people have a daily chance to mention them and to align behavior. Teams start finding their own solutions, without management having to spend days on training and problem solving sessions. Issues that got people stuck in their work, get solved right away without waisting time.
The times, the people attending and the agenda should be nailed down in a clear process description. If the process is followed in a structured way and the meetings become a routine, you have laid the most stable foundation under the outsourcing engagement to streamline communication. But there is more.
2. A solid online project management tool
Especially in an international outsourcing setting, an online project management tool is essential. In the case of software development, this tool should have distinct sections for reporting bugs, tasks and questions. Again, building a routine around this tool is crucial. This starts with writing clear guidelines on how to use the online system (if 3 people use the same system, but in a different way, that's where the communication problems will start!). Management should check whether people use the system in the planned manner. And the golden rule should be: ALL communication happens in the online tool. Management should outlaw emails and should ask everybody to upload a summary of any (skype) call or instant messenger chat to the online system.
3. A set of clear guidelines on how to develop requirements
This might be the biggest hurdle in software projects: writing clear requirement documents. Teams spend hours writing documentation only to find out that the external team has 5 pages of questions the next day. The problem is that frequently, there is no standard for developing specifications. If there is one format, both the authors and the readers will understand requirements better. Above that, a set of guidelines gives a learning framework: whenever a misunderstanding appears, it can be added to the guidelines as an improvement.
Another simple but often overlooked instrument is organizing a one hour phone call at the kick off of a project in which the teams can discuss the requirements. Frequently, everything is written on paper and people try to understand eachother by writing/reading, whereas in spoken word, unclarities get cleared much faster and more effective.