Does offshoring lead to a loss of knowledge?Leidt offshoring tot een verlies van kennis? Leder offshoring till förlorad kunskap?Führt Offshoring zu einem Verlust von Wissen?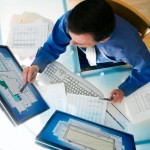 Volkskrant, a popular newspaper in the Netherlands, published an article with the title 'knowledge economy under pressure because of shortage of IT people'. In the Netherlands (and the rest of Europe), there are big shortages of skilled IT people. ICT office predicts that in 2015, the Netherlands will lack 8.600 people in IT, which will double in the years after. 70% of all innovations are related to IT, so the lack of people has a big impact on the economy.
The author writes 'specifically, there is a shortage of dual thinkers: people that have knowledge of technology and business processes and can make a relation between the two. They need communicative abilities, to work in teams and be able to translate the needs of the company in their requirements. Companies prefer having the dual thinkers in house because of the complexity of the business processes. Hence, outsourcing this function to low-wage countries is usually not an option.'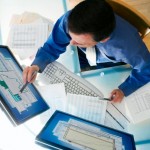 De Volkskrant publiceerde onlangs een artikel met de titel: 'kenniseconomie onder druk door tekort aan IT mensen'. In Nederland (en de rest van Europa) zijn erg grote tekorten aan ervaren IT mensen. ICT office voorspelt dat er in 2015 een tekort van 8.600 mensen zal zijn, dat in de daaropvolgende jaren zal verdubbelen. 70% van alle innovatie heeft te maken met IT, dus het tekort heeft grote gevolgen voor de economie.
De auteur schrijft 'Er is vooral een gebrek aan dual thinkers: mensen die verstand hebben van techniek én van bedrijfsprocessen en daartussen een relatie kunnen leggen. Ze moeten communicatieve vaardigheden hebben, in teams kunnen samenwerken en de behoeften van het bedrijf kunnen vertalen in wensen en eisen aan de ict. Bedrijven hebben dual thinkers het liefst in eigen huis vanwege de complexiteit van bedrijfsprocessen. Uitbesteden van deze functie aan lagelonen landen is daarom meestal geen optie.'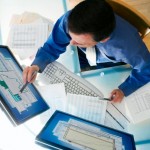 Volkskrant, en populär tidning i Nederländerna, publicerade en artikel med titeln "kunskapsekonomin under påfrestning på grund av bristen på IT-människor". I Nederländerna (och resten av Europa), finns det stora brister på kvalificerat IT-folk. IKT kontoret förutspår att år 2015, kommer Nederländerna att sakna 8,600 personer i IT, vilket kommer att fördubblas under åren efter. 70% av alla innovationer är relaterade till IT, så avsaknaden av arbetskraften har en stor inverkan på ekonomin.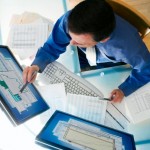 Volkskrant, eine bekannte Zeitung in den Niederlanden, veröffentlichte einen Artikel mit dem Titel "Know-How Wirtschaft unter Druck, aufgrund des Mangels an IT Leuten". In den Niederlanden (und im restlichen Europa) gibt es einen großen Mangel an fähigen IT Personal. ICT office sagt voraus, dass den Niederlanden im Jahre 2015 8.600 Leute im IT Bereich fehlen werden, eine Zahl, die sich in den Jahren danach verdoppeln wird. 70% aller Innovationen stehen in Verbindung mit der IT Branche, daher hat der Mangel an Arbeitskräften einen großen Einfluss auf die Wirtschaft.
I read this logical conclusion frequently in other articles and discussions and I believe that the offshoring industry has created a 'wrong image'. Maybe the term 'outsourcing' in itself has been chosen wrongly. The basic premise is that when you 'outsource' certain functions to another country, you lose the knowledge. But is that always true? The alternative is doing it 'in house' with employees. But what happens when the employee leaves the company? Yes, the knowledge leaves too (unless you have processes and systems that somehow capture the knowledge).
In an outsourcing situation, you will indeed loose the knowledge if you use the traditional model in which you subcontract a complete project or business process to another company. By doing so, you can manage on SLA's and company-output and you have no control over the employees the supplier hires or fires. When their employees walk away or are moved to another customer, all the knowledge is gone and you may even risk losing the knowledge to your competitor.
That's the traditional model. But there are alternatives: offshore staffing or setting up your own company offshore. In both cases, you have complete control over hiring, salary payments and day to day management of the people that work for you offshore. If you set up your own office, you will have to organize everything. If you use offshore staffing services, the vendor has the offshore office, pays local taxes, has a recruitment process and manages all the aspects offshore that you probably don't want to spend time on. The vendor hires the right person for the right position as you require it. You can create your own function profile, do your own interviews and select the best talented person. And you manage the people on a daily basis, transfer the knowledge as it suits you best among your employees in house or offshore. There is hardly any difference with having your local employees in the loosing of knowledge if you work this way.
The offshore people can be trained on the company's business processes and be as good 'dual thinkers' as any onshore person could be. The offshore team can be 'ingrained' with the company's values, can travel to the office, meet in person, become part of the company's team. If this is done well, there will be no loss of knowledge and the Dutch economy would have a bright future, having access to sufficient talent to fuel its growth and to excel in innovation.