How can offshoring impact poverty?Hoe kan offshoring impact hebben op armoede?Hur kan offshoring påverka fattigdom? Wie kann Offshoring Armut verringern?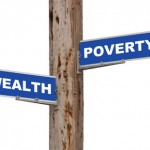 Last week I came accross a book called 'creative capitalism', which is based on a speech delivered by Bill Gates in Davos a few years ago. Bill Gates advocates an alternative form of capitalism in which companies do 'good' and at the same time make a profit. The speech can be found here in text and here is a 5 minute interview with Bill Gates where he explains the system. The central reasoning is that capitalism as we know it today has one flaw: it stimulates people to create products and services for the rich people, but fails to create an incentive to serve the (extremely) poor.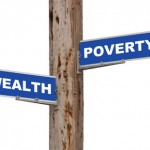 Vorige week kwam ik een boek tegen dat 'creative capitalism' heet, het is gebaseerd op een speech die Bill Gates gaf in Davos een paar jaar geleden. Bill Gates stelt een nieuwe vorm van kapitalisme voor waardoor bedrijven 'goed doen' en tegelijk winst maken. De tekst van de speech kan hiergevonden worden en hier is een interview van 5 minuten met Bill Gates waarin hij het systeem uitlegt. Het centrale idee is dat kapitalisme zoals we dat vandaag de dag kennen één grote fout heeft: het stimuleert mensen om producten en diensten te leveren voor rijken, maar zorgt niet voor een drijfveer om de (extreem) armen van producten en diensten te voorzien.
De armen hebben de meeste 'behoefte' maar het kapitalisme zorgt voor de rijken die veel 'wensen' hebben en zorgt dus niet voor de 'behoeftes'. De drijfveer voor bedrijven bij het produceren van goederen en diensten is winst. In markten waar er geen winst gemaakt kan worden stelt creatief kapitalisme een alternatieve drijfveer voor in de vorm van 'erkenning'. Omdat organisaties erkenning krijgen trekken ze betere mensen en meer klanten aan. In markten waar wel winst gemaakt kan worden is erkenning een extra drijfveer/beloning.
Bij creatief kapitalisme gebruiken bedrijven hun 'hersenen' om projecten te starten die de armen steunen. Bill Gates vroeg mensen een project te starten in plaats van hun checkboek te pakken en gewoon geld te doneren. Ik zie veel tegenargumenten online en in het boek maar ik vind het positief dat Bill Gates probeert ogen te openen voor 's werelds problemen. Ik denk dat zolang bedrijven niet publiekelijk verhandeld worden en ze 'sociaal geëngageerde' aandeelhouders hebben, ze op korte termijn actie kunnen ondernemen. Die actie zal veel impact hebben op het uitroeien van armoede.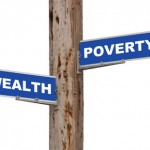 Förra veckan kom jag över en bok som heter "kreativ kapitalism", som bygger på ett tal av Bill Gates i "Davos" för några år sedan. Bill Gates förespråkar en alternativ form av kapitalism där företag gör "bra" och samtidigt gör en vinst. Talet finns här i text och här är en 5 minuters intervju med Bill Gates där han förklarar systemet. Det centrala resonemanget är att kapitalismen som vi känner den idag har en brist: det stimulerar människor att skapa produkter och tjänster för rika människor, men misslyckas med att skapa ett incitament att tjäna (extremt) fattiga.
De fattiga är de människor med de mest "behov", men kapitalismen tjänar de rika människorna som har mycket "vill ha" men tjänar inte "behov". De incitament för företagen att producera varor och tjänster är vinst. På marknader där vinster inte kan göras, föreslår kreativ kapitalism ett alternativt incitament i form av "erkännande". Eftersom organisationer kan få erkännande, kan de locka bättre människor och fler kunder. På marknader där vinster kan göras, är erkännandet ett extra incitament/belöning.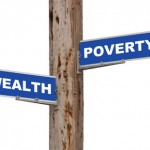 Letzte Woche bin ich auf ein Buch mit dem Titel "kreativer Kapitalismus" gestoßen, welches auf einer Rede von Bill Gates, die er vor einigen Jahren gehalten hat, basiert. Bill Gates befürwortet eine alternative Form des Kapitalismus, in welcher Firmen "Gutes" tun können und gleichzeitig Profit machen können. Die Rede kann in schriftlicher Form hier abgerufen werden und hier kann ein fünfminütiges Interview mit Bill Gates abgerufen werden, in dem er das System erläutert. Die zentrale Schlussfolgerung ist, dass der Kapitalismus, wie wir ihn heute kennen, eine Schwäche hat: es regt Menschen dazu an Produkte und Dienstleistungen für reiche Leute zu entwickeln, aber versagt darin einen Anreiz zu geben, den (extrem) armen Menschen zu dienen.
Die Armen sind die Leute mit dem größten "Bedürfnis", aber der Kapitalismus dient den reichen Leuten, die viele "Begehren" haben und befriedigt nicht die "Bedürfnisse". Der Anreiz für Firmen Güter und Dienstleistungen herzustellen ist der Profit. Auf Märkten, wo kein Profit erzielt werden kann, schlägt der kreative Kapitalismus eine alternativen Anreiz in Form von "Anerkennung" vor. Wenn Organisationen Anerkennung bekommen, können sie besser Leute und Kunden anwerben. Auf Märkten auf denen Profit erzielt werden kann, ist diese Anerkennung ein zusätzlicher Anreiz/ eine zusätzliche Belohnung.
The poor are the people with the most 'need', but capitalism serves the rich people with a lot of 'wants' and doesn't serve the 'needs'. The incentive for companies to produce goods and services is profit. In markets where profits can't be made, creative capitalism proposes an alternative incentive in the form of 'recognition'. Because organizations get recognition, they can attract better people and more customers. In markets where profit can be made, recognition is an extra incentive/reward.
In Creative capitalism, companies use their 'brains' to start projects that serve the poor. Bill Gates called upon people to start a project on short term as opposed to just taking the checkbook and donating cash. I see many counter-arguments on the internet and in the book, but I believe that the positive element is that Bill Gates reaches out to create awareness for the world's problems. I think that as long as companies are not publicly traded and have 'socially aware' shareholders, action can be taken on short term with a lot of impact on the eradication of poverty.
Personally, I see globalisation and offshoring specifically as an industry that directly and indirectly contributes to the eradication of poverty. It creates jobs in developing nations, increases the wealth of the population. Rightly, the wealth goes mainly into the pockets of the highly educated people and not the (extremely) poor. But those people also bring their money into the economic system through taxes and direct spending, uplifting the wealth of the whole country. India is a good example. Although it still has more than 25% of its population living of less than $2 a day (source: 'the end of poverty' by Jeffrey Sachs), it has come a long way. Offshoring is one of the engines.
But there is a limitation to what offshoring does today. Jeffrey Sachs describes the problem clearly: many countries are caught in the 'poverty trap'. They are not able to get their foot on the first step of the economic development 'ladder'. Once a country gets one foot on it (as India did), it starts growing and the economic system will lift people out of poverty.
I believe that the more global companies become, the more aware their people will become about the inequalities on the planet, about the poverty that you don't see when you live in the west, but that does exist on a massive scale (one third of the world population lives on less than $2 per day). I believe the offshoring industry could become conscious and become one of the industries leading the way into 'creative capitalism'. I also believe that offshoring could be the mechanism we need to provide to the poor: you find something which is (or could be) done in the west and hire somebody in a developing country to do that. Typically, this 'something' is done by a (highly) skilled person. But could we stretch the principle to more mundane tasks which could be done by the poor (who frequently never were lucky enough to get education)? Or to tasks which are not done today, but which could be done?
I wonder if readers of this article can come up with ways to impact the poor, to start projects that can benefit the company (and industry) as well as the extremely poor?
Zelf zie ik globalisatie en offshoring in het bijzonder als een industrie die direct en indirect bijdraagt aan het uitroeien van armoede. Het creëert banen in ontwikkelingslanden en draagt bij aan het verhogen van de rijkdom van de bevolking. Toegegeven, de rijkdom gaat vooral naar de geschoolde mensen en niet naar de (extreem) armen. Maar die mensen brengen ook weer hun geld in het economische systeem van het land door belasting te betalen en gewoon te consumeren waardoor het hele land rijker wordt. India is een goed voorbeeld. Hoewel nog steeds meer dan 25% van de bevolking leeft van minder dan $2 per dag (bron: 'het einde van armoede' door Jeffrey Sachs), is het van ver gekomen. Offshoring is één van de motoren.
Maar er is een limiet aan wat offshoring vandaag de dag doet. Jeffrey Sachs beschrijft het probleem duidelijk: veel landen zitten vast in de 'armoede val'. Ze krijgen het niet voor elkaar om hun voet op de eerste trede van de economische 'ladder' te krijgen. Wanneer een land één voet op deze ladder krijgt (zoals India gedaan heeft) begint het te groeien en het economische systeem zal mensen uit de armoede trekken.
Ik denk dat hoe meer bedrijven wereldwijd gaan opereren, hoe meer mensen zich er bewust van worden hoe ongelijk welvaart verdeeld is in de wereld. Mensen worden zich bewust van de armoede die je niet ziet als je in het westen woont, maar die wel alom aanwezig is (een derde van de wereldpopulatie leeft van minder dan $2 per dag). Ik denk dat de offshoring industrie bewuster moet worden en één van de industrieën moet worden die de weg zal wijzen in het 'creatieve kapitalisme'. Ik denk ook dat offshoring het mechanisme kan zijn dat nodig is om de armen te bereiken: je vindt iets dat gedaan wordt (of zou kunnen worden) in het westen en neemt iemand uit een ontwikkelingsland aan om dit te doen.  Meestal wordt dit 'iets' gedaan door een (erg) capabele persoon. Maar kunnen we het principe uitbereiden door 'makkeijk werk' te laten doen door arme mensen (die vaak niet het geluk hebben gehad om naar school te gaan?) Of taken die vandaag de dag niet gedaan worden, maar gedaan zouden kunnen worden?
Ik vraag me af of lezers van dit artikel ideeën hebben om projecten te starten die goed zijn voor zowel het bedrijf (en de industrie) als extreem arme mensen?
I kreativ kapitalism, företag använder deras "hjärnor" för att starta projekt som tjänar de fattiga. Bill Gates uppmanade folk att starta ett projekt på kort sikt och inte bara ta up checkhäftet och donera pengar. Jag ser många motargument på internet och i boken, men jag tror att det positiva inslaget är att Bill Gates når ut för att skapa medvetenhet om världens problem. Jag tror att så länge företagen inte är offentligt noterade och har "socialt medvetna" aktieägare, kan åtgärder vidtas på kort sikt med en hel del inverkan kan göras för att minska fattigdomen.
Personligen ser jag globalisering och outsourcing specifikt som en bransch som direkt och indirekt bidrar till att utrota fattigdomen. Det skapar arbetstillfällen i utvecklingsländer och ökar rikedom av befolkningen. Visst, främst går välståndet i fickorna på de högutbildade och inte (extremt) fattiga. Men dessa människor tar också sina pengar till det ekonomiska systemet genom skatter och direkta utgifter och upplyfter rikedomen i hela landet. Indien är ett bra exempel. Även om fortfarande mer än 25% av dess befolkning lever på mindre än 2 dollar per dag (källa: "I slutet av fattigdomen" av Jeffrey Sachs), har de kommit en lång väg. Offshoring är en av motorerna.
Men det finns en begränsning vad offshoring kan göra idag. Jeffrey Sachs beskriver problemet: många länder befinner sig i "fattigdomsfällan". De kan inte få sin fot på det första steget i den ekonomiska utvecklings "stegen". När ett land får en fot på den (som Indien gjorde), börjar det växa och det ekonomiska systemet kommer att lyfta människor ur fattigdomen.
Jag tror att ju mer globala företag blir, desto mer medvetna kommer deras personal vara om de ojämlikheter som finns på jorden, om den fattigdom som du inte ser när du bor i väst, men som existerar i stor skala (en tredjedel av världens befolkning lever på mindre än 2 dollar per dag). Jag tror att offshoring industrin kan bli medveten och bli en av de branscher som leder vägen in i "kreativ kapitalism". Jag tror också att offshoring kan vara den mekanism vi måste ge till de fattiga: du hittar något som är (eller kan) göras i väster och anställer någon i ett utvecklingsland för att göra det. Normalt är detta "något" som görs av en (mycket) kompetent person. Men kan vi sträcka principen till att mer vardagliga uppgifter kan göras med de fattiga (som ofta aldrig hade turen att få utbildning)? Eller till uppgifter som inte görs idag, men som kan göras?
Jag undrar om läsarna av denna artikel kan komma på något sätt att påverka de fattiga, att starta projekt som kan gynna företaget (och industri) samt extremt fattiga?
Im kreativen Kapitalismus benutzen Firmen ihre "Intelligenz" um Projekte zu starten, welche den Armen dienen. Bill Gates ruft die Menschen dazu auf ein zeitlich begrenztes Projekt zu starten, anstatt nur das Checkheft herauszuholen und Geld zu spenden. Ich sehe viele Argumente dagegen, im Internet und in dem Buch, aber ich glaube, dass das positive Element ist, dass Bill Gates sich an die Menschen wendet, um ein Bewusstsein für die Probleme der Welt zu erschaffen. Ich denke, dass solange die Firmen nicht börsenorientiert sind und sozialbewusste Gesellschafter haben, kann kurzfristig etwas unternommen werden, das einen Einfluss auf die Beseitigung der Armut hat.
Ich persönlich, sehe die Globalisierung und Offshoring im Besonderen als eine Industrie, die direkt und indirekt zu der Beseitigung der Armut beiträgt. Sie schafft Jobs in Entwicklungsländern und vergrößert den Reichtum der Bevölkerung. Zurecht, wandert der Reichtum zum größten Teil in die Taschen der äußerst gebildeten Menschen und nicht in die Taschen der (extrem) Armen. Aber diese Menschen bringen auch, durch Steuern und direkte Ausgaben, Geld in die Wirtschaft und erhöhen somit den Reichtum des ganzen Landes. Indien ist ein gutes Beispiel. Obwohl immer noch mehr als 25% der Bevölkerung von weniger als $2 am Tag lebt (Quelle: 'the end of poverty' von Jeffrey Sachs) ist Indien einen weiten Weg gekommen und Offshoring ist einer der Motoren.
Aber es gibt eine Limitierung in Bezug auf das, was Offshoring heute leistet. Jeffrey Sachs beschreibt das Problem klar und deutlich: viele Länder sind in der "Armutsfalle" gefangen. Sie sind nicht in der Lage einen Fuß auf die erste Stufe der Leiter der wirtschaftlichen Entwicklung zu setzen. Sobald ein Land den Fuß auf die erste Stufe bekommt, (so wie Indien es tat) beginnt es zu wachsen und die Wirtschaft wird die Bevölkerung aus der Armut befreien.
Ich glaube, dass umso globaler Firmen werden, desto mehr werden die Menschen auf die Ungleichheiten auf dem Planeten aufmerksam werden, auf die Armut, die man nicht sieht, wenn man im Westen lebt, die aber in einem großen Maße existiert. (Ein Drittel der Weltbevölkerung lebt von weniger als $2 am Tag). Ich glaube, dass die Offshoring Industrie selbstbewusst werden könnte und, dass sie eine der Industrien werden könnte, die den Weg zum "kreativen Kapitalismus" weisen. Des weiteren glaube ich, dass Offshoring der Mechanismus sein könnte, den wir brauchen, um für die Armen zu sorgen: man findet etwas, dass im Westen gemacht wird oder gemacht werden könnte und engagiert jemanden aus einem Entwicklungsland, um das zu tun. Typischerweise wird dieses "etwas" von einer (äußerst) ausgebildeten Person gemacht. Aber wir könnten das Prinzip auf mehr alltäglichere Aufgaben auszuweiten, die von den Armen erledigt werden können. (Die oftmals nicht das Glück hatten eine Ausbildung zu bekommen.) Oder Aufgaben, die nicht heute erledigt werden, aber erledigt werden könnten?
Ich frage mich, ob die Leser dieses Artikels mit Wegen aufwarten können die Armut zu verringern, Projekte zu starten, von denen die Firmen (und die Industrie), sowie die extrem Armen profitieren?