Lean distributed startups: How to launch your product with an offshore team? Lean distributed startups: hoe lanceert u uw product met een offshore team?Distribuerade Lean startups: hur du lanserar en produkt med ett offshore-team?Schlanke, dezentral gesteuerte Anläufe: Wie bringen Sie Ihr Produkt mit einem Offshore-Team auf den Markt?
The past months, I have been experimenting with the lean startup method in a distributed setting. Let me explain this, because if you are not an offshoring insider, this could sound like gobbledygook.
The lean startup method you probably have heard about. The essence of the method is: if you have a (software/internet/app) product idea, develop a minimum viable product as fast as possible. This could be an 'alpha' version of your software, but even better is a 'simulation of your idea'. An example: you plan to sell cars through an app. The first thing you want to do is to test the assumptions you made, for example 'people are willing to buy cars through an app' (or 'people will download an app that promises them to buy a car'). To test this, you develop the most simple app imaginable (and you launch it on android because apple makes your life harder when your app is buggy). The app has one screen, shows one car and an 'order' button for example. You launch this and see if someone will download the app. As soon as you get your first order, you run to the closest dealer and drive that car to the person who ordered it. This will prove your hypothesis/assumption. Only then you start developing the 'real' app and in that you continuously test assumptions as opposed to 'building features'. To know more, it's best to read the book (I absolutely recommend it!).
The distributed part is people working on the product development from different countries. Typically, the developers are for example in India or Ukraine, while the person owning the product or marketing the product is in another country.
I am currently developing a bullet proof method to do as much of the work as possible offshore in our office in India. The goal is to develop our own internal products as well as service customers (Startups or existing software companies/department) through our lean distributed startup method. We always combine lean startup thinking with elements of scrum (which is our default software development methodology).
To develop this method, I have now tried several setups:
The person with the idea is in the Netherlands. He is the product owner (the person making all the decisions on what to develop and what's next). The scrum master and the development team are in India. The process manager is in the Netherlands (the person facilitating the communication between the product owner and the offshore team). This is an external idea which we incorporate in a joint startup.
An idea comes up in India in close interaction with myself (I am in the Netherlands). The product owner is in India, the scrum master and development team too. This is a 100% internal product.
A programmer from India came with the idea. The product owner and scrum master and developer are one and are in India
The product owner and the scrum master are in Germany. The development team is in Ukraine. This is for us the most typical setup in servicing our customers, where we serve as the development partner.
In model A, my findings are:
The product owner is a non-technical person who hasn't got experience in developing software products, so the offshore team gets a lot of autonomy in developing the app from scratch. This spurs creativity and engages the development team
The process manager can feel a lack of progress from both sides. As the product owner is an outsider (and the marketing depends on that person) and the team is remote, he is not fully 'in control' and has to remove many blocks to keep the team going.
The product owner can feel a lack of progress, because he wants to get his product out and can't see on a daily basis what the developers are doing (entrepreneurs are typically impatient).
Because the idea didn't originate from the development team nor our own company, the product is not completely their 'baby' (which I believe is an important ingredient for startup success).
In model B:
Because it is an internal product, the development team takes full ownership of the product.
Even the product owner is in India, which creates more dynamics in the team, they keep discussing ideas and are excited to see the first interactions with customers.
Although it is hard to get this into a development team, the product owner and scrum master even start thinking in terms of marketing and create immediate product changes based on user feedback.
The 'flip side' is that I am very keen on getting the app out, getting customer feedback, moving fast. Because the team is far away + I am not the product owner (so I am not allowed to interact on a daily basis), impatience plays a role on my side.
Model C:
Here you have a technical team that came up with the idea and they are keen on getting the product out, which went very fast.
But then marketing the app, generating feedback comes up and here the product gets stuck.
Because nobody in Europe is involved, I sense there is nobody to 'fire up' the team and get going with the product.
This experience might be bound to the specific product and we'd have to experiment more to reach any conclusions
Model D:
The full ownership of the product is with one of our customers in Germany, so the whole product roadmap is devises in Germany.
The scrum master planning the sprints and committing to user stories is together with the product owner; to get a full involvement with the remote team, sprint planning is done using Skype.
It helps to have another scrum master in Ukraine.
The team typically focuses on technology, architecture, feature development and not on product roadmap, marketing, generating user feedback.
I will write future blog articles on this lean distributed startup methodology later on. The preliminary conclusions I made now:
For servicing customers as an offshore or nearshore provider, model D works best. One can vary with having the scrum master remotely, but the product owner should be onshore, close to the customer (although I can recommend the product owner to move to the team for the startup period!)
For our internal product development, having the full team, including the product owner, in India, produces the most engagement and progress. The team 'lives' the product.
I would be happy to hear your experiences in remote startup development!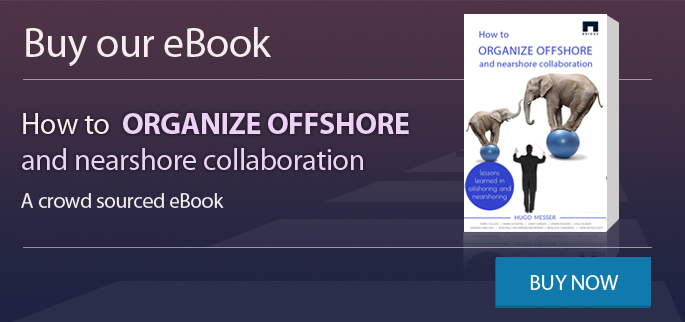 De laatste maanden heb ik geëxperimenteerd met de lean startup methode in een gedistribueerde omgeving. Laat het me uitleggen, want als niet een offshoring insider bent, kan dit klinken als abracadabra.
Van de lean startup method heeft u wellicht gehoord. De essentie van de methode is: als u een idee hebt voor een (software/internet/app) product, ontwikkel dan zo snel mogelijk een minimaal haalbaar product. Dit kan een 'alfa' versie zijn van uw software, of zelfs beter een 'simulatie van uw idee'. Een voorbeeld: u bent van plan om auto's te verkopen via een app. Het eerste wat u wilt doen is het testen van uw aannames, bijvoorbeeld 'mensen zijn bereidt om een auto te kopen via een app' (of 'mensen zijn bereidt een app te dowloaden die hen beloofd om een auto te kopen'). Om dit te testen, ontwikkelt u de meest denkbare eenvoudige app (en u lanceert dit op android omdat apple u het leven zuur maakt als er bugs in de app zitten). De app heeft één scherm, laat één auto zien en een 'Bestel' knop bijvoorbeeld. U lanceert dit en kijkt of iemand deze app download. Zodra u de eerste bestelling krijgt, rent u naar de dichtstbijzijnde dealer en rijdt de auto naar de persoon die hem besteld heeft. Dit zal uw hypothese/aanname bevestigen. Pas dan begint u met het ontwikkelen van de 'echte' applicatie en daarin test u voortdurend uw aannames in tegenstelling tot de 'building features'. Om meer te weten, kunt u het beste het boek lezen (Ik beveel het absoluut aan!).
Het verdeelde deel is dat mensen uit verschillende landen aan de product ontwikkeling werken. Typisch zijn de ontwikkelaars uit bijvoorbeeld India of Oekraïne, terwijl de persoon die eigenaar is van het product of de marketing doet van het product in een ander land zit.
Ik ben momenteel een bullet proof methode aan het ontwikkelen om zoveel mogelijk werk te doen in ons offshore kantoor in India. Het doel is om eigen interne producten te ontwikkelen alsmede service voor klanten (startups of bestaande software bedrijven/afdelingen) door onze lean distributed startup methode. We combineren altijd het lean startup denken met elementen van scrum (dat is onze standaard software development methodologie.
Om de methode te ontwikkelen heb ik tot nu toe verschillende setups geprobeerd:
A. De person met het idee is in Nederland. Hij is de producteigenaar (de persoon die alle beslissingen neemt wat betreft de ontwikkeling en de volgende stappen). De scrum master en het ontwikkelingsteam zitten in India. De procesmanager zit in Nederland (de persoon die de communicatie faciliteert tussen de product eigenaar en het offshore team). Dit is een externegedachte dat we opnemen in een gezamenlijke startup.
B. Er ontstaat een idee in India, in nauwe samenwerking met mezelf (ik ben in Nederland). De product eigenaar is in India, the scrum master en het ontwikkelingsteam ook. Dit is een 100% intern product.
C. Een programmeur uit India komt met een idee. De product eigenaar, scrum master en ontwikkelaar zitten in India.
D. De product eigenaar en de scrum master zitten in Duitsland. Het ontwikkelingsteam zit in Oekraïne. Dit is voor ons de meeste typische opzet in het bieden van onze service aan onze klanten, waar wij als ontwikkelingspartner dienen.
In model A, mijn bevindingen zijn:
– De product eigenaar is een atechnisch person die geen ervaring heeft in het ontwikkelen van software producten, waardoor vanaf het begin het offshore team veel autonomie krijgt in het ontwikkelen van de app.
– De proces manager kan een gebrek van vooruitgang merken van beide kanten. Doordat de product eigenaar een outsider is (en de marketing afhankelijk is van die persoon) en het team remote is, heeft hij geen volledige controle en zal hij vele blokkades op de weg moeten verwijderen.
– De product eigenaar kan een gebrek van vooruitgang merken, omdat hij graag zijn product uit wil brengen en niet dagelijks kan zien hoe ver de ontwikkelaars zijn op dat moment (entrepreneur zijn typisch ongeduldig).
– Omdat het idee niet is ontstaan vanuit het ontwikkelingsteam of vanuit het eigen bedrijf, is het product niet volledig hun 'baby' (waarvan ik geloof dat het een belangrijk ingrediënt is voor een succesvolle startup).
In model B:
– Omdat het een intern product is, heeft het ontwikkelingsteam volledige eigenaarschap over het product.
– Zelfs de product eigenaar is in India, waardoor er meer dynamiek in het team ontstaat. Ze blijven ideeën uitwisselen en zijn enthousiast om te zien hoe de eerste interacties met de klant zijn.
– Hoewel het moeilijk is om dit erin te krijgen bij een ontwikkelingsteam, de product eigenaar en de scrum master denken in termen van marketing en zorgen onmiddellijk voor veranderingen in het product gebaseerd op user feedback.
– De 'keerzijde' is dat ik graag zie dat de app snel wordt uitgebracht, dat er snel feedback vanuit de klanten komt, het snelle bewegen. Omdat het team ver weg zit en ik zelf de product eigenaar niet ben (dus ik mag niet op een dagelijkse basis communiceren), zal ongeduldigheid bij mij optreden.
Model C:
– Hier heb je een technisch team die het idee hebben bedacht en zij zien graag dat het product snel uitgebracht wordt, wat erg snel gaat.
– Maar dan de marketing app, het genereren van feedback komt aan bod en hierdoor zal het product vast lopen.
–  Omdat niemand in Europa erbij is betrokken, merk ik dat er niemand is om het team aan te sporen om verder te gaan met het product.
– Deze ervaring is waarschijnlijk gebonden aan een specifiek product en we moeten meer experimenteren om tot conclusies te kunnen komen.
Model D:
– Het volledige eigenaarschap van het product is bij een van onze klanten in Duitsland, dus het gehele product is bedacht in Duitsland.
– De scrum master planning van de sprints en het plegen van de user stories is allebei bij de product eigenaar; om volledige betrokkenheid bij het remote team te krijgen, wordt de sprint planning gedaan met behulp van Skype.
– Het helpt om nog een scrum master te hebben in Oekraïne.
– Het team focust zich op de technologie, architectuur, functie ontwikkeling en niet op product roadmap, marketing en het genereren van feedback van gebruikers.
Ik zal in mijn toekomstige blog artikelen schrijven over deze lean distributed startup methodologie. De voorlopige conclusies die ik tot nu toe heb gemaakt:
Voor diensten verlenen aan klanten als een offshore of een nearshore provider, zal model D het beste werken. U kunt variëren met het hebben van een remote scrum master, maar de product eigenaar behoort onshore the zijn, dicht bij de klant (hoewel ik het kan aanraden aan de product eigenaar om tijdens de startup periode zich te verplaatsen naar het team).
Dat het gehele team, inclusief de product eigenaar in India is, zorgt voor onze interne product ontwikkeling een grote betrokkenheid en vooruitgang. Het team 'leeft' het product.
Ik zou graag uw ervaringen in remote startup ontwikkeling willen horen!
De senaste månaderna har jag experimenterat med lean-startup-metoder i en distribuerad miljö. Låt mig förklara detta, för om du inte är offshore-insider kan detta låta som rappakalja.
Du har säkert hört talas om lean startup-metoden. Kärnan i metoden är: om du har en (mjukvara/internet/app) produktidé, utveckla ett minimum av gångbara produkter så fort som möjligt. Det skulle kunna vara en 'alphaversion' av din mjukvara, men ännu bättre en 'simulation av din idé'. Ett exempel: du planerar att sälja bilar genom en app. Det första du vill göra är att testa de antaganden du har gjort, till exempel att 'människor är villiga att köpa bilar genom en app' ('eller att människor kommer att ladda ner en app som lovar de att kunna köpa en bil'). För att testa detta utvecklar du den enklaste tänkbara appen (och du lanserar den för android för att apple gör ditt liv svårare när din app buggar). Appen har en sida, visar en bil och en "köpknapp" till exempel. Du lanserar appen och ser om någon laddar ner den. Så snart du får din första beställning, springer du till närmaste bilsäljare och kör bilen till kunden. Detta kommer att bevisa din hypotes/antagande. Bara då börjar du utveckla den 'riktiga' appen och att du hela tiden testar dina antaganden istället för att bara bygga funktioner. För att ta reda på mer är det bäst att läsa boken (jag rekommenderar den verkligen!).
Den distribuerade delen är den då människor arbetar med produktutveckling från olika länder. Typiskt är att utvecklarna är till exempel i Indien eller Ukraina, medan ägaren eller marknadsföraren är i ett annat land.
Just nu utvecklar jag en skottsäker metod för att kunna göra så mycket arbete som möjligt offshore på vårt kontor i Indien. Målet är att utveckla våra egna interna produkter likväl ge kundtjänst (startups eller befintliga programvaruföretag/avdelningar) genom vår distribuerade Lean startups-metod. Vi kombinerar alltid Lean startup-tänkande med inslag av Scrum (som är vår standardmetod i mjukvaruutveckling).
Jag har använt olika situationer för att utveckla metoden:
A: personen med idéen befinner sig i Nederländerna. Han är ägaren av produkten (personen som tar alla beslut om vad som ska utvecklas och vad som står på tur). Scrum master och utvecklingsteamet befinner sig i Indien. Processledaren är i Nederländerna (personen som underlättar kommunikationen mellan produktägaren och teamet offshore). Detta är en extern idé som vi integrerar i en gemensam start.
B: en idé kommer upp i Indien i nära samspel med mig själv (jag är i Nederländerna). Produktägaren är i Indien, likväl scrum master och utvecklingsteamet. Detta är en intern produkt till 100 procent.
C: en programmerare från Indien kommer med en idé. Produktägaren, scrum master och utvecklaren är samma person och är i Indien.
D: produktägaren och scrum master är i Tyskland. Utvecklingsteamet är i Ukraina. Det här är för oss den mest typiska situationen för att tjäna våra kunder, då vi fungerar som utvecklingspartner.
I modell A kommer jag fram till:
– Produktägaren är en oteknisk person, som inte har erfarenhet av att utveckla programvaror. Så teamet offshore får en hel del självständighet i att utveckla appen från scratch. Detta sporrar kreativiteten och engagerar utvecklingsteamet.
– Processledaren kan känna en brist på framsteg från båda sidor. Eftersom processledaren är utomstående (och marknadsföringen hänger på den personen) och teamet är avlägset, har processledaren inte full kontroll och måste ta bort flera block för att få teamet att fortsätta framåt.
– Produktägaren kan känna en brist på framsteg, eftersom denne vill få ut sin produkt och inte kan se vad utvecklarna gör vardagligen (speciellt egenföretagare är otåliga).
– eftersom idén inte kom från utvecklingsteamet eller vårt egna företag, är inte idén helt och hållet deras bebis (vilket jag tror är en viktig ingrediens för startup-succé).
I modell B:
– Eftersom det är en intern produkt, tar utvecklingsteamet fullt äganderätt för produkten.
– Trots att produktägaren är i Indien, vilket skapar mer dynamik i teamet, fortsätter de att diskutera idéer och är förväntansfulla över de första interaktionerna med kunderna.
– Även om det är svårt att få detta i ett utvecklingsteam, så börjar produktägaren och scrum master till och med att tänka i termer om marknadsföring och skapa omedelbara produktförändringar baserad på feedback från användarna.
– Å andra sidan är att jag är väldigt angelägen om att få ut appen, få feedback från kunder, jobba snabbt. Eftersom teamet är långt borta plus att jag inte är produktägaren (jag får inte interagera dagligen) spelar otåligheten en roll på min sida.
Modell C:
– Här har du ett tekniskt team som kom på idéen, som är angelägna om att få ut produkten, vilket gick väldigt fort.
– Men sen kommer det till att marknadsföra och genera feedback om appen och det är här produkten fastnar.
– Eftersom ingen i Europa är involverad känner jag att det inte finns någon som kan pusha teamet att fortsätta med produkten.
– Den är upplevelsen kanske är bunden till den specifika produkten och vi skulle vara tvungna att experimentera mer för att nå några slutsatser.
Modell D:
– Den fullständiga äganderätten till produkten ligger hos en av våra kunder i Tyskland, så hela produktens färdkarta ligger i Tyskland.
– Scrum master planerar, tillsammans med produktägaren, sprinterna och åtaganden av användarhistorier; för att vara helt involverad i det avlägsna teamet planeras sprinter genom Skype.
– Det hjälper att ha en till scrum master i Ukraina.
– Teamet fokuserar vanligtvis på teknik, arkitektur, funktionell utveckling och inte på produktens färdkarta, marknadsföring och att generera användarfeedback.
Jag kommer att skriva framtida bloggartiklar om distribuerad Lean startup-metod senare. De preliminära slutsatserna som jag har gjort nu är:
För service åt kunderna som en offshore eller nearshore leverantör fungerar modell D bäst. Man kan variera med att ha scrum master på distans, men produktägaren bör vara onshore, nära till kunden (även om jag kan rekommendera produktägaren att flytta till teamet under startperioden!)
För vår interna produktutveckling; ha hela teamet, inklusive produktägaren, i Indien, vilket ger mest engagemang och framsteg. Teamet lever genom produkten.
Jag skulle bli glad om jag fick höra om dina erfarenheter i en avlägsen utvecklingsstart!
In den letzten Monaten habe ich mit der schlanken Anlaufmethode im Rahmen einer dezentralen Ausgangslage experimentiert. Lassen Sie mich es zuerst näher erläutern, denn wenn Sie kein Offshoring-Insider sind, kann dies leicht wie Fachchinesisch klingen,
Von der  Lean Startup Methode (schlanken Anlaufmethode)  haben Sie wahrscheinlich schon gehört. Die Grundidee dieser Methode ist: Wenn Sie eine (Software/internet/App) Produktidee haben, entwickleln Sie ein minde minimum viable Produkt so schnell wie möglich. Das kann eine 'Alpha' -Version Ihrer Software sein, besser wäre jedoch eine 'Simulation Ihrer Idee'. Ein Beispiel: Sie planen Autos mittels einer App zu verkaufen.Das erste was Sie tun wollen, ist Ihre Vermutungen zu testen, z.B. 'Menschen sind bereit Autos über eine App zu kaufen' (oder 'Personen laden sich eine App herrunter, die ihnen verspricht ein Auto kaufen zu können'). Um dies testen zu können,entwickeln Sie die einfachste vorstellbare App, (und Sie veröffentlichen diese in Android, weil Apple ihr Leben erschwert, wenn Ihre App Programmierfehler hat). Die App hat ein Screen auf dem ein Auto und beispielsweise ein "Bestellen" -Button gezeigt wird. Sie veröffentlichen das und sehen ob jemand diese App downloadt. Sobald Sie Ihre erste Bestellung bekommen, rennen Sie zu dem nächsten Händler und fahren das Auto zu der Person, die es bestellt hat. Das wird Ihre Hypothesen bzw. Vermutungen prüfen. Erst dann beginnen Sie Ihre "richtige" App zu entwickeln und mit der testen Sie ständig Ihre Vermutungen as opposed to 'building features'. Um mehr darüber zu erfahren, ist es das beste Sie lesen das  Buch  (Ich empfehle es unbedingt!).
Der dezentrale Teil ist ,wenn Personen an der Produktentwicklung zusammen von verschiedenen Ländern aus arbeiten. Typischerweise sind die Entwickler aus Indien oder der Ukraine, während der Produkteigentümer oder die Mitarbeiterder der Marketingabteilung in einem anderen Land sitzen.
Ich entwickle zur Zeit eine zielsichere Methode, um so viel wie möglich von der Arbeit offshore in unserem Büro in Indien zu erledigen. Das Ziel ist es interne Produkte sowie auch Kundenservice (Startups oder bestehnde Softwareunternehmen/ abteilungen) mittels unserer schlanken und aufgespliterten Einführungsmethode zu entwickeln. Wir kombinieren immer die schalne Einführungs- Denkweise mit Elementen von Scrum (welches unsere standartmäßige Softwareentwicklungsmethodik ist ).
Um diese Methode zu entwicklen, habe ich verschiedene Setups probiert:
A. Die Person mit der Idee sitzt in den Niederlanden. Er ist der Produkteigentümer (diese Person trifft alle Entscheidungen was entwickelt wird und was als nächstes gemacht wird). Der Scrum Master und das Entwicklungsteam sind in Indien. Der Prozessmanager befindet sich in den Niederlanden (die Person, welche die Kommunikation zwischen dem Produkteigentümer und dem Offshore-Team erleichtert. Das ist eine externe Idee, welche wir in einen gemeinsamen Anlauf integrieren.
B. Eine Idee entsteht in Indien mit enger Interaktion mit mir selbst (Ich bin in den Niederlanden). Der Produkteigentümer ist in Indien und auch der Scrum Master und das Entwicklungsteam. Das ist zu 100% ein internes Produkt.
C. Ein Programmierer in Indien kommt mit der Idee. Der Produktiegentümer und der Scrum Master sind eins und befinden sich in Indien.
D. Der Produkteigentümer und der Scrum Master sind in Deutschland. Das Entwicklungsteam befindet sich in der Ukraine. Das ist für uns die typischste Konstellation bei der Kundenbetreuung, wenn wir als Entwicklungspartner fungieren.
Zu Model A sind meine Erkenntnisse, folgende:
– Der Produkteigentümer ist keine technische Person, die keine Erfahrung hat bei der Entwicklung von Softwareprodukten, so erhält das Offshore-Team von Beginn an viel Autonomie bei der Entwicklung einer App. Das fördert Krativität und spornt das Entwicklerteam an.
– Der Prozessmanager kann ein Mangel an Fortschritt von beiden Seiten empfinden. Da der Produkteigentümer ein Outsider ist (und Marketing von dieser Person abhängig ist) und das Team entfernt ist, hat er nicht die völlige Kontrolle und muss viele Hindernisse entfernen, um das Team voran zu bringen.
– Der Produkteigentümer kann einen Fortschrittsmangel fühlen, weil er ein Produkt erhalten will und kann nicht täglich sehen was die Entwickler tun ( Unternehmer sind typischerweise ungeduldig).
– Weil die Idee nicht vom Entwicklerteam noch von unserer Firma stammt, ist das Produkt icht völlig ihr 'Baby' (wie ich finde, ist das ein wichtiger Bestandteil für den Erfolg eines Anlaufes.
In Model B:
– Weil es sich um ein internes Produkt handelt, ist der Produkteigentümer das Entwicklerteam.
– Sogar der Produkteigenümer ist in Indien, das schafft mehr Dynamik im Team. Sie diskutieren Ideen und sind gespannt die ersten Interaktionen mit den Kunden zu sehen.
– Obwohl es schwierig ist das einem Entwicklerteam klar zu machen, der Produkteigentümer und der Scrum Master denken bereits ans Marketing und machen schnelle Produktänderungen, die auf Nutzerfeedback basieren.
– Die Kehrseite ist, dass ich sehr erpicht darauf bin, die App schnell zu veröffentlichen und schnell darauf Kundenfeedback zu bekommen, Da das Team weit weg ist + und ich nicht der Produkteigentümer bin (so ist es mir nicht erlaubt täglich zu interagieren ), Ungeduld ist auf meiner Seite entscheident.
Model C:
– Hier haben Sie ein technisches Team, was auf die Idee kam und sie wollen das Produkt entwickeln und veröffentlichen, das ging sehr schnell.
– Doch dann kommt das Marketing der App, das Generieren von Feedback und hier bleibt das Produkt stecken.
– Weil keiner in Europa involviert ist, Ich spüre, dass dort keiner ist, der das Team "anfeuert" und mit dem Produkt loslegt.
– Diese Erfahrung kann von dem speziellen Produkt abhängig sein und deshalb wir müssen mehr experimentieren, um auf mehr Schlussfolgerungen zu gelangen.
Model D:
– Der vollständige Besitz des Produktes liegt bei einem unserer Kunden aus Deutschland, so ist die gesamte Produktstrategie in Deutschland erarbeitet.
– Der Scrum Master plant die Sprints und verpflichtet sich auf User Stories mit dem Produkteigentümer zusammen; um eine volle Beteiligung des Teams aus der Ferne zu bekommen, wurde die Sprintplanung mittels Skype erstellt.
– Es hilft einen anderen Scrum Master in der Ukraine zu haben.
– Das Team fokussiert sich typischerweise auf Technologien, Architektur, Funktionsentwicklung und nicht auf Produktstrategie, Marketing und das Generieren von Nutzerfeedback.
Ich werde zukünftig Blogartikel über diese schlanke, dezentrale Anlaufmethodik schreiben. Die vorläufigen Schlussfolgerungen sind folgende:
Model D funktioniert am besten für den Kundenservice von Offshore- oder Nearshore-Anbieter. Man kann die Position des Scrum Master variieren, aber der Produkteigentümer sollte onshore sein, nahe beim Kunden (obwohl ich raten kann, dass der Produkteigentümer sich in der Anfangsphase beim Team befindet!)
Für unsere interne Produktentwicklung wird das meiste Engagement und Fortschrit geschaffen, wenn sich das gesamte Team, inklusive des Produkteigentümers in Indien befindet.. Das Team "lebt" das Produkt.
Ich würde mich freuen von Ihren Erfahrungen im Bezug auf Entwicklung bei der Einführungsphase aus der Ferne zu hören!