Is offshoring creating or destroying jobs? Is it good or bad?Creërt offshoring banen of vernietigt ze deze juist? Is het goed of slecht?Skapar eller förstör offshoring arbetsmöjligheter? Är det bra eller dåligt?Erschafft oder zerstört Offshoring Jobs? Ist es gut oder schlecht?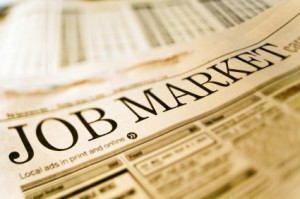 I read and talk a lot about offshoring and global staffing and one discussion frequently pops up: is it good or bad to hire people from India? Does it destroy jobs in my home country?
There is quite some research on this question. Most of them show that the ultimate balance is positive. The logic here is that companies are able to hire the right people and/or save costs. This makes the company grow and growth creates jobs. Even if the company has to layoff some people initially, on the longer term, the company creates jobs (usually 'higher level' jobs). Such researches are quite complex and hard to grasp.
Ik lees en praat veel over offshoring en global staffing en één discussiepunt komt vaak naar voren: is het goed of slecht om mensen uit India aan te nemen? Vernietigt dit geen banen in mijn eigen land?
Naar deze vragen is veel onderzoek gedaan. De meeste onderzoeken laten een uiteindelijk positief antwoord zien. De logica is hier dat bedrijven de juiste mensen aan kunnen nemen en/of kosten kunnen besparen. Dit zorgt ervoor dat het bedrijf groeit en groei creëert meer banen. Zelfs als het bedrijf in eerste instantie een aantal mensen moet ontslaan, zullen er op de lange termijn meer banen komen (meestal banen van 'hoog niveau'). Zulke onderzoeken zijn best complex en moeilijk te begrijpen.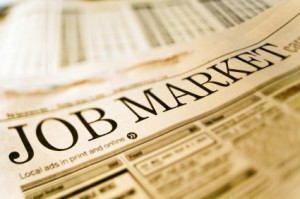 Jag läser och talar mycket om offshoring och om global staffing och det finns en fråga som ständigt kommer upp: Är det bra eller dåligt att anlita personal från Indien? Förstör det arbetsmöjligheter i mitt eget land?
Det finns en hel del forskning på området. Majoriteten av denna visar att det slutgiltiga resultatet är positivt. Logiken i det hela ligger i att företag ges möjligheten att anställa rätt människor och skära ner på kostnaderna. Det här får företaget att växa vilket i sin tur genererar mer jobb. Även om företaget inledningsvis kanske behöver göra nedskärningar, så skapar det mer jobb i det långa loppet (vanligtvis då på mer högt uppsatta positioner). Denna typ av forskning är ofta väldigt komplex och svår att greppa.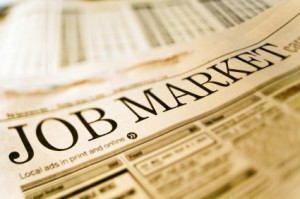 Ich lese und rede viel über Offshoring und Global Staffing und eine Diskussion kommt oft auf: ist es gut oder schlecht Leute aus Indien anzuwerben? Zerstört es Jobs in meinem Heimatland?
Es gibt einige Studien zu dieser Frage. Die meisten dieser Studien zeigen, dass die Endbilanz positiv ist. Die Logik dahinter ist, dass Unternehmen in der Lage sind die richtigen Leute anzustellen und/ oder Kosten zu sparen. Dadurch wächst das Unternehmen und Wachstum schafft neue Jobs. Selbst wenn ein Unternehmen anfangs Leute entlassen muss, schafft das Unternehmen auf lange Sicht gesehen Jobs (gewöhnlicher Weise "Higher Level" Jobs). Solche Studien sind ziemlich komplex und nur schwer zu fassen.
'We show that in a Ricardo-Viner-type trade model with unemployment due to search and matching the productivity effect of offshoring emphasized by Grossman & Rossi-Hansberg (2008) emerges as a vehicle of job creation. Improvements in the technology of offshoring causes job losses at the extensive margin where ever more tasks are performed abroad, but it also causes job creation from cost-savings associated with enhanced trade in tasks. We identify conditions under which job creation dominates job destruction. We also show that employment may follow a non-monotonic pattern of adjustment to successive improvements in the technology of offshoring.'
Last weekend I was reading '
Linchpin
', a book Seth Godin wrote. He views the above question from the perspective of 'mindset'. The answer to the question depends on how you view the world. This is an extract from his book:
' Limited or Unlimited? You can see your marketplace as being limited, a zero-sum game, a place where in order for one person to win, another must lose. Or you can see it as unlimited. A place where talent creates growth and the market increases in size. Consider Kim Berry, who runs the Programmers Guild, a nonprofit that lobbies Congress to limit or ban H-1B visas for talented computer programmers from overseas. He has said that for every person from India or China who gets a job programming in the United States, someone who was born here loses a job. It's win/lose, in his view, not win/win. It's very difficult to be generous if you have this point of view. In a zero-sum game, the generous among us are fools, easily taken advantage of. On the other hand, if you believe that great talent leads to more innovation and more productivity, which then lead to more demand, generosity is the very best strategy. If every great programmer were given the best tools, the best marketing, and the best technology, imagine how much more work that would create for the members of the Programmers Guild. If we enlarged the pie by bringing in the best programmers from around the world, it's inevitable that tons of jobs would be created for local talent as well. It seems to me that your outlook is completely due to your worldview. If you believe that all programmers are fairly average, then the pie is limited. If you believe that your job is to do your job (follow the map) and go home, then of course it's a zero-sum game.'
I personally view the world economy as a pie that is always getting bigger. If you look back at the last decade, the facts show that the world economy keeps on growing. Below the text is a graph from
wikipedia
showing the world gross domestic product growth since the 1960s. During this period, a lot of cars were manufactured by Japanese companies that didn't exist before and Americans expected that many jobs would be destroyed. In the same period, many companies moved their production to China. But still the pie kept on growing. And the economies of most countries showed the same pattern. Jobs get destroyed and get created, but in the end, the pie and the jobs keep on growing. I believe that if Western companies want to keep growing and stay competitive in the years to come, tapping into the global labor pool is crucial. With access to a bigger labor pool, you have access to more talent and you can out-innovate, out-grow and outperform your competitors. The movement is inevitable and as Seth writes, it's probably advisable to change the view on your world, embrace the movement and try to create a better life.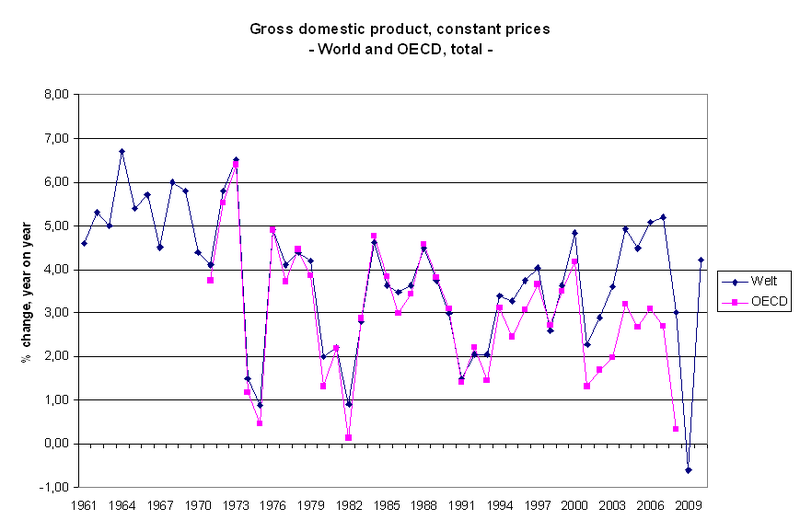 Een voorbeeld is het onderzoek dat gedaan is door Wilhelm Kohler en Jens Wrona 'Offshoring tasks, yet creating jobs?'. De voornaamste conclusie:
'Wij laten zien dat in een Ricardo-Viner-type handelsmodel met werkloosheid door zoeken en matchen het productiviteitseffect van offshoring dat benadrukt wordt door Grossman & Rossi-Hansberg (2008) komt bovendrijven als een middel voor het creëren van werkgelegenheid. Verbeteringen in de technologie van offshoring zorgen voor minder banen in de grote marge waar veel taken naar het buitenland worden uitgevoerd, maar het zorgt ook voor nieuwe banen door kostenbesparing die geassocieerd wordt met meer handel in taken. We zien dat er meer banen bij komen dan er verdwijnen. We laten ook zien dat werkgelegenheid een niet monotoon patroon van aanpassing volgt, voor succesvolle verbeteringen in de technologie van offshoring.'
Vorig weekend was ik 'Linchpin' aan het lezen, een boek van Seth Godin. Hij bekijkt de bovenstaande vraag vanuit een 'mindset' perspectief. Het antwoord op de vraag hangt af van hoe je de wereld ziet. Dit is een stukje uit zijn boek:
'Gelimiteerd of ongelimiteerd? Je kunt de markt zien als gelimiteerd, een plek waar iemand moet verliezen zodat iemand anders kan winnen. Of je kunt het als ongelimiteerd zien. Als een plek waar talent groei creëert en de markt groter wordt. Denk aan Kim Berry, die Programmers Guild runt, een bedrijf zonder winstoogmerk dat ervoor zorgt dat Congress H-1B visa's voor getalenteerde buitenlandse computerprogrammeurs verbiedt of limiteert. Hij zegt dat voor elke persoon uit India of China die een baan als programmeur krijgt in de Verenigde Staten, er daar een baan verloren gaat voor iemand die daar geboren is. Het is winnen/verliezen voor hem, niet winnen/winnen. Het is heel moeilijk om vrijgevig te zijn als je deze denkwijze hebt. In deze situatie zijn de vrijgevigen onder ons dom en wordt er gebruik van hen gemaakt. Aan de andere kant, als je denkt dat veel talent zorgt voor meer innovatie en meer productiviteit, dat dat weer leidt tot meer vraag, dan is vrijgevigheid de beste strategie. Als elke goede programmeur de beste tools krijgt, de beste marketing, en de beste technologie, stel je eens voor hoe veel meer werk dat zal creëren voor de leden van Programmers Guild. Als we de taart groter maken door de beste programmeurs van over de hele wereld aan te trekken, is het onvermijdelijk dat er ook heel veel banen gecreëerd worden voor het lokale talent. Ik denk dat je manier van denken bepaald wordt door je kijk op de wereld. Als je denkt dat alle programmeurs gewoontjes zijn is de taart ook gelimiteerd. Als je denkt dat het je taak is om gewoon te doen waarvoor je bent aangenomen en je daarna naar huis gaat, dan is het natuurlijk gelimiteerd.'
Ik denk dat de wereldeconomie als taart altijd groter wordt. Als je terugkijkt naar de laatste 10 jaar laten de feiten zien dat de wereldeconomie blijft groeien. Onder deze tekst staat een grafiek van wikipedia waarop de 'world gross domestic product' groei sinds de '60er jaren te zien is. Tijdens deze periode werden veel auto's gemaakt door Japanse bedrijven die eerder niet bestonden en de Amerikanen dachten dat veel banen zouden verdwijnen. In dezelfde periode verplaatsten veel bedrijven hun productie naar China. Maar de taart bleef groeien. En de economieën van de meeste landen lieten hetzelfde patroon zien. Banen verdwijnen en worden gecreëerd maar uiteindelijk blijft de taart toch groeien. Ik denk dat als westerse bedrijven willen blijven groeien en competitief willen blijven in de komende jaren, moeten ze zich wel in de wereldwijde arbeidsmarkt mengen. Met toegang tot een grotere arbeidsmarkt heb je toegang tot meer talent en je kunt beter innoveren, groeien en presteren dan de concurrent. De verandering is onvermijdelijk en zoals Seth schrijft, het is waarschijnlijk beter om je kijk op de wereld te veranderen, de verandering aan te nemen en te proberen een beter leven te creëren.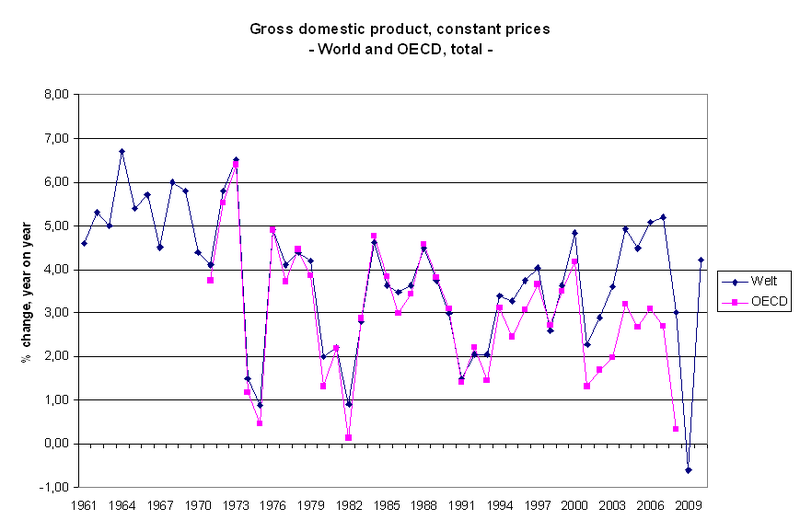 Ett exempel är forskning gjord av Willhelm Kohler och Jens Wrona "Offshoring tasks, yet creating jobs". Den huvudsakliga slutsatsen lyder:
'We show that in a Ricardo-Viner-type trade model with unemployment due to search and matching the productivity effect of offshoring emphasized by Grossman & Rossi-Hansberg (2008) emerges as a vehicle of job creation. Improvements in the technology of offshoring causes job losses at the extensive margin where ever more tasks are performed abroad, but it also causes job creation from cost-savings associated with enhanced trade in tasks. We identify conditions under which job creation dominates job destruction. We also show that employment may follow a non-monotonic pattern of adjustment to successive improvements in the technology of offshoring.'
Förra helgen läste jag "Linchpin", en bok av Seth Godin. Han belyser den ovanstående frågan ur ett perspektiv baserat på inställning. Svaret på frågan beror på din inställning och hur du ser på världen. Nedan följer ett utdrag ur boken:
"Begränsad eller obegränsad" Du kan se din marknad som begränsad, ett nollsummespel, en plats där för att en person skall vinna, måste en annan förlora. Eller så kan du se den som obegränsad. En plats där talang skapar tillväxt och marknaden ökar i storlek. Se till Kim Berry, som driver "The Programmers Guild", en icke-vinstrivande organisation som pressar kongressen att begränsa eller förbjuda H-1B Visum för talangfulla programmerare från utlandet. Han påstod att för varje person från Indien eller China som får ett jobb som programmerare i USA så förlorar en amerikan sitt jobb. I hans ögon är det vinna eller förlora inte vinn/vinn. Det är väldigt svårt att vara givmild om du har denna inställning. I ett nollsummespel är de givmilda av oss förlorarna och lätta att utnyttja. Å andra sidan om du tror att stor talang leder till förändring och mer produktivitet, vilket sedan leder till större efterfrågan, är generositet den absolut bästa strategin. Om varje bra programmerare blev tilldelad de bästa verktygen, den bästa marknadsföringen och den bästa teknologin, föreställ dig då hur mycket mer arbete det skulle generera för medlemmarna i "Programmers Guild". Om vi vidgar vyerna genom att anlita de bästa programmerarna från runtom i världen, är det oundvikligt att massvis med arbetstillfällen även skulle skapas för lokala talanger. Det förefaller mig så att din inställning beror helt på din världssyn. Om du tror att alla programmerare är relativt genomsnittliga, då är din bild begränsad. Om du tror att ditt jobb är att göra ditt jobb (följa kartan) och sen gå hem, är det klart att det är ett nollsummespel."
Personligen ser jag på världsekonomin som en kaka som alltid växer sig större. Om du ser tillbaks på det senaste årtiondet, visar statistiken att världsekonomin fortsätter att växa. Nedanför texten finns ett diagram från wikipedia som visar världens bruttonationalprodukt tillväxt sedan 60-talet. Under denna period tillverkades många bilar av Japanska företag som inte existerade förut och amerikanarna trodde att många jobb skulle gå förlorade. Under samma period flyttade många företag sin produktion till Kina, men "kakan" fortsatte bara att växa. De flesta ländernas ekonomi visade samma mönster. Arbetstillfällen elimineras och arbetstillfällen skapas men i slutändan så blir kakan bara större och större. Jag tror att om västerländska företag vill fortsätta att växa och förbli konkurrenskraftiga under de kommande åren, kommer förmågan att utnyttja den globala arbetsmarknaden att vara avgörande. Med tillgång till ett större utbud av arbetskraft, har du tillgång till mer talang och på så sätt utveckla, växa och överträffa dina konkurrenter snabbare. Utvecklingen är oundviklig och som Seth skriver, det är förmodligen bättre att ändra din bild av världen, välkomna utvecklingen och försöka skapa ett bättre liv.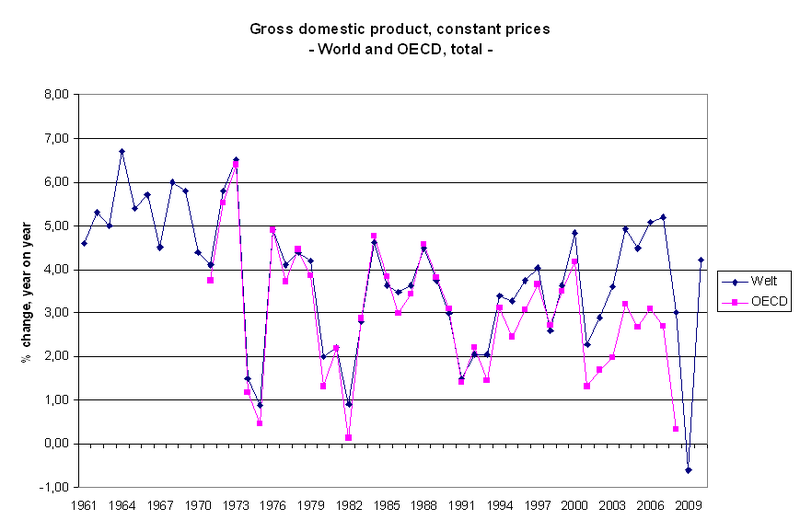 Ein Beispiel ist die Studie von Wilhelm Kohler und Jens Wrona 'Offshoring tasks, yet creating jobs?'. Die hauptsächliche Schlussfolgerung ist jene:
"Wir haben gezeigt, dass in einem Ricardo-Viner-Typ Handelsmodell mit Arbeitslosigkeit, verursacht durch das Suchen von Personal und das Angleichen der Produktivitäsauswirkungen Offshoring, verstärkt durch Grossman & Rossi-Hansberg (2008), als Mittel zur Arbeitsplatzerzeugung dienen kann. Verbesserungen in der Technologie des Offshorings bewirken den Verlust von Jobs in dem Ausmaß, indem mehr Tätigkeiten im Ausland ausgeführt werden, aber es bewirkt auch die Schaffung von Jobs, durch Kostenersparnisse in Verbindung mit einem verstärkten Handel mit Arbeitsaufgaben. Wir identifizierten Bedingungen, unter welchen die Erschaffung von Jobs der Zerstörung von Jobs überwiegt. Ebenso haben wir gezeigt, dass Beschäftigung eventuell einem nicht monotonen Muster, der Anpassung an schrittweise Verbesserungen in der Technologie des Offshorings, folgt"
Letztes Wochenende habe ich 'Linchpin', ein Buch, das von Seth Godin geschrieben wurde, gelesen. Er betrachtet die oben genannte Frage aus der Perspektive der "Denkart". Die Antwort auf die Frage hängt davon ab, wie Sie die Welt sehen. Dies ist ein Auszug aus diesem Buch:
"Begrenzt oder unbegrenzt? Sie können den Marktplatz als begrenzt betrachten, als ein Nullsummenspiel, ein Ort, an dem, damit eine Person gewinnt, eine andere Person verlieren muss. Oder Sie können ihn als unbegrenzt ansehen. Ein Ort, an dem Talent Wachstum schafft und der Markt in seiner Größe zunimmt. Denken Sie an Kim Berry, die eine Programmierervereinigung unterhält, eine nicht profitorientierte Organisation, die Einfluss auf den Kongress, hinsichtlich des Begrenzens oder des Untersagens von H-1B Visas für talentierte Computerprogrammierer aus Übersee, ausübt. Er sagt, für jede Person aus Indien oder China, die einen Job als Programmierer in den Vereinigten Staaten bekommt, verliert eine Person, die dort geboren wurde, ihren Job. Es ist, seiner Ansicht nach, eine win/lose und keine win/win Situation. Es ist schwer großzügig zu sein, wenn Sie diese Meinung vertreten. In einem Nullsummenspiel, sind die Großzügigen unter uns die Dummen, die leicht ausgenutzt werden. Auf der anderen Seite, wenn Sie glauben, dass großartiges Talent zu mehr Innovationen und mehr Produktivität führt, was wiederum zu einer höheren Nachfrage führt, dann ist Großzügigkeit die allerbeste Strategie. Stellen Sie sich vor, wie viel mehr Arbeit es für die Programmierervereinigung schaffen würden, wenn jedem guten Programmierer die besten Werkzeuge, das beste Marketing und die beste Technologie zur Verfügung stehen würden. Wenn wir den Kuchen vergrößern, indem wir die besten Programmierer aus der ganzen Welt ins Spiel bringen, ist es unvermeidlich das große Mengen an Jobs, auch für lokale Talente, geschaffen werden. Es scheint mir so zu sein, dass Ihre Aussichten voll und ganz von Ihrer Weltansicht abhängen. Wenn Sie glauben, dass alle Programmierer eher durchschnittlich sind, dann ist der Kuchen begrenzt. Wenn Sie glauben, dass es Ihr Job ist, dass Sie Ihren Job machen (der Karte zu folgen) und dann nach Hause zu gehen, dann ist es natürlich ein Nullsummenspiel."
Ich persönlich sehe die Weltwirtschaft als Kuchen, der immer größer wird. Wenn man nur auf das letzte Jahrzehnt zurückschaut, belegen die Fakten, dass die Weltwirtschaft stetig wächst. Unter diesem Text finden Sie einen Graphen von Wikipedia, welcher das weltweite Bruttosozialprodukt Wachstum seit den 1960ern beschreibt. Innerhalb dieses Zeitraums wurden viele Autos von japanischen Unternehmen, die vorher nicht existiert haben, hergestellt und die Amerikaner erwarteten, dass dadurch viele Jobs zerstört werden würden. Zur selben Zeit verlagerten viele Unternehmen ihre Produktion nach China. Aber der Kuchen wuchs weiterhin. Und die Wirtschaft der meisten Länder wies dieselben Muster auf. Jobs werden zerstört und erschaffen, aber letztendlich wachsen der Kuchen und die Anzahl der Jobs weiterhin. Ich glaube, dass wenn westliche Unternehmen weiterhin wachsen wollen und in den kommenden Jahren konkurrenzfähig bleiben wollen, es entscheidend ist, den globalen Labor Pool anzuzapfen. Mit dem Zugang zu einem größeren Labor Pool, haben Sie Zugang zu mehr Talent und können Ihre Mitstreiter in Bezug auf Innovationen, das Wachstum und der Leistung übertreffen. Die Bewegung ist unvermeidlich, da, wie Seth schreibt, es wahrscheinlich ratsam ist, dass Sie Ihren Blick auf die Welt verändern, die Bewegung willkommen heißen und versuchen ein besseres Leben zu erschaffen.