Indians can't say no, fact or fiction?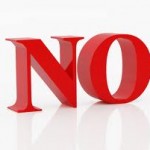 I just read an article on a famous Dutch IT news site (webwereld)  about Indians not being able to say 'no'. The article was based on an interview with another Dutch firm with an office in India. What strikes me is that my experience is opposite the general notion and even the experience of a competitor. The sample used in the article is a customer approaching a sales manager of the Indian company with an RFP. The Indian team makes an estimate and says the project will take 10 days. The customer asks whether they can do it in 6 days and the deal is made.
Now I wonder: is this deal made because the Indian can't say no or because of other factors? I have been faced with the same situation many times in the past (past, because Bridge learned that taking projects on a fixed price is very hard to manage in an offshore situation and hence we use our dedicated model to ensure success). And each time a customer asked me 'can you do it for a lower amount of hours', I was tempted to make a deal, just to get going. Isn't this a natural habit of sales people? And if you have that programmer sitting idle, it's tempting to just strike a deal and let him do the work. Of course, you can be sure the expectations are set wrong as you are very likely to spend more time than those 10 days estimated initially. But I would say this is a common problem in any IT project anywhere in the world?
The article claims that the 'no' saying affects the offshore cooperation between an Indian and a European company. The strange thing is that in my own practice, I can't even recall a problem which was caused by someone in Bridge India not being able to say no. I lived in India for a year and even in daily life, my experience is not that Indians can't say no. Somehow, when you spend more time with Indian people and try to understand the culture and adapt to it, you get used to their way of communicating (and vice versa). When someone in India wiggles his head, I can see whether he means yes or no (they make the same movement, but the meaning varies).
Whether it's fact or fiction, I think the impact this cultural trait has on offshoring, has a solution: Preparation, selecting the right People and investing time in developing a clear Process (also see my previous article on the 5 P's of offshoring: https://www.bridge-global.com/blog//offshoring/wondered-key-success-factors-offshoring). I actually believe that once those three ingredients get enough attention, it doesn't matter where you outsource: to a company next block or to India. You have to think about the 'how' and 'who' before you start acting. And once the cooperation gets going, it will take some time to adjust (the process will have to be improved step by step), but the good news is: many companies have gained substantial revenues by not saying no to outsourcing, but by embracing the opportunity, while paying attention to the P's.