How to prepare for managing a remote team?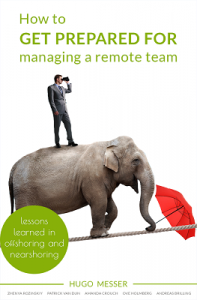 We recently launched our new ebook about offshoring and nearshoring: 'How to prepare for managing a remote team?' We found that many people skip some very important steps when they move work offshore. Most companies spend a lot of time on country and supplier selection and once that's fixed, they get going. Many problems in communication and collaboration can be prevented, by focussing on some essential steps before 'doing it'.
Where do you start when you plan to move work halfway across the globe, to a country and culture you don't know, several time zones away? What can you do to prepare your company and your people to make offshoring a success? What have other people done in order to prepare for their offshore journey? Typical questions that come up while preparing, are:
Which country shall we outsource our work to?
What project shall we choose to start with?
  Which company suits our needs best?
Shall we set up our own captive center or outsource to a partner?
 Are we organized well enough to start offshoring work?
Though relevant, these questions are only part of the preparation story. Most people tend to focus a lot on these 'initiation' questions at the expense of wondering 'how to organize'. Preparation is seen as selecting the right country and partner and then 'just get going'. Many problems can be prevented by investing time in the right organization before the 'real work' starts. In the eBook, we try to provide advice on both perspectives, based on experiences from several experts around the globe.
In the first chapter, I describe how to get started. The main questions I answer in this chapter are related to 'initiation' and the questions above. The second chapter is written by Patrick van Dun, an experienced 'offshore founder'. Patrick, a native Belgian, has set up several Asian offices for himself and for his employers. He provides guidelines on the choice of setting up your own remote office versus engaging a partner.
In chapter three, Zhenya Rozinskiy, discusses his best practices for getting the right people on your team. Zhenya has set up several teams around the world. Born in Ukraine, he has lived in the US for the past decade. He presents his views about setting up your own team as opposed to outsourcing work to a vendor. In the fourth chapter, I provide a checklist to determine whether you and your company are 'ready' to embark on an offshore adventure.
In the remainder of the book, focus is on the organizing part of preparation. Amanda Crouch from the UK has over 20 years of experience as a management consultant and researcher. She is specialized in collaboration and building partnerships. In the chapter Making Offshore Collaborations Work, she looks at stimulating collaboration at the company and individual level. The central theme is 'trust' and she proposes some tools and metrics related to building a real collaboration.
Ove Holmberg, an IT project manager and agile coach from Sweden, describes his concept of the virtual teamroom in chapter 6. He looks at both the tools that can be used for remote collaboration and the physical organization of the office on both sides. Andreas Brilling from Germany works as engagement manager for CapGemini and has led a large offshoring initiative from Australia. In the final chapter, I share my personal story of how I got started with setting up my own offices in India and Ukraine.
This is the second eBook in a series of eBooks that will be published within a couple of months' interval and later on into one printed book. These eBooks are being written through a crowdwriting project and the authors are experts from all over the world.
If you are interested in the upcoming eBooks or are an experienced practitioner who would like to contribute with your knowledge, please send an e-mail to h.messer@bridge- outsourcing.nl