How to create support for offshoring in your existing team?Hoe creëert u ondersteuning voor offshoring in uw bestaande team?Konsten att få ditt team att stödja offshoring?Wie kann ich Offshoring in Ihrem bestehenden Team unterstützen?
In my daily practice, I regularly encounter a big challenge in managing remote teams for our customers. And it's a challenge that Bridge as a provider of dedicated teams, can hardly influence: the support the existing team in the client organization gives to the offshoring endeavour.
I believe this issue exists in any situation where work is outsourced to another company, either in-house or offshore. But in offshoring there are more subtle issues underneath the surface. To clarify my reasoning, the setup in our specific case is: a customer (a software company) hires dedicated programmers from Bridge. Bridge creates the team and operationally the team is managed directly by the client. Bridge supports the communication between the customer team and the remote development team. To make a cooperation successful, it's important that the people involved on the client side are in favor of offshoring.
There are some reasons that I regularly face why people might oppose such cooperation:
1. Fear of loosing their jobs. The basic fact is that the media often write about bigger companies moving jobs offshore. In most such cases, those companies slash their work force in the home country. This news creates fear even in smaller companies that offshore work.
2. Bad experiences in the past. If a project manager or programmer has worked in a company that had a hard time managing offshore team members, this influences the mindset. If in the new company, he has to manage remote people again, this gives resistance.
3. Not ready to invest time. People prefer to work the way they always worked, which usually means having colleagues on the desks next to you. This communicates more easily, because people are close, know each other intimately, speak the same language and understand the culture they live in. People need to invest time in managing someone offshore and to learn how to go about that, but not all are willing to do so.
4. Us versus them. It's strange that some team members are far away and you hardly know them. It feels like 'they' are making stuff for 'us', while 'we' have to protect our turf and it's better if 'we' make it.
The big question here is what can management do to change the odds? In the past years, I have learned that a few things can contribute positively:
1. Clearly communicate from the beginning why you are doing it. If the reasons for involving an offshore team are not clear to the existing team, they will simply assume point one above: that the company wants to save costs and they'll loose their jobs in the short or long term. In my experience, the cases communicated in the media hardly happen in smaller companies. The problem we solve for our customers is the hard times they have in finding talented programmers at reasonable costs. In all cases, they see offshoring as an addition to their existing team, to attract more talent and not to replace or fire people.
The best starting point is to communicate the vision, the why of the project, to paint the picture of where offshoring will put the company in 3-5 years and what this means to the existing team. Then fill the details that may motivate the team:
a. It's exciting to work with foreign colleagues (everybody goes abroad for vacations too);
b. Work that the existing team doesn't like can be moved offshore;
c. It will release the work pressure on the existing team; d. Smart brains will be added to   the team;
e. We can release products faster, grow our company, make more profit and pay you a   better salary.
2. Let them physically meet the offshore team members. This point is not to be underestimated. Although we can manage the remote work with all modern technologies at hand, we often overlook the importance of human bonding. Once the team members (so not only the managers) have met each other, drank a beer together and cracked a few jokes, the ice will break and they will have more understanding for each other. The best way is to get the offshore team to your premises, so they can meet everyone and get a hang of the culture.
3. Educate them. While it is true that in the beginning it takes time to create new habits, to manage the remote team, it's also a rewarding challenge. If people see this as a challenge, they get more eager to master the skills needed to get the job done. In Bridge, one of the instruments we use is a weekly management meeting in which an experience process manager from our side facilitates the communication. This person hands tips and tricks to the team that can be used. This way, every week, the cooperation gets a little better. Trainings on distributed scrum or reading books about offshoring also stimulate learning.
4. Create a culture of 'colleagues' and 'one team'. All people in the team on both locations should see themselves as part of one team, having a common goal. They work on the same projects and it's a joint effort. Although this is probably the biggest challenge of all above solutions, it's also the most effective. You could assign one person with the responsibility to stimulate this feeling, to constantly remind the team that they are one and they are trying to achieve the same thing with each other and not against each other.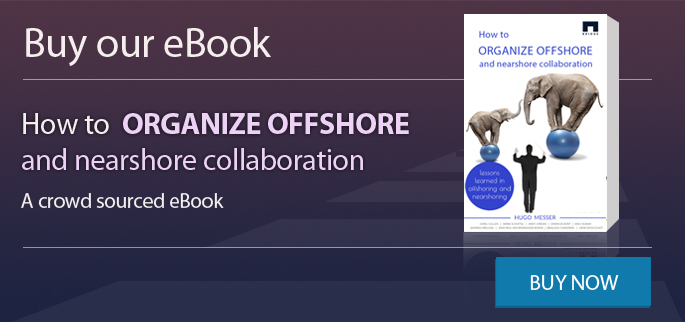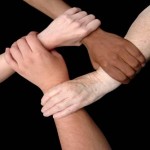 In mijn dagelijkse praktijk, word ik dagelijks geconfronteerd met een grote uitdaging in het managen van remote teams voor onze klanten. En het is een uitdaging dat Bridge als aanbieder van toegewijde teams, het volgende nauwelijks kan beïnvloeden: de ondersteuning die het bestaande team in de klantenorganisatie geeft aan het streven naar offshoring.
Ik geloof dat dit probleem bestaat in elke situatie waar werk is geoutsourced aan een ander bedrijf, hetzij in-house of offshore. Maar in offshoring zijn er subtielere problemen vlak onder de oppervlakte. Om mijn redenering te verduidelijken, de opzet on onze specifieke casus is: een klant (een software bedrijf) huurt toegewijde programmeurs van Bridge. Bridge creëert het team en operationeel wordt het team rechtstreeks gemanaged door de klant. Bridge ondersteunt de communicatie tussen het team van de klant en het remote ontwikkelingsteam. Om een samenwerking succesvol te maken is het belangrijk dat de mensen die betrokken zijn aan de klantenzijde voorstander zijn van offshoring.
Er zijn enkele redenen die ik regelmatig tegenkom waarom mensen tegen zo een samenwerking kunnen zijn:
1. Angst om hun baan te verliezen. Het fundamentele feit is dat de media vaak schrijft over grote bedrijven die banen verplaatsen naar offshore. In de meeste van deze gevallen zullen de bedrijven het aantal banen in eigen land verminderen. Dit nieuws zorgt voor angst in zelfs de kleinere bedrijven die offshore werken.
2. Slechte ervaring in het verleden. Als een project manager of programmeur heeft gewerkt in een bedrijf dat moeite had met het managen van offshore teamleden beïnvloedt dit de mentaliteit. Als hij in het nieuwe bedrijf wederom remote mensen moet aansturen, zal dit leiden tot weerstand.
3. Niet bereidt om tijd te investeren. Mensen geven de voorkeur om te werken zoals ze gewend zijn, wat vaak betekend dat om collega's te hebben aan bureaus naast uw eigen werkplek. Dit communiceert ook makkelijker, want mensen zijn dicht bij elkaar, kennen elkaar intiem, spreken dezelfde taal en begrijpen de cultuur waarin ze leven. Mensen moeten tijd investeren om iemand offshore te managen en moeten leren hoe daarmee om te gaan, maar lang niet iedereen is daartoe bereidt.
4. Wij tegen hen. Het is vreemd dat sommige teamleden ver weg zijn en dat u ze nauwelijks kent. Het voelt alsof 'zij' spullen maken voor 'ons', terwijl 'we' onze turf moeten beschermen en het beter als 'wij' het maken.
De grote vraag hier is, wat kan het management doen om de kansen te veranderen? In de afgelopen jaren heb ik geleerd dat een aantal dingen een positieve bijdrage kunnen leveren:
1. Duidelijke communicatie vanaf het begin waarom u iets doet. Indien de redenen voor het betrekken van een offshore team niet duidelijk zijn voor het bestaande team, zullen zijn gewoon het bovenstaande punt 1 aannemen: dat het bedrijf kosten wil besparen en dat zijn hun bannen verliezen op de korte of lange termijn. In mijn ervaring, de gevallen die in de media worden besproken gebeuren nauwelijks in de kleinere bedrijven. Het probleem dat we oplossen voor onze klanten zijn de moeilijkheden die ze tegenkomen in de zoektocht naar getalenteerde programmeurs tegen redelijke kosten. In alle gevallen, zien ze offshoring als een toevoeging aan hun bestaande team, het aantrekken van meer talent en niet om mensen te vervangen of te ontslaan.
Het beste uitgangspunt is om de visie te communiceren, het waarom van het project, het beeld scheppen van waar offshoring het bedrijf zal brengen in 3-5 jaren en wat het betekent voor het bestaande team. Vul daarna de details in die het team kunnen motiveren:
a. Het is spannend om met buitenlandse collega's te werken (iedereen gaat ook naar het buitenland voor vakantie);
b. Het werk dat het bestaande team niet graag doen, verplaatst kan worden naar offshore;
c. Verminderd de werkdruk om het bestaande team; d. knappe koppen zullen worden toegevoegd aan het team;
e. We kunnen producten sneller afleveren, ons bedrijf laten groeien, meer winst maken en een beter salaris betalen.
2. Laat ze fysiek het offshore team ontmoeten. Dit punt moet niet onderschat worden. Hoewel we het remote werk kunnen managen met alle moderne technologieën, zien we vaak het belang van menselijke binding over het hoofd. Zodra de teamleden (dus niet alleen de managers) elkaar hebben ontmoet, samen een biertje hebben gedronken en een aantal grappen hebben uitgewisseld, zal het ijs breken en zullen zij meer begrip voor elkaar hebben. De beste manier is om het offshore team op uw deurmat te krijgen, zodat ze iedereen kunnen ontmoeten en bekend worden met de cultuur.
3. Onderwijs ze. Hoewel het waar is dat in het begin het tijd kost om nieuwe gewoontes te creëren, om het remote team te managen, is het een belonende uitdaging. Als mensen dit zien als een uitdaging, worden ze enthousiaster om de skills onder de knie te krijgen om het werk af te krijgen. In Bridge, één van de instrumenten die we gebruiken is een wekelijkse management vergadering waarin een ervaren proces manager van onze kant de communicatie beheert. Deze persoon geeft tips en tricks aan het team die gebruikt kunnen worden. Op deze manier wordt de samenwerking elke week een beetje beter. Training op gedistribueerde scrum of het lezen van boeken over offshoring stimuleren ook het leerproces.
4. Creëer een cultuur van 'collega's' en 'één team'. Alle mensen in een team op beide locaties zouden zichzelf moeten zien als deel van één team, met één gezamenlijk doel. Ze werken aan dezelfde projecten en het is een gezamenlijke inspanning. Hoewel dit waarschijnlijk de grootste uitdaging van alle bovenstaande oplossingen is, is het ook de meest effectieve. U kunt één persoon toewijzen die de verantwoordelijkheid krijgt om dit gevoel te stimuleren, om het team voortdurend te laten herinneren dat zijn één team zijn en dat ze met elkaar en niet zonder elkaar hetzelfde ding proberen te bereiken.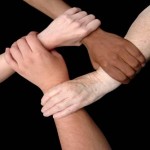 I min vardagliga verksamhet stöter jag ofta på utmaningar i att styra avlägsna team åt våra kunder.  Det är en utmaning att Bridge, som en leverantör av hängivna team, knappast kan påverka: stödet det befintliga teamet i kundens organisation ger bemödandet offshore.
Jag tror att det här problemet finns i alla situationer där arbete är outsourcat till ett annat företag, antingen in-house eller offshore. Men i offshoring finns det mer subtila frågor under ytan. För att förtydliga mitt resonemang vill jag använda ett specifikt case: en kund (ett mjukvaruföretag) hyr in hängivna programmerare från Bridge. Bridge skapar ett team som operativt styrs av kunden. Bridge assisterar i kommunikationen mellan kundens lokala team och det nya avlägsna utvecklingsteamet. För att göra samarbetet till en succé är det av vikt att personerna i kundens team är positiva till offshoring.
Det finns några anledningar som jag ofta möter och som får människor att motsätta sig ett sådant samarbete.
1. Rädsla att förlora sitt arbete. Faktum är att media oftast skriver om större företag som flyttar arbetskraft utanför landets gränser. I de flesta fallen gör företagen nerskärningar på den lokala personalen. Detta skapar rädsla även i mindre företag som använder offshoring.
2. Dåliga erfarenheter. Om en projektledare eller programmerare har arbetat i ett företag som hade problem med att styra medlemmar i offshore-team, kommer det att påverka deras tankesätt. Om hen återigen ställs inför uppgiften att styra personer offshore i det nya företaget finns risken att denne gör motstånd.
3. Inte beredd att lägga ner tid. Människor föredrar att arbeta på samma sätt som de alltid har arbetat på, vilket vanligtvis innebär att ha kollegor vid skrivbord runt omkring. Detta förenklar kommunikationen på grund av närheten till varandra, att man känner varandra på ett intimare plan, talar samma språk och förstår kulturen man lever i. Man måste lägga ner tid på att styra någon offshore och lära sig hur man ska gå tillväga, men alla är inte beredda att göra det.
4. Vi mot dem. Det är märkligt att vissa teammedlemmar befinner sig långt borta och att du knappt känner dem. Det känns som att "de" gör saker åt "oss", medan "vi" måste skydda vår mark och att det vore bättre om "vi" gjorde dem sakerna.
Den stora frågan är vad ledningen kan göra för att ändra på oddsen? De gångna åren har jag lärt mig att det finns ett par saker som kan bidra positivt:
1. Kommunicera tydligt från första början varför du gör som du gör.  Om anledningen till involveringen av ett offshore-team inte är tydlig, för det redan existerande teamet, kommer medlemmarna anta att det har att göra med det som punkt 1 nämner ovan: att företaget vill spara på kostnader och att de kommer att förlora sina jobb i det korta eller långa loppet. Mina egna erfarenheter är att de fall som nämns i media sällan händer på mindre företag. Problemet vi hjälper våra kunder att lösa är svårigheterna med att hitta duktiga programmerare till en rimlig kostnad. I samtliga fall ser företagen offshoring som ett komplement till sitt redan existerande team för att attrahera fler talanger och inte för att ersätta eller avskeda personal.
Den bästa utgångspunkten är att kommunicera visionen, projektets varför, för att måla upp bilden av vad offshoring kommer att göra med företaget inom tre till fem år och vad det innebär för det lokala teamet. Sedan bör man fylla i med detaljer som motiverar teamet:
a. det är spännande att arbeta med utländska kollegor (alla åker utomlands på semester också);
b. arbete som det lokala teamet inte gillar kan förflyttas till teamet offshore;
c. det kommer minska på pressen på det lokala teamet;
d. smarta hjärnor kommer att komplettera teamet;
e. vi kan producera produkter snabbare, expandera, öka inkomster och betala högre löner.
2. Låt dem personligen träffa medlemmarna i offshore-teamet. Den här punkten ska inte tas för lätt på. Även om vi, med dagens teknik, kan hantera arbetet som är placerat offshore förbiser vi ofta det betydelsefulla i personliga relationer. När teammedlemmarna (inte bara ledningen) har träffats, druckit ett par öl och dragit ett par skämt, kommer isen ha brutits och de kommer ha en större förståelse för varandra. Det bästa sättet är att få offshore-teamet till dina lokaler, så att de kan möta alla och få en kläm på kulturen.
3. Utbilda dem. Även om det till en början tar tid att skapa nya vanor för att kontrollera offshore-teamet är det en givande utmaning. Om man ser det som en utmaning blir man mer triggad till att lära sig det som behövs för att få arbetet gjort. På Bridge är ett av verktygen vi använder ett ledningsmöte, varje vecka, där en erfaren process manager från vår organisation är med och underlättar kommunikationen. Denna person kommer med tips för teamen att använda. På det sättet blir samarbetet lite bättre för var vecka. Utbildningar angående scrum eller att läsa böcker om offshoring stimulerar också lärandet.
4.   Skapa en känsla av "kollegor" och "ett team". Alla delaktiga teamen, från alla platser, ska se sig själva som en del av ett team med ett gemensamt mål. De arbetar på samma projekt i en gemensam insats. Detta är antagligen den största utmaningen, av alla lösningar nämnda ovan, men också den mest effektiva. Ge en person ansvar att skapa denna känsla, att hela tiden påminna teamet att de faktiskt är ett team samt att de tillsammans försöker uppnå samma mål med varandra och inte mot varandra.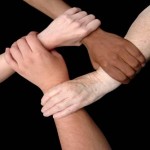 In meiner täglichen Routine, werde ich regelmäßig mit der großen Herausforderung des Verwaltens von entfernten Teams für unsere Kunden konfrontiert. Und es ist eine Herausforderung, die Bridge als Anbieter der Offshore-Teams kaum beeinflussen kann:  Die Unterstützung der bestehenden Teams des Kunden ergibt das Unterfangen des Offshoring.
Ich glaube das Problem existiert in jeder Situation, in der Arbeit ausgelagert wird, entweder im eigenen Haus oder Offshore.  Aber beim Offshoring gibt es mehr subtilerer Probleme unter der Oberfläche. Um meine Argumentation zu verdeutlichen, ist das Setup in unserem speziellen Fall wie folgt: ein Kunde (eine Software-Firma) engagiert Programmierer, die nur für ihn arbeiten werden, von Bridge. Bridge bildet das Team und operational wird das Team direkt vom Kunden gemanagt. Bridge unterstützt die Kommunikation zwischen dem Kundenteam und dem entfernten Entwicklerteam. Um eine Kooperation erfolgreich zu machen, ist es wichtiger, dass die involvierten Personen auf der Seite des Kunden zugunsten Offshorin sind.
Es gibt einige Gründe, mit denen ich regelmäßig konfrontiert werde, warum sich Menschen solcher Kooperationen widersetzen könnten:
1. Angst vor dem Verlust des Arbeitsplatzes. Der Fakt ist, dass Medien oft darüber berichten wie größere Firmen ihre Jobs ins Ausland verlagern. In den meisten Fällen, kürzen diese Firmen ihre Belegschaft in dem Heimatland. Diese Nachrichten erzeugen Angst selbst in kleineren Unternehmen, die Offshore arbeiten.
2. Schlechte Erfahrungen in der Vergangenheit. Wenn ein Projekt-Manager oder Programmierer in einer Firma gearbeitet hat, die sich schwer getan hatte beim Managen von Offshore-Teammitgliedern, beeinflusst dies die Denkweise. Wenn er in der neuen Firma Menschen in der Ferne verwalten muss, erzeugt das Widerstand.
3. Nicht bereit Zeit zu investieren. Personen bevorzugen auf ihre gewöhnlichen Weise zu arbeiten, was üblicherweise bedeutet Kollegen neben sich sitzen zu haben. Die Kommunikation wäre einfacher, weil Personen sich nahe sind, mit einander vertraut sind, sprechen die gleiche Sprache und verstehen die Kultur in der sie leben. Personen sollten Zeit investieren beim Verwalten von Personen in der Ferne und sollten lernen wie man so etwas angeht auch wenn nicht alle dazu bereit sind.
4. Wir versus die. Es ist seltsam, dass einige Teammitglieder weit weg sind und man diese kaum kennt. Es fühlt sich an wie "die" machen Sachen für "uns", während "wir" unseren Anteil beschützen müssen und es ist besser wenn "wir" das tun.
Die große Frage ist hier, was kann Management tun um die Chancen zu verändern? In den letzten Jahren habe ich gelernt, dass wenige Dinge dazu positiv beitragen können:
1. Kommunizieren Sie klar von Beginn an warum Sie es tun. Wenn die Gründe für das Involvieren eines Offshore-Teams dem bestehenden Team nicht deutlich sind, werden sie einfach den oben genannten Grund vermuten, dass die Firma Kosten einsparen möchte und sie auf kurze oder lange Sicht ihre Jobs verlieren werden. Nach meiner Erfahrung geschehen die von den Medien berichteten Fälle kaum kleinen Unternehmen. Das Problem, welches wir für unsere Kunden lösen, ist die Schwierigkeit talentierte Programmierer zu einem vernünftigen Preis zu finden. In allen Fällen sehen sie Offshoring als eine Ergänzung zu ihrem bestehenden Team, um mehr Talente anzuziehen und nicht um Personen zu ersetzen oder zu kündigen.
Der beste Ausgangspunkt ist die Vision, das Warum des Projektes, zu kommunizieren, um eine Vorstellung zu bekommen, wohin Offshoring das Unternehmen in 3-5 Jahren bringt und was es für das bestehende Team bedeutet. Danach fügen Sie die Details hinzu, die das Team motivieren kann: a. Es ist aufregend mit fremden Kollegen zu arbeiten (jeder fährt auch für den Urlaub ins Ausland); b. Arbeit, die das bestehende Team nicht mag, kann Offshore verschiebt werden; c. Der Arbeitsdruck des bestehenden Teams wird gemindert.  d. Schlaue Köpfe werden zu dem Team hinzugefügt; e. Wir können Produkte schneller auf den Markt bringen, schneller unsere Firma wachsen lassen, mehr Profit machen und bessere Löhne bezahlen.
2. Lassen Sie die Offshore-Teammitglieder sich persönlich treffen. Diesen Aspekt sollten Sie nicht unterschätzen. Obwohl wir die Arbeit in der Ferne mit allen vorhandenen modernen Technologien verwalten können, übersehen wir oft die Wichtigkeit der menschlichen Bindung. Sobald die Teammitglieder sich getroffen haben (also nicht nur die Manager), ein Bier zusammen getrunken haben und ein paar Witze gerissen haben, wird das Eis brechen und sie werden mehr Verständnis für einander haben. Der beste Weg ist es, wenn Ihr Offshore-Team in Ihre Räumlichkeiten kommt, somit können sie alle treffen und bekommen einen Eindruck der Kultur.
3. Bilden Sie sie aus. Es stimmt, dass es am Anfang Zeit dauert neue Gewohnheiten des Verwaltens von Teams in der Ferne zu schaffen, aber es ist auch eine lohnende Herausforderung.  Wenn Personen das als Herausforderung ansehen, werden sie eifriger sein die erforderlichen Fähigkeiten für den Job zu meistern. Das wöchentliche Management-Meeting ist eines unserer Instrumente in Bridge, bei dem ein erfahrender Prozess-Manager von unserer Seite die Kommunikation erleichtert.  Diese Person stellt Tipps und Tricks dem Team bereit, die verwendet werden können. Auf diesem Weg wird jede Woche die Kooperation ein klein wenig verbessert. Trainings von Scrum oder das Lesen eines Buches über Offshoring stimulieren das Lernen auch.
4. Schaffen Sie eine Kultur von "Kollegen und "einem Team". Alle Personen der Teams an beiden Orten sollten sich als Teil eines großen Teams ansehen mit einem gemeinsamen Ziel. Sie arbeiten am gleichen Projekt und es ist eine gemeinsame Anstrengung. Obwohl das wahrscheinlich die größte Herausforderung von allen oben genannten Lösungen ist, aber es ist auch die effektivste. Sie sollten eine Person mit der Verantwortung beauftragen dieses Gefühl zu fördern, um das Team ständig daran zu erinnern, dass sie eins sind und dass sie gemeinsam versuchen das Gleiche zu erreichen und nicht gegeneinander.