How far can offshoring go?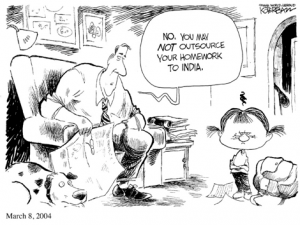 The Hackett Group published an interesting research about the future of offshoring. They did the research among 4700 companies with $1 billion in turnover or more. The researchers predict that by 2016, 2.3 million jobs will have been moved offshore from the US and Europe. This represents 1/3 of total jobs in IT, finance, procurement and HR. 40% of that goes to India.
At the same time, the EU will have a shortage of 700.000 people in IT by 2015. 90% of all jobs will include an IT component. The IT sector is growing rapidly as companies become dependent on IT systems for operations and growth. So companies have a big incentive to move jobs offshore or nearshore. 
The question is how far can offshoring go? Will there always be more jobs to move offshore? The Hackett Group predicts that by 2014, the levels of movement will begin to decline and in the decade after that, will come to a halt. By 2022, they predict that all jobs that can be moved, will have been moved offshore.
I strongly believe that companies gain more experience with offshoring and based on that experience, they can organize more work with a global workforce. What I wonder about is the speed of this movement. The past 6 years I have been involved in offshore and nearshore IT outsourcing. What I see is that the US is offshoring much more much more easily. Europeans are very reserved as they all have considerations about language and cultural differences. The past 6 years, I have seen IT outsourcing become much more 'normal'. But I believe Europe still has to see the biggest growth in the next decade. I sincerely hope that European companies will offshore as much as the Hackett Group predicts. But I doubt that this will happen fast enough to fill the gap of 700.000 people.