How are Intelligent Apps Changing Our Daily Lives? Checkout 5 Great Examples!
It's not an exaggeration when I say life without smartphones is unimaginable. Just imagine how we feel when we accidentally leave our phone at home. Don't we feel completely cut off from the world though we are in the midst of our society real-time?
Smartphones have transformed the way we work, play and communicate. And what makes smartphones irresistible is the wonderfully-functional applications that we download in these devices. These apps unlock the full potential of your smart device and make our lives worthwhile as we can manage our personal/professional relations/activities in an effectual, engaging, and interactive way. Intelligent apps (I-apps) are the next generation of apps that make our everyday tasks and experiences remarkably well.
Thanks to Intelligent apps, our smartphones recognize speech, help us make confident decisions, and enable us to understand unknown languages through translation!
What are Intelligent Apps?
Intelligent apps are pieces of software that leverage different Artificial Intelligence (AI) components such as Machine Learning (ML), Natural Language Processing (NLP), data analytics, deep learning, robotics, general intelligence, expert systems, etc.
The AI-powered algorithm helps these apps to take advantage of historical and real-time data to facilitate key user decisions. The smart integration and use of predictive and prescriptive analytics, customer data, and product insights help these apps to engage in continuous learning method, and hence the following benefits.
Benefits
• Offer predictions and decisions to deliver super-rich and custom-made experiences for users.
• Offer valuable solutions based on users' history of interactions with brands, people and machines.
• Deliver personalized and contextual content to facilitate constant engagement.
• Analyse multiple data sources to deliver valuable insights and help in automating simple routine tasks without specifically waiting for user commands.
In the recent Google I/O, the developers' conference, Sundar Pichai announced its shift from a mobile-first to an AI-first world. He emphasized that Google will be focussing more on AI and Machine Learning. And this shift is applicable not only to Google, but brands across all the verticals are also moving vigorously towards AI.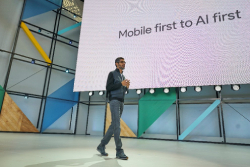 A Few Intelligent Apps that Revolutionize Our Daily Lives
1. Alexa, Siri, and Google Assistant
Amazon, Apple, and Google's digital voice assistants are great examples of intelligent apps that combine natural language generation, processing and machine learning. These digital voice assistants have made our lives super-easy and convenient as they give updates about weather, traffic, adjust a smart LED, coordinate meetings, and make your moments lighter by telling jokes and playing music. These virtual assistants converse sounding like a human thanks to Natural Language Processing (NLP) and Natural Language Generation (NLG).
Read here to know how these tech giants are improving their smart-home voice assistants more and more. These AI agents have great prospects to get smarter in the future years; for instance, Cogito, an MIT spin-off company, is amazingly combining AI and behavioural analytics to make the conversations by machines more empathetic and perfectly in sync with human conversations.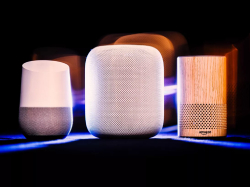 2. Netflix
Netflix, one of the disruptive brands in the media industry, is the best example for leveraging intelligence systems and for developing a business model around them. Its personalized movie recommendation feature is powered by Big Data. It mainly uses explicit (info directly given by users) and implicit (behavioural) data. Its powerful algorithms examine and identify patterns from data helping users to efficiently pick what to watch next. Smart use of AI helps Netflix to can build a store of knowledge that will facilitate precise user prediction.
3. Ada Health
Ada Health is an AI-powered 'doctor in your pocket, app that helps users to understand their health and navigate to the most suitable care. The app launched a fresh method to personalized health, reinforced by sophisticated AI, human medical know-how and the power of mobile technology. The app has a conversational interface. It asks simple and relevant questions and compares the answers to its rich data of similar cases to deliver custom-made responses to the unique health profiles. It ultimately helps you find the best possible explanations for your symptoms. It guides users to take the most appropriate care, and track and manage their health.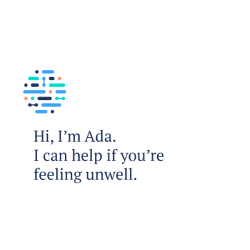 4. ELSA
ELSA (English Language Speech Assistant) is an AI-powered app that helps you improve your English speaking skills with the right pronunciation and accent. The app gives professional training with a series of exercises and teaching material. Powered by speech recognition technology, it understands your native language and teaches you how to speak like native English speakers based on a series of exercises and teaching material. By simply inputting a word you can learn its right pronunciation. They were in news recently when they secured funding of round of $7 million from Gradient Ventures, Google's AI-focused venture fund.
5. Seeing AI
Seeing AI is an AI application developed by Microsoft. It's a talking camera app for the visually-impaired. The app helps the blind and low-vision community around the world to know about their surroundings through the cameras on their smartphones. Its computer vision narrates the visual world by reading out short text and documents and by describing about a person real-time. It helps blind users to identify currencies, colour, handwriting, emotion/age/gender, light and even images in other apps. It powerfully converts visual data into audio feedback.
Microsoft has recently added a new feature to Seeing AI. Now users can simply tap their finger on an image on a touch-screen to hear an instant audible description of the same.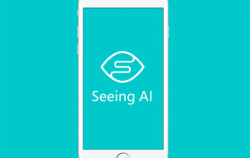 Conclusion
Intelligent apps are touching all areas of our lives – Media, Technology, Healthcare, Finance, Lifestyle, etc., by implementing tasks with the highest accuracy. Let's wait and see how intelligent apps are going to make everything smart around us. Feel free to comment your perspective on how we are moving towards a future that's incomplete without these AI-powered apps.