Why Is Custom Software Development Crucial for Business Success?
The pandemic has changed the way businesses work. From established companies to small enterprises, COVID-19 has forced businesses to go online and embrace digital transformation.
Businesses have now realised the importance of custom software development for ensuring smooth workflows as they switch their operations to virtual spaces. Custom software and mobile application development have become an integral part of the growth and success of businesses. The advancement of technology, smart interfaces, and highly intelligent cognitive capabilities will significantly transform the way businesses work.
It is imperative for organizations to adapt to these technological advancements to stay ahead in the competition. While there are several ways one could build custom software, the ideal approach is to rely on a competent custom software development company. With a team of experienced developers and designers, you can effortlessly bring your ideas to reality and give a boost to your business.
Find out how some corporates have responded to the COVID-19 pandemic and what are the changes they have adopted.
What exactly is a custom software solution?
Custom software development is the process of designing, building, deploying and maintaining software solutions for a unique set of functions, users, or brands. As opposed to commercial off-the-shelf software (COTS), a custom software solution takes into account a brief set of requirements.
In this 'new normal' a custom software solution is the perfect way for businesses to adapt to the changes in their operations. For instance, currently, there are several companies that have allowed their employees to work from home, which subsequently limits physical interactions. There are several others who have resorted to various different measures and changes in daily operations to readjust to the changes.
Either way, such organizations need to adopt custom software development tailored for their specific use. Software designed for remote working will meet the unique workplace requirements and maintain privacy without affecting the regular workflow.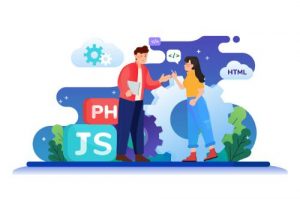 For the development of such software, a software development company first analyses the business goals and the product requirements. This helps them understand the needs and preferences of the customers, and the organization at large. With these tailor-made dynamic, scalable, and cost-effective solutions work becomes easier, enabling businesses to stay a step ahead.
Difference between custom software development and commercial software
Custom software solutions are developed in tune with the changing market demands and easily adapt to innovations and changes. Whereas, commercial off-the-shelf software solutions are pre-packaged and purchased by companies to help them carry out their tasks. Such software allows companies to adjust their workflows to their expertise.
On the other hand, custom software development enables you to retain only those features that you are likely to use and support scalability in the future.
Why do businesses need custom software development services?
Custom software solution is the best way for businesses to stay afloat and grow in today's changing market. Moreover, custom software solutions assure that your data stays secure and confidential as it is used by a limited number of users. Also, there is a high amount of data security risk with commercial off-the-shelf software. Considering your business' security, privacy, and accountability, custom software development is the best option.
What are the benefits of custom software development?
1. Improved efficiency
Custom software is built to support unique operations and workflows that are followed by an organization and its users. Therefore, the basic goal of the software is to help improve the operational efficiency and productivity of the company and its employees. By tweaking the workflow to remove unnecessary factors and automating mundane manual jobs, custom software development can improve the efficiency and add business value.
3. Enhanced scalability
Since a customized software is built keeping in mind the unique needs of a business, it can be easily changed and expanded. Depending on the growing needs and requirements of the company, developers can build and incorporate them into the application. It can also save the costs that are associated with purchasing extra licenses and subscriptions of commercial software.
2. Independent solutions
Custom software ensures that you will be free from the services of a commercial software development company. This means that you need not worry about the frequent price hikes for support or licensing. You will also remain unaffected when a product goes out of business or a vendor terminates a software. With a custom software, you are in charge of the development and maintenance of the software. Which means you can update it as frequently as you want.
4. Reduced costs
Most of the time, commercial off-the-shelf software solutions fail to work with existing and legacy applications. In such cases, companies have to invest further to make sure that the software works well with the existing infrastructure. On the other hand, in custom software development, the solution integrates well with the existing environment and adapts easily to an organization's needs.
Technologies to adopt in custom software development
· Open-source development
Open-source means that the source code of the software is open to the development community to use. For example, Linux, Microsoft, and Google. Open source for custom software development can significantly improve the development productivity through the reuse of software components. It can also improve interoperability by avoiding proprietary architecture.
· Artificial Intelligence
Artificial intelligence lets the software replicate learning and human decision making. It can make the development process better. For instance, NLP (Natural Language Processing) can be used to analyse specific requirements from elaborate tests and it also recommends improvements based on the best practices. AI technologies like modelling and machine learning can also be incorporated into custom software development through application programming interfaces (API) and cloud services.
· Blockchain Technology
Another advanced technology used for custom software development is blockchain technology. New types of secure transactional and financial applications are now built by leveraging open-source hyper ledger technology and blockchain ledgers.
· Cloud-based development
By hosting development environments in the cloud, it brings the advantages of cloud computing. It supports coding, integration, design, and other development functions to build cloud-native and on-premise applications. A software development company offering cloud-based development also promises speed, cost control, and on-demand convenience.
· Mobile Application Technology
Mobile application technology is an absolute must in today's changing markets. With the customer's buying behavior shifting from services and products to experiences, mobile app development is a key demand among leading companies. In order to enrich the user experience and enhance customer engagement, developers have to connect mobile apps with data.
· Analytics Technologies
These technologies allow software applications to represent data through visualizations, dashboards, and predictive capabilities. Cloud-based services, AI, and automation make it easier to incorporate analytics into custom software development.
Wrapping Up
With the pandemic changing the way businesses worked and forcing them to go online, it has become crucial for companies to rely on custom software solutions that are tailored to suit their business. With custom solutions, you can create applications that simplify your workflows, streamline your operations and enhance overall communication.
While the initial investment may look high to some, custom applications are an investment that will give you a higher ROI in the future. If you are looking for a software development company to build you an efficient and customized software for your business, look no further. The experts at Bridge Global have a proven track record of developing state-of-the-art custom solutions for our clients that have helped them grow their business.