11 Best Magento 2 SEO Extensions to Improve Visibility & Ranking
For both on-page and off-page optimizations, Magento 2 SEO extensions provide a full range of SEO functions for your store. These Magento plugins include keyword optimization, meta tag management, sitemap development, and other SEO-related chores.
While SEO for Magento is essential, it can be intimidating for store owners if they don't use the right Magento extension. This is because it is a continuous process that necessitates competence in keyword research, link development, and content generation. Due to this, companies should use the best Magento 2 plugins/Magento 2 extensions to maintain their top rankings with little outlay of funds.
Another alternative is to hire developers who are competent in building custom Magento 2 SEO extensions or buy them from a top Magento Plugin Store.
This post will introduce the best Magento 2 Modules - both free and commercial that address important issues including sitemap production, image optimization, duplicate content protection, and more, and have received good user feedback. Read ahead to find out which Magento 2 SEO extension will help your online store become more visible.
Meanwhile, if you want to know what Magento development is and a handful of benefits stemming from it, read here.
Key Features That a Magento 2 SEO Extension Should Have
Even though Magento 2 has more built-in SEO tools than Magento 1, choosing the best Magento 2 SEO extensions is still essential to maximizing this platform's ability to increase organic traffic and revenue.
There are several Magento 2 plugins on the market, each with a unique combination of features and advantages. To improve search capabilities, however, organizations need to take into account the important aspects listed below when selecting a Magento 2 SEO module:
Keyword research and optimization

: Finding and including relevant keywords in webpage content.

On-page optimization

: Making sure that the language and phrases used on internet pages are appropriate, clear, and well-written using the Magento 2 plugin

Management of robots.txt and the URL

: Controlling which pages search engines can crawl and index as well as managing website URLs to make sure they are simple and easy to remember.
Mobile optimization: Ensuring that the website is mobile-friendly, both in terms of design and functionality using the best Magento 2 modules
Customization of structured data (rich snippets): The use of structured data to modify the appearance of website products in search results
Analytics and reporting: Analytical monitoring of website traffic and use of data to enhance website performance using top Magento modules
Additional features: Canonical tags and hreflang tags, which prevent content duplication, the creation of SEO alt tags for product photos automatically, 301 redirects, external links, and other features are additional things to look for
Top Magento 2 SEO Extensions for Improved Visibility & Ranking
1. Bridge Global's Magento 2 SEO Toolkit
This Magento 2 SEO Toolkit extension from Bridge Global is a solution for managing your SEO from the admin panel.
This extension will assist store owners in creating SEO-friendly text for their products, category, and CMS pages. It also allows store owners to build Rich Snippets for pages and examine the Rich Snippet preview for each page. Based on the specified content, each page displays an SEO ranking with a color code.
Pages can have canonical URLs added by admins. Page Robots such as "INDEX, FOLLOW", "NO INDEX, FOLLOW", and so on are available on each page. Canonical URLs and Robots will be added to page headers. Pages can also have a focus keyword added by the admin. Page SEO will be measured, and the page will be ranked as a result.
The module also includes a dashboard page where the store admin can view the SEO rating of all pages.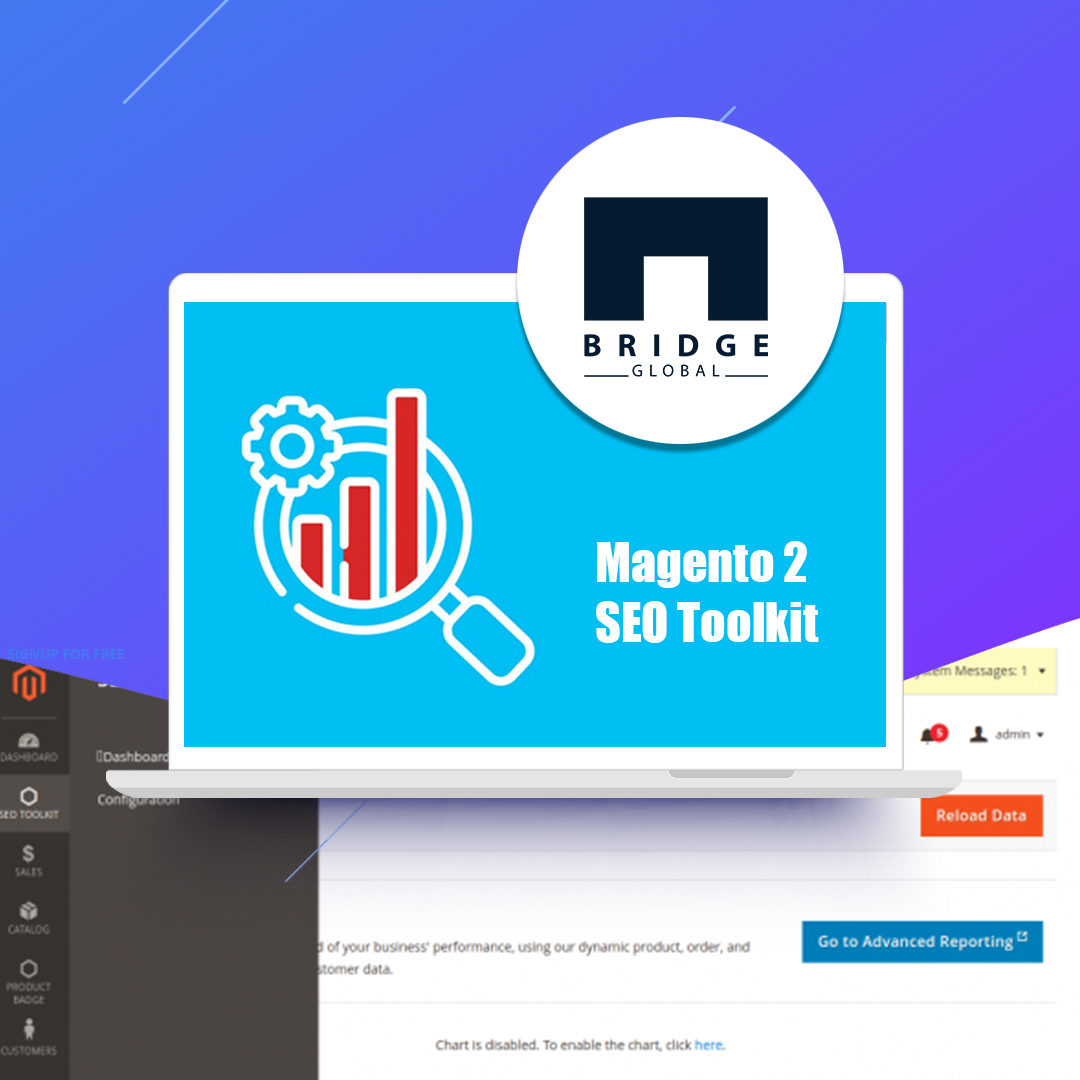 Highlighted features include:
Focus keyword
Product, category, and CMS pages all include rich snippets
Robots tag options
Add canonical URL
Color-coded SEO ranking based on the focused keyword
2. Mageplaza's Magento 2 SEO Extension
When you install this Magento 2 SEO extension, it activates wonderful features automatically. You may be able to raise your site's ranks by more than 32% and experience a significant increase in organic traffic by using Mageplaza's powerful SEO addon. It also eliminates the problem of duplicating content. There are many more features that will improve your SEO. Highlights include:
Stop duplicate content concerns
Structured data is automatically added
Template rules for dynamic and variable metadata
Simple use of Hreflang tags
Excellent SEO report feature
Breadcrumbs are site-friendly
Smart Page Analysis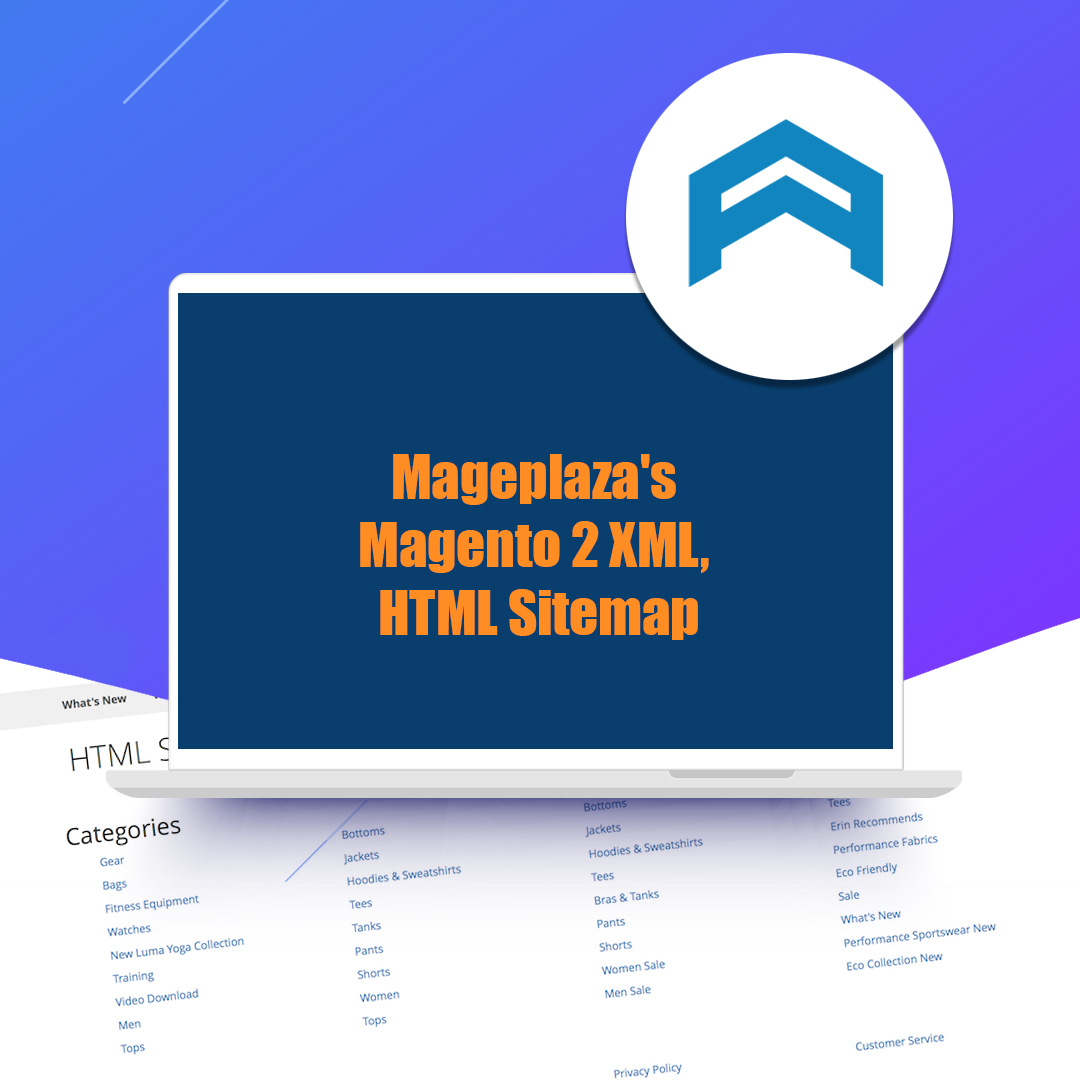 Enhanced HTML/XML Sitemaps functionality
Facilitate cross-linking
Support multi-store and multi-languages
Price:
Standard pricing ranges from $94 (Open Source edition) to $284 (Commerce edition).
Professional pricing ranges from $189 (Open Source version) to $379 (Commerce edition).
Ultimate costs $322 for the Open Source version and $522 for the Commerce edition.
3. Magento 2 SEO Extension by Mirasvit
With the Advanced SEO Suite, you can save a significant amount of time and work on your SEO while still being at the top of search results. This extension is an SEO powerhouse. From meta tags to the sitemap, you'll have complete control over every SEO-related aspect of your online business. It also offers features that will help you stand out to customers by introducing rich snippets, breadcrumbs, and business information straight to search results.
Highlights include: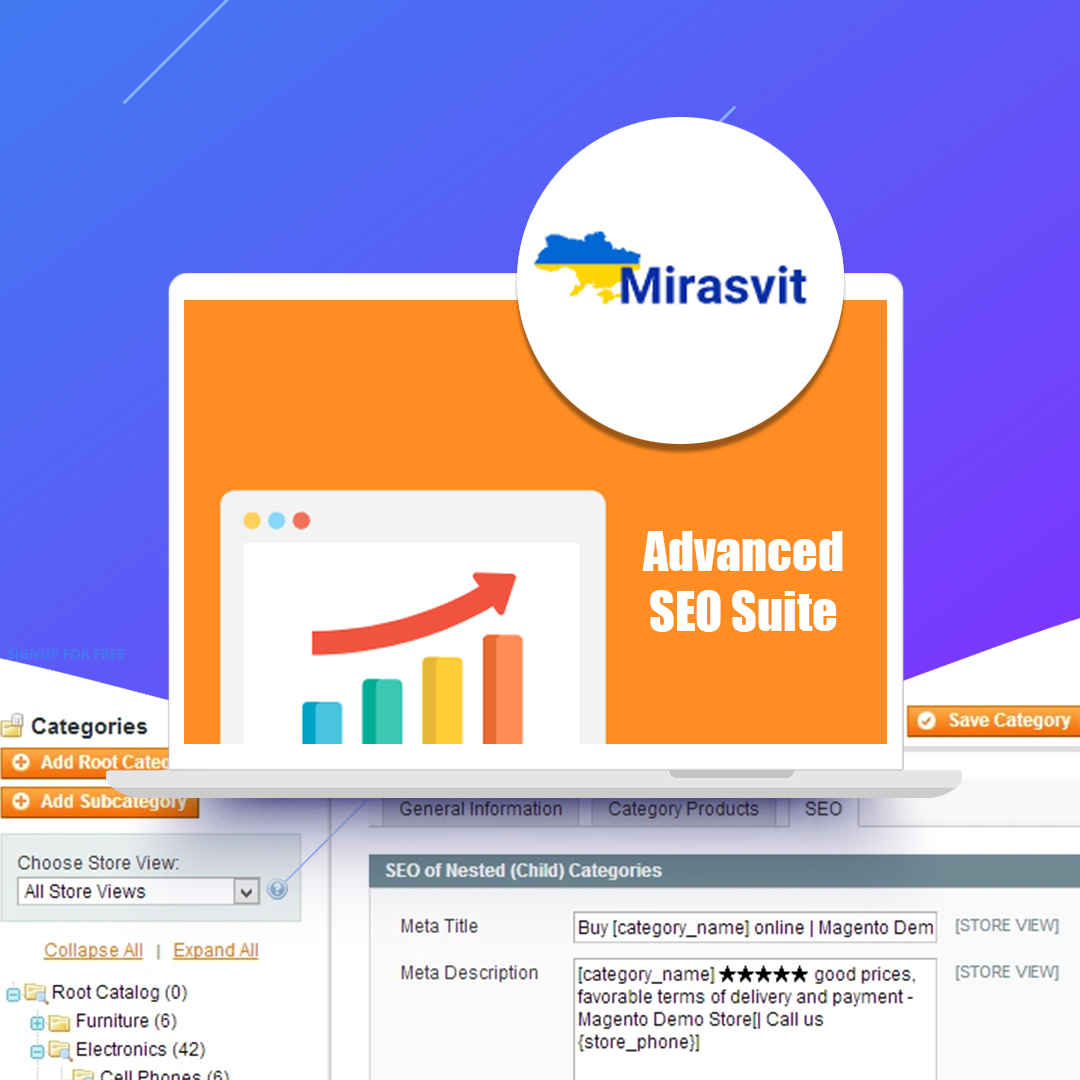 Templates for advanced SEO
Rewrite any store URL's meta titles, descriptions, keywords, and H1 tags.
Make rich snippets available in search results.
Insert cross links into a page
Create 301, 302, or 307 redirects for any website URL
Define the canonical and relationship tags for any page
SEO Toolbar for assessing the SEO health of a page
Create a Google advanced frontend HTML sitemap and an XML sitemap.
Price: $149 for the Open Source edition and $248 for the Commerce edition.
4. WeltPixels' Magento 2 Rich Snippets
Rich Snippets enable crucial information such as product ratings, pricing, product sizes, and colors to appear directly on search results. This brings your genuinely potential clients to your digital store and aids in ranking. WeltPixels' free extension provides a plethora of possibilities for creating simple snippets for your business.
Highlighted features include:
Product names, product photos, tax, special price, description, and brand have structured data.
Add rich snippets to Google, Twitter, and Pinterest-rich pins.
Display overall review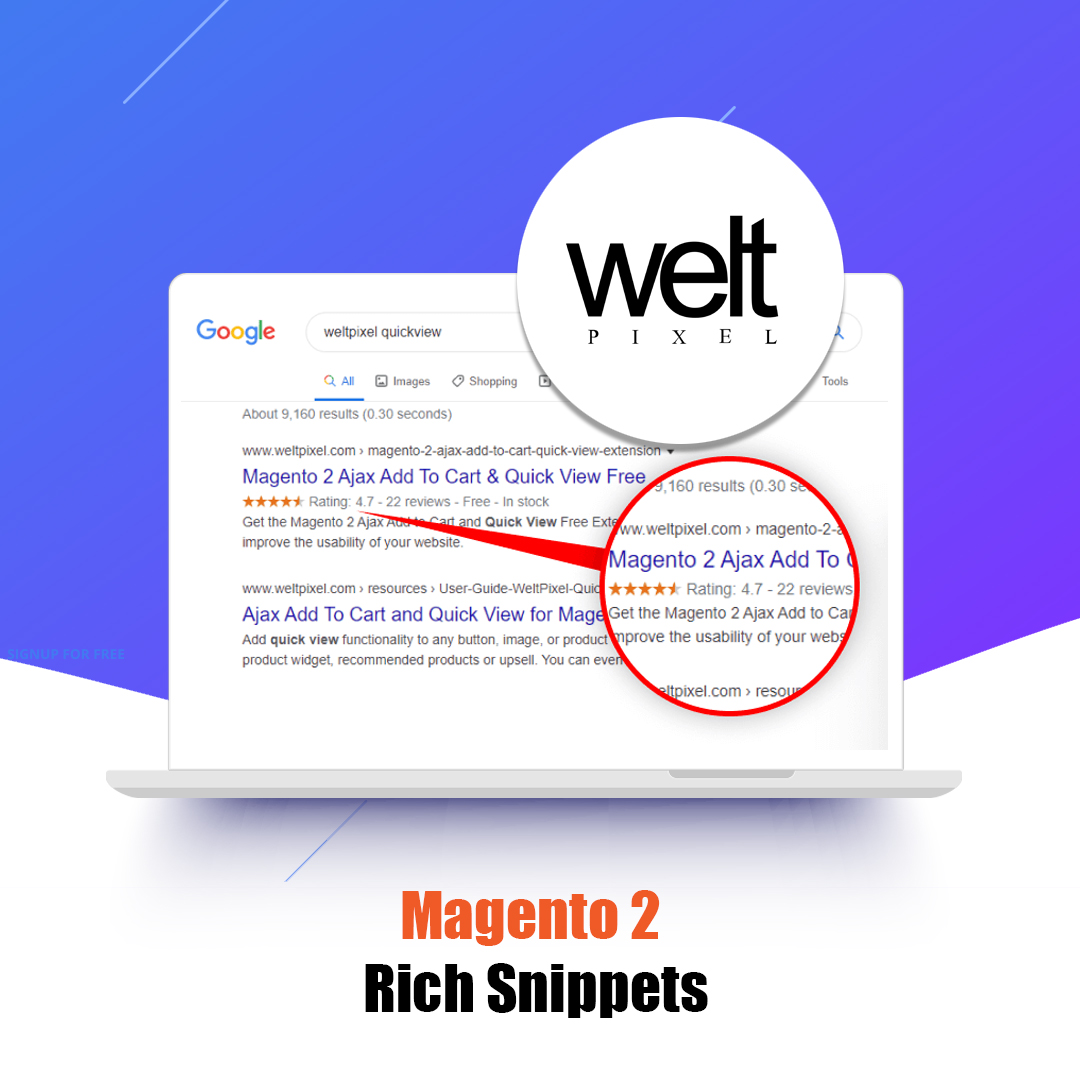 5. Webkul's Magento 2 SEO Extension
This one includes an assortment of tools and choices for enhancing the SEO of your online business. You may use this extension to show Rich Snippets for products, categories, and CMS pages. You may also provide content for the Facebook Open Graph and Twitter Cards, allowing users to share the product on Facebook and Twitter. It also includes an SEO meter for Magento stores, which displays the overall SEO scale of any page while offering recommendations for improvement.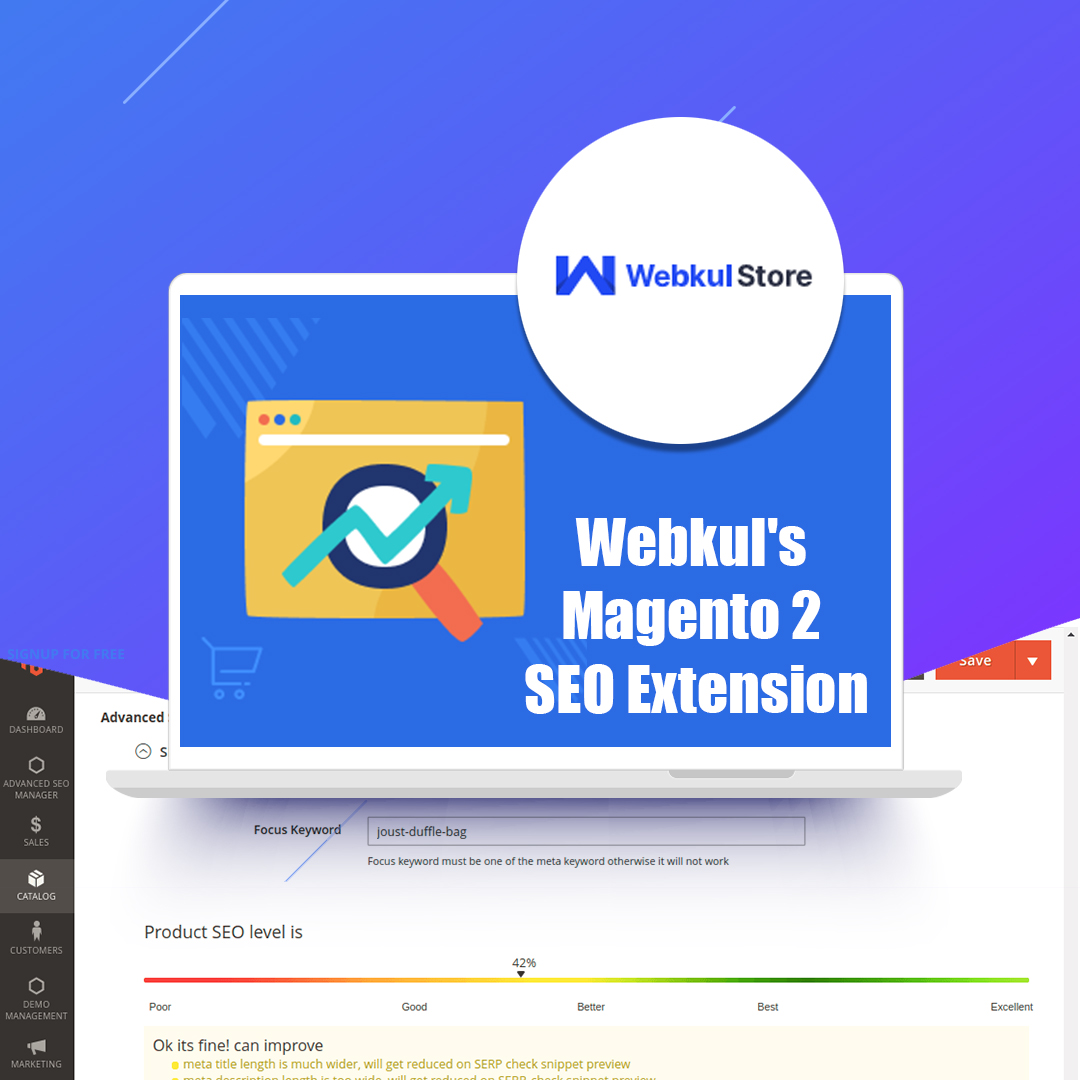 Highlights include:
CMS, Product, and Category Rich Snippets
Sitemaps in HTML and XML
Hreflang compatibility
Magento SEO meter
Search Engine Robots
Sitelinks search field
The Open Source edition costs $149, while the Commerce edition costs $298.
6. Magenest's Super Easy SEO
Magenest's Super Easy SEO Magento extension offers excellent solutions for SEO concerns. Store owners can currently build SEO metadata for 10,000 SKUs with a single click, saving considerable amounts of time compared to manually creating this data. You have control over how web spiders interact with your website and can avoid duplicating content with this Magento 2 plugin.
Highlights include:
Avoid duplicating content
Control crawling and indexing
Audit of the quality of SEO content
Product SEO design template
Markup for structured data
Create an SEO category template
Create picture alt tags automatically
Make use of cross-links using this best Magento 2 extension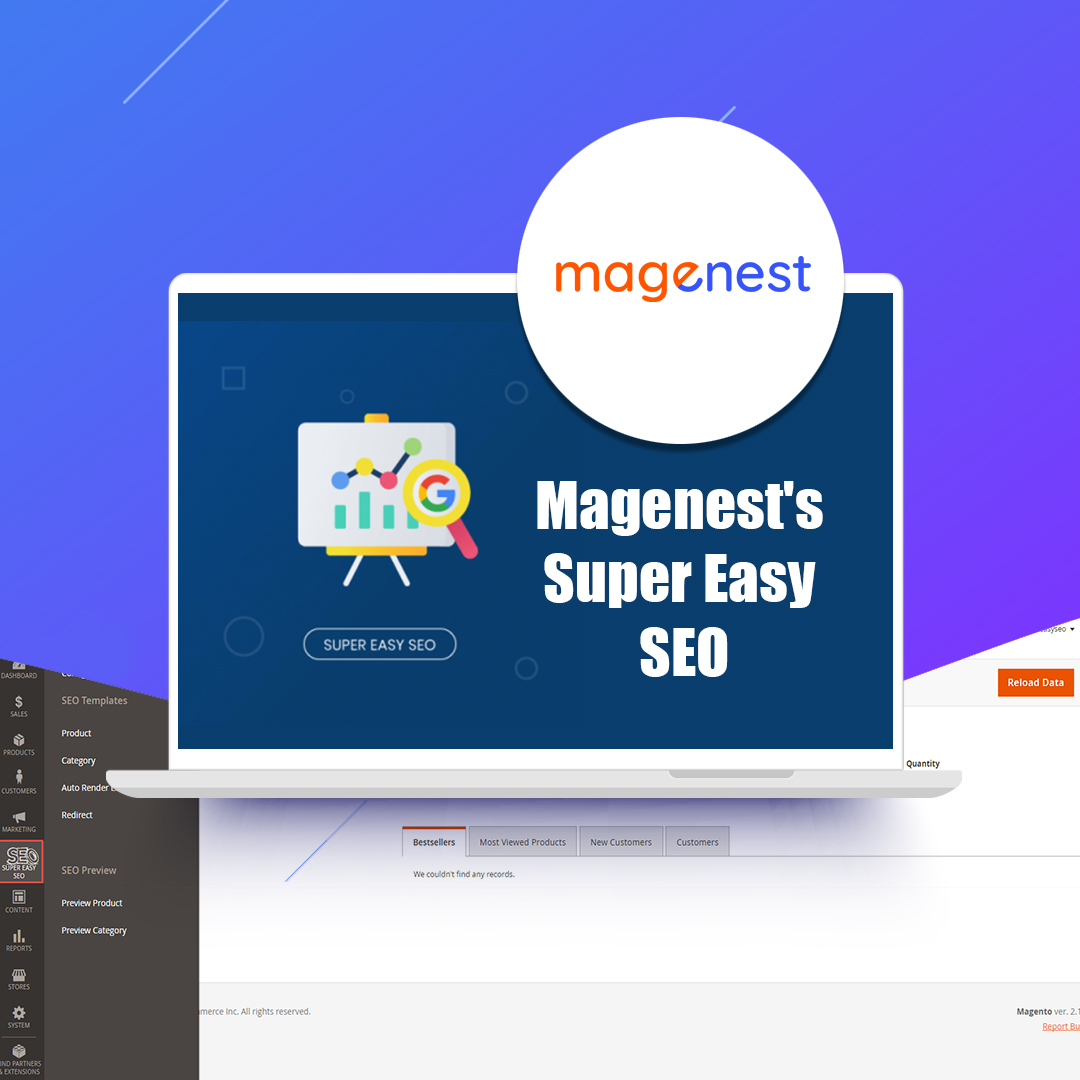 7. FME Extensions' Magento 2 SEO Extension
This is a comprehensive SEO toolkit for Magento 2 stores that substantially decreases the effort and expense of search engine optimization for your digital marketing initiatives. It has eight powerful tools that automate your SEO and help your site rank better on SERPs. And, based on reviews, FME provides great assistance for users who use their SEO addon.
Highlights include: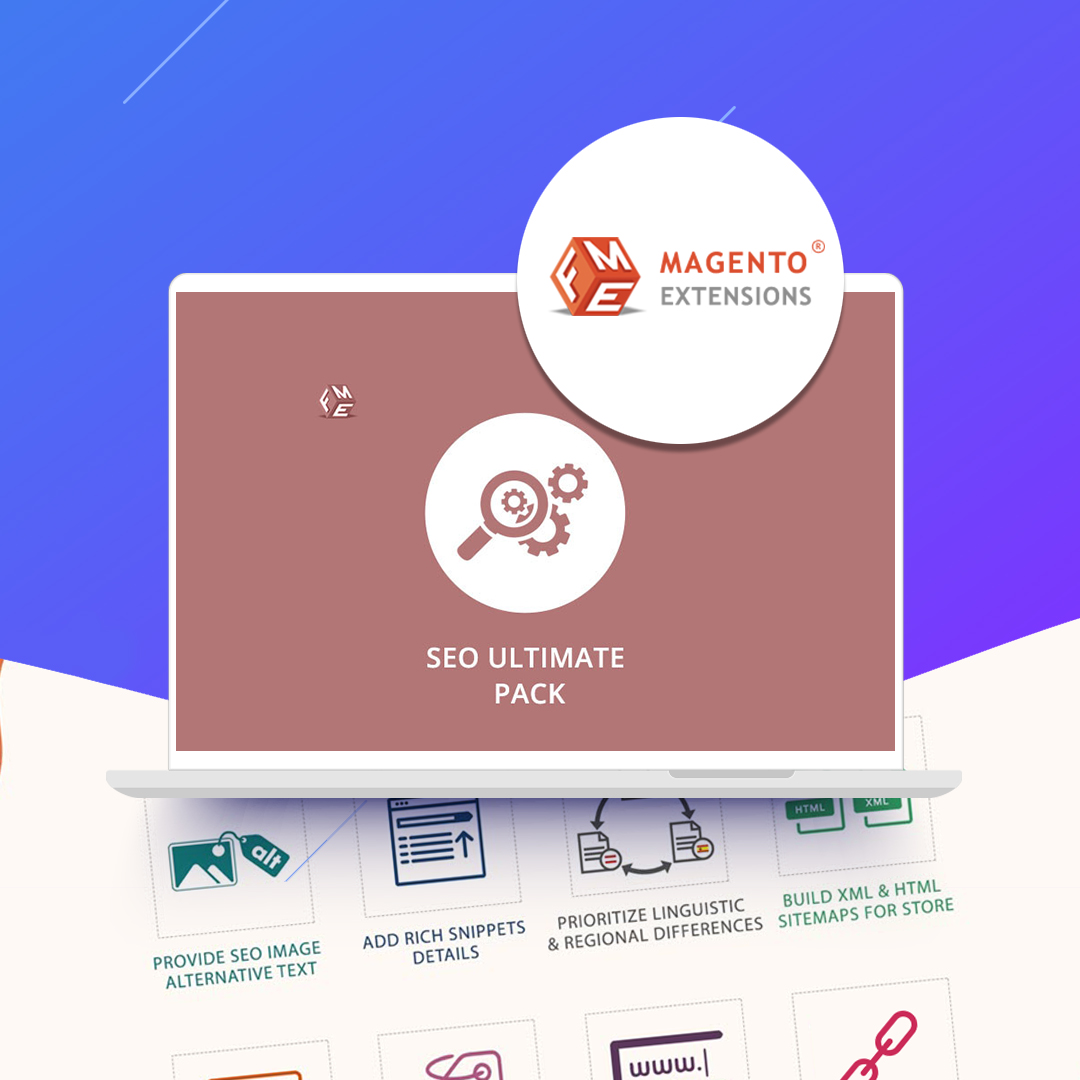 Create SEO Meta Titles, Descriptions, and Keywords automatically
Create SEO-Optimized Alt Tags for Product Images
Create XML and HTML Sitemaps
Extend Google Rich Snippet Tags
Hreflang Tags help to avoid Content Language Duplicates
Insert No Index No Follow Tags on Any Page
Add Canonical Tags to Reduce Duplication
Create Internal Links on Product, Category, and CMS Pages automatically
Price: $279.99 for the Open Source edition and $679.99 for the Commerce edition.
8. Mageworx's SEO Suite Ultimate extension
When it comes to SEO enhancement, Mageworx knows what's important and works hard to offer the greatest features in its package. It's a well-liked SEO extension with positive customer feedback. It includes a wide range of efficient features that can fix any SEO issue your site is experiencing. From duplicate content concerns to 404 pages and page navigation, this plugin has you covered.
Highlights include:
ANY meta value may be mass-optimized using SEO templates
Rich snippets with advanced features to increase site CTR and exposure
Sitemaps in XML and HTML for better crawling and indexation
Avoiding deleted/404 pages with automatic redirection
Canonical URLs are used to eliminate duplicate content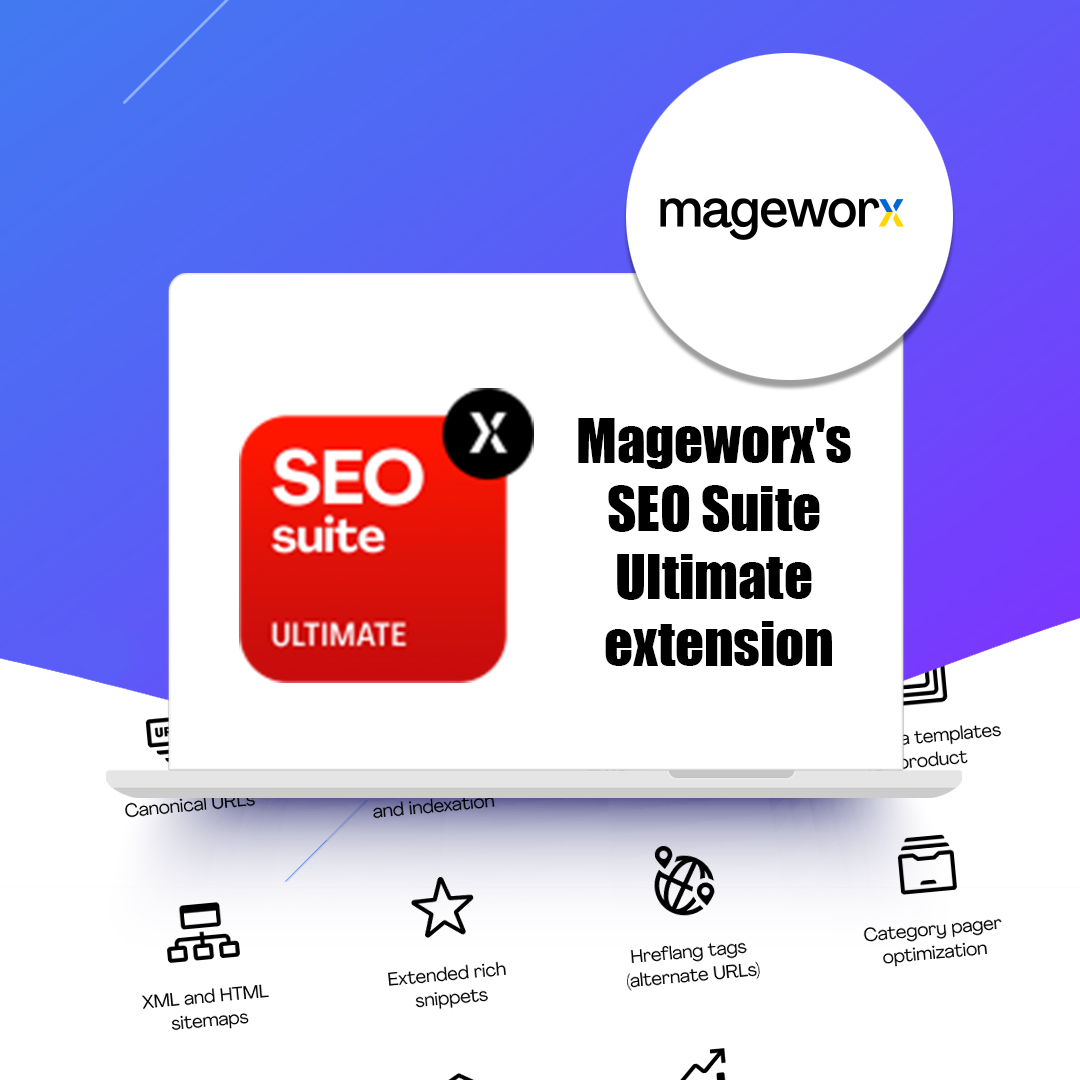 Support for GraphQL API for simple integration with PWA storefronts
Layered navigation makes it easier to access the filter pages
Price: $298 for the Open Source edition and $598 for the Commerce edition.
9. Mageplaza's Magento 2 XML, HTML Sitemap
An XML sitemap assists search engines in understanding your site's link structure, which speeds up indexing. The HTML sitemap, on the other hand, allows people to better navigate your size. Both sitemaps are essential for the initial steps in optimizing your Magento store for SEO.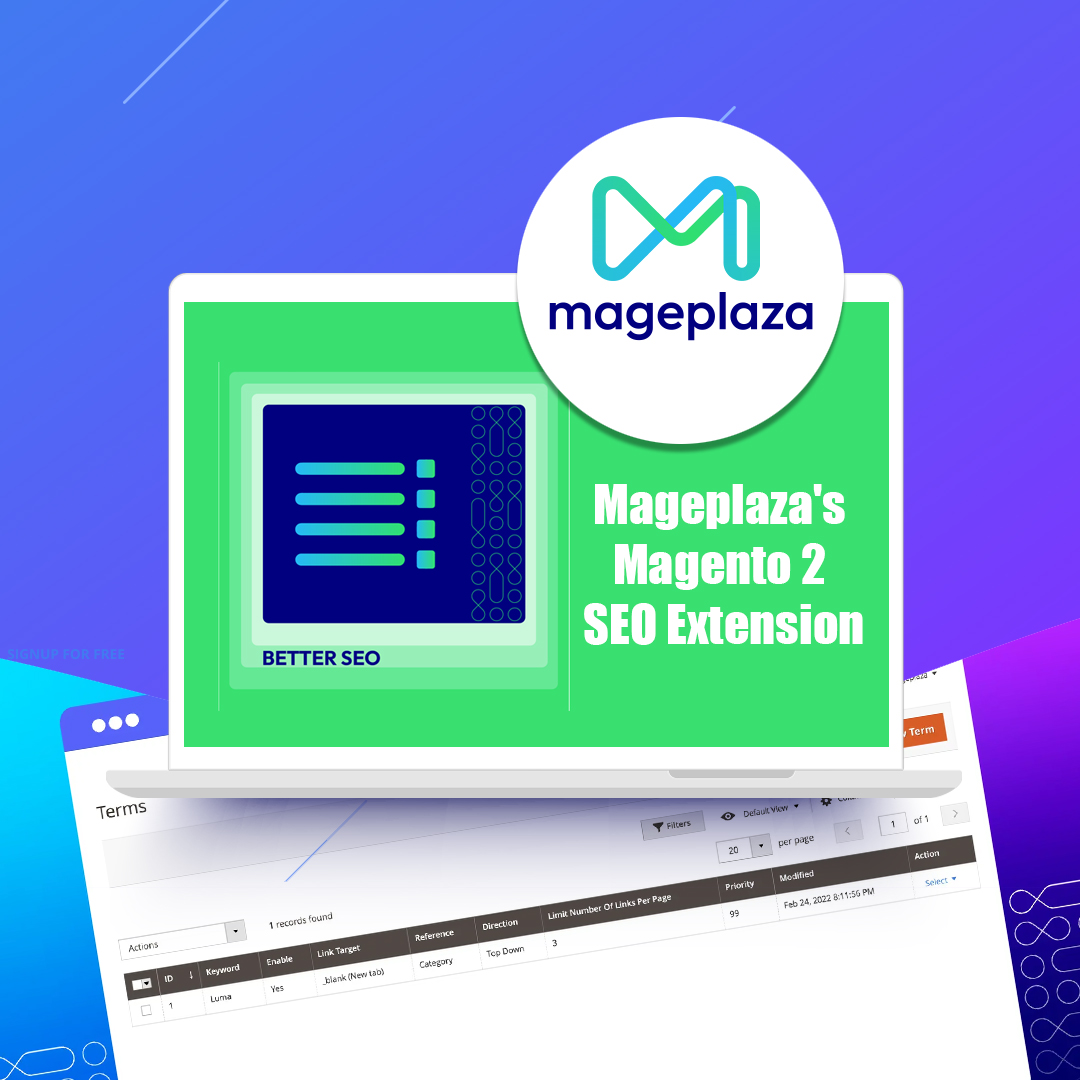 And Mageplaza's Magento 2 XML, HTML Sitemap is one of the best Magento 2 extensions for achieving this.
Highlighted features include:
Create an HTML and XML map
You may easily add or remove specific URLs
Remove product and category pages with ease
10. Amasty's SEO Toolkit
Amasty provides some of the most remarkable Magento extensions, and this is no exception. Amasty's SEO tools make it much easier to improve your SEO. It's an all-in-one solution with strong features that can help your site rank higher in search results and attract more visitors. One-click SEO analysis, adding rich snippets, pagination and redirection, and more sophisticated features are available.
Highlights include:
Advanced pagination + redirects
Search results with rich snippets
Templates for automated meta tags
Using unique product URLs to prevent duplicate content
Internal and external cross links automation
Advanced HTML and XML sitemaps
Compatible with the Jet Theme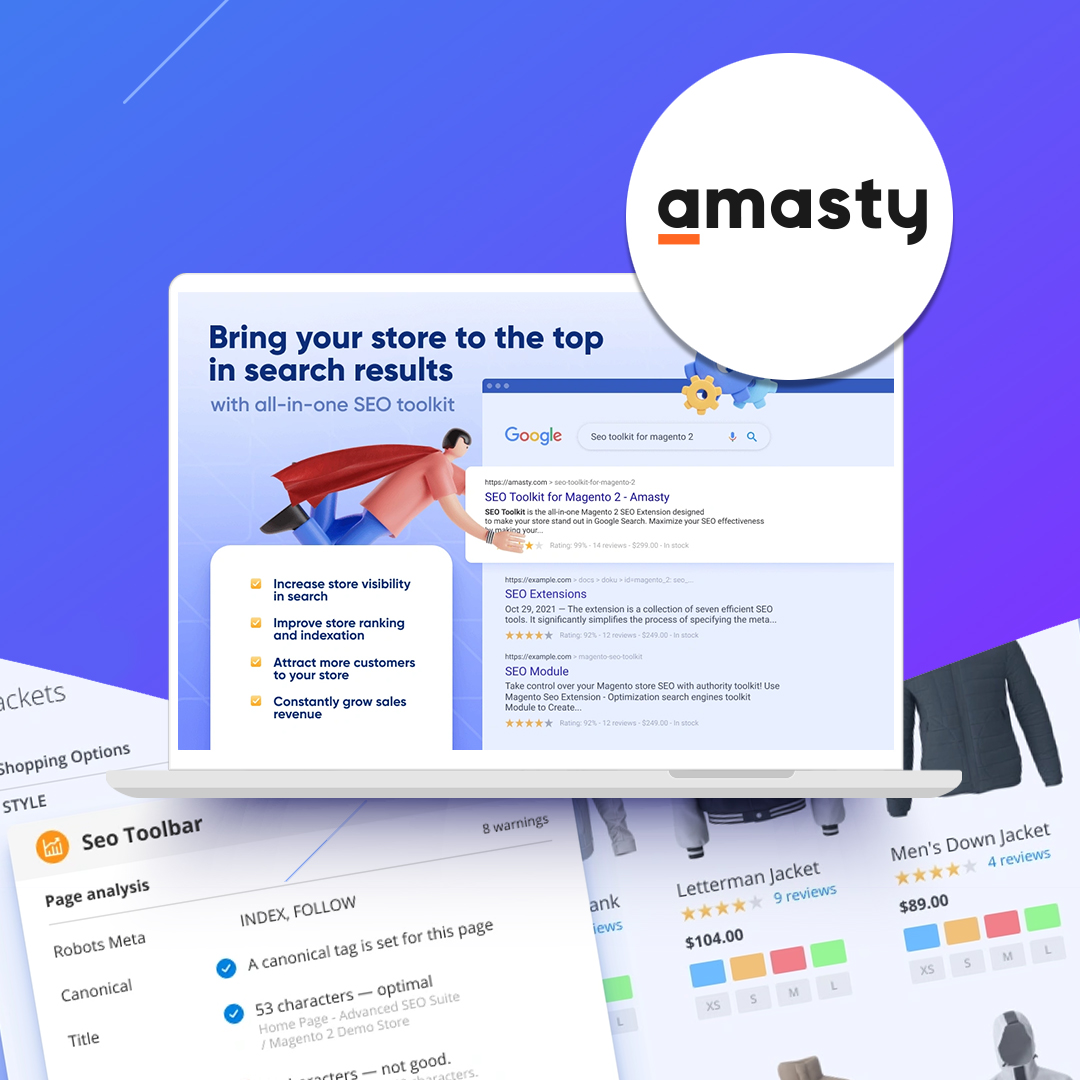 Price:
$299 for the first year (Open Source version) and $599 for the first year (Commerce edition).
11. BSS Commerce's Magento 2 SEO Extension
BSS Commerce's best-sellers include the Magento 2 SEO Extension. It's an all-in-one bundle that includes all the necessary settings to increase your rating. Better still, they provide a free SEO audit service to clients who purchase this plugin to assure steady SEO performance.
Highlights include: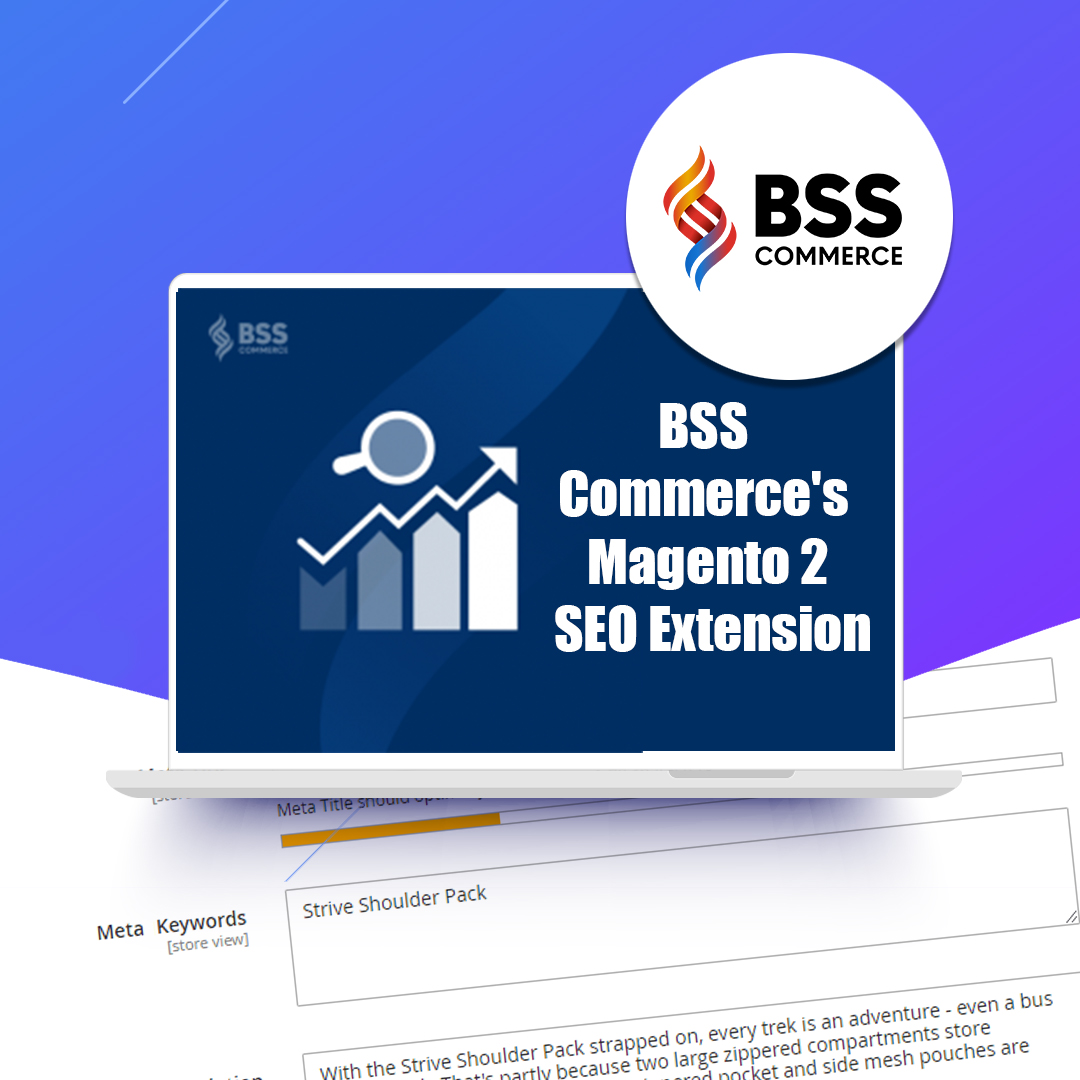 Rich Snippets
Improved site navigation with advanced breadcrumbs
HTML and XML sitemap
Templates for Meta Tags
Canonical Tag
Hreflang tag
SEO Toolbar
SEO audit and report
The Open Source edition costs $149, while the Commerce edition costs $299.
And That's a Wrap!
This is the most complete list of the top SEO on the web, and we are delighted to pack in with you.
The main thing is to select the best SEO extension for your business. It's a good idea to consider the features, support duration, and money-back guarantee time that comes with an extension. Additionally, check other customers' reviews to determine whether the extension is what you're searching for.
Feel free to contact us to get customized Magento extensions to meet your unique e-commerce needs or to get advice on the best extension that serves your business goals.