Remote Managing: 'The Practice Is Unruly'Managen Op Afstand: 'De Praktijk Is Weerbarstiger'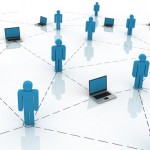 Due to the low wages in Eastern Europe, Dutch companies like to work with them. Yet there are pitfalls discovered by Hugo Messer.
Sometimes, accidental meetings are the start of a successful company. When Hugo Messer worked eight year ago in a printing office, he could not imagine that a meeting with two IT guys from Odessa (Ukraine) would turn his career upside down. 'I already had seen enormous opportunities for IT-outsourcing in India. I just started my own company when those guys told me more about Ukraine. A country with 47 billion residents and a huge offer of highly educated IT-professionals. Every year, 7.000 to 10.000 young people graduate from technical universities. Next to that, there was no sight at all that the country would join the EU very soon and that is favorable for the wages.'
Quarrel
That was the start of Bridge Global IT Staffing in Ukraine. Messer started on a small scale, with IT-orders from Dutch internet bureaus that he is outsourcing to programmers in Ukraine. He is the intermediate that brings parties together and who sends a check afterwards. It sounds really simple, but in practice it is a lot more unruly. 'In the internet world a customer hires an advertising agency to build a website. Their web partner calls us and hires technical people from Ukraine. That are a lot of shackles. If somebody is sloppy with communication, a lot of things are going suddenly wrong. Eight out of the ten projects went good, one of then became a long story and one ended up in a quarrel with the client. That was because we worked with fixed rates and due to that we ended up a lot between a rock and a hard place.
The right guy
That has to be different were the thoughts of Messer. The right guy for the right job and better communication between the client and the programmer are the most important ingredients for a change. 'A client nowadays tells us what kind of programmer they need and we will search one for them. First in our own pool of people, but if we can't find a match here, we will search beyond our own pool. Before the programmer starts working, he has to complete a test case and an interview with the client. If there is a match, the programmers will get on the payroll in Ukraine'.
Communication blue print
Learned from the mistakes in the past, Messer decided to change his guidance. 'We start with a workshop which will become a blue print for the communication. This is where we decide together what code standard will be used and how the process of software development will look like. During this process, at least once a day a conversation about the project content will take place between the programmer and the client. Next to that, every week, a Skype-meeting between all the concerned project managers in the Netherlands and Urkaine will take place. This is mainly about the communication and a decision is made if the project needs adjustments'.
RETurn KIEV
Meanwhile, the company has 30 people working in Ukraine and an office in India is added. Although the wages in Eastern Europe are higher than in Asia, about 2 to 4 times higher thinks Messer, the benefits of nearshoring should not be underestimated. Research shows that distance is an influential factor. Complex problems sometimes require a face-to-face solution and a return to Kiev sounds a little more attractive than a long flight to Mumbai. Next to that, the same culture makes a cooperation easier, at least in the perception of many people. Also, having the same office hours helps the tuning of the cooperation.
Doing homework
Messer is more than satisfied about the level of the programmers in Ukraine. 'The level is generally really high. Besides that, a lot of senior IT's with a minimal experience of 15 years are working here. Especially if I compare that with India'. Companies who want to make use of that expertise in Easter Europe have to do their homework is Messer's advice. 'Is looks easy to undertake everything on your own. You hire a programmer, tell him what to do and in no-time you will have your software or a website for half the price. But I can tell you from experience that in practice it won't be that easy. You really need dedicated people who can take care of your business. One small with mistake with huge consequences is easily made'.
More tips and tricks for remote managing
An office abroad is an extra company. This will require knowledge of laws and regulations of the country in question and remote managing. How can you hold a grip? What are the requirement that you need to meet? What can or do you need to delegate? Sign it from the mouth of Jurjen Groot (lawyer at CMS Derks Star Busmann), Piet Bezemer and Patrick Schneider (CEO of IIC, Vacuvin).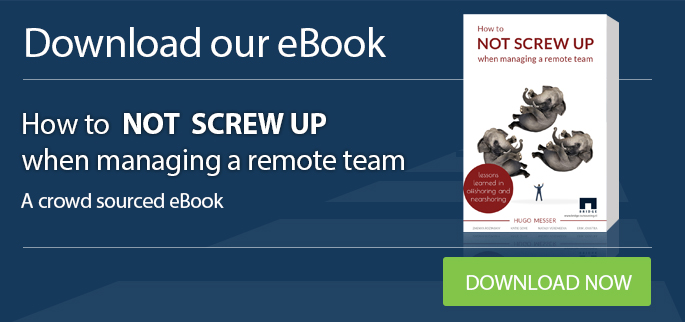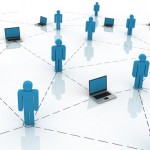 Door lage loonkosten werken Nederlandse bedrijven graag samen met Oost-Europa. Toch zijn er valkuilen, ontdekte Hugo Messer.
Soms zijn het toevallige ontmoetingen die het begin betekenen van een succesvol bedrijf. Toen Hugo Messer acht jaar geleden in een Amsterdamse drukkerij werkte, kon hij niet vermoeden dat een ontmoeting met twee IT'ers uit Odessa (Oekraïne) zijn carrière een nieuwe wending zou geven. 'In India had ik al de enorme mogelijkheden gezien van IT-outsourcing. Ik was net een eigen bedrijf begonnen toen die jongens me meer vertelden over Oekraïne. Een land met 47 miljoen inwoners en een enorm aanbod van goed opgeleide IT-professionals. Ieder jaar komen er tussen 7.000 en 10.000 jongeren van de technische universiteiten af. Bovendien zag het er zeker toen nog niet naar uit dat het land heel snel bij de EU zou komen en dat is gunstig voor de loonkosten.'
BONJE
Het blijkt de aanzet voor Bridge Global IT Staffing in Oekraïne. Messer begint kleinschalig, met IT-opdrachten van Nederlandse internetbureaus die hij uitbesteedt aan programmeurs in Oekraïne. Hij is de intermediair die de partijen bij elkaar brengt en daarvoor na afloop een factuur stuurt. Klinkt simpel, toch blijkt de praktijk een stuk weerbarstiger. 'In de internetwereld huurt de klant een reclamebureau in om de site te bouwen. Hun webpartner belt met ons en wij huren dan weer techneuten uit Oekraïne in. Dat zijn veel te veel schakels. Als iemand ook maar even zit te slapen in de communicatie, gaat er ineens van alles mis. Van de tien projecten gingen er acht goed, werd eentje een lang verhaal en liep het één keer uit op bonje met de opdrachtgever. Omdat we in die beginperiode nog op basis van vaste tarieven werkten, vielen we dan ook regelmatig tussen wal en schip.'
JUISTE POPPETJE
Dat moet anders, beseft Messer. Het juiste poppetje voor de juiste opdracht en meer rechtstreeks contact tussen opdrachtgever en programmeur zijn de belangrijkste ingrediënten voor zijn verandering. 'Een opdrachtgever vertelt ons tegenwoordig wat voor type programmeur ze nodig hebben. Wij gaan dan voor ze op zoek. Eerst in onze eigen pool van mensen, maar als we daar niet de juiste match vinden, zoeken we verder. Voordat hij aan de slag gaat, volgen eerst een testcase en een interview met de klant. Als er sprake is van een match, komt de programmeur bij ons op de payrol in Oekraïne.'
COMMUNICATIEBLAUWDRUK
Wijs geworden door de lessen in het begin, pakt Messer tegenwoordig ook de begeleiding anders aan. 'We beginnen met een workshop, dat een soort blauwdruk wordt voor de communicatie. Hier bepalen we bijvoorbeeld samen welke codestandaarden er gebruikt worden en hoe het proces van software development er uitziet. Tijdens het proces is er minimaal eens per dag een projectinhoudelijk gesprek tussen de programmeur en de opdrachtgever. Daarnaast hebben we iedere week een Skype-ontmoeting tussen de betrokken projectmanagers in Nederland en Oekraïne. Hier gaat het vooral over de communicatie en beslissen we of er moet worden bijgestuurd.'
RETOURTJE KIEV
Inmiddels heeft het bedrijf ongeveer 30 mensen aan de slag in Oekraïne en is er ook een eigen vestiging in India bijgekomen. De loonkosten in Oost-Europa liggen weliswaar hoger dan in Azië, twee tot vier keer schat Messer, de voordelen van nearshoring moeten niet worden onderschat. Onderzoek laat zien dat de afstand meetelt. Complexe problemen vragen soms om een face-to-face-oplossing en dan is een retourtje Kiev net even aantrekkelijker dan de verre vliegreis naar Mumbai. De cultuurverwantschap maakt samenwerken bovendien makkelijk, in ieder geval in de perceptie van veel mensen. Daarnaast speelt ook de overlap in kantooruren een rol. Dat maakt afstemmen eenvoudig.
HUISWERK DOEN
Over het niveau van de programmeurs in Oekraïne is Messer in ieder geval dik tevreden. 'Die is over het algemeen erg hoog. Er zitten bovendien veel seniors, IT'ers met minimaal 15 jaar ervaring. Zeker als ik dat vergelijk met India.' Bedrijven die graag gebruik willen maken van die Oost-Europese expertise moeten wel even hun huiswerk doen, adviseert Messer. 'Het lijkt makkelijk om het allemaal zelf te ondernemen. Je huurt een programmeur in, vertelt wat hij moet doen en in no-time heb je software of een website voor de helft van de prijs. Maar ik kan uit eigen ervaring vertellen dat het zo simpel niet is. Je hebt echt dedicated mensen nodig die de boel daar voor jou kunnen regelen. Een klein foutje met grote gevolgen is zo gemaakt.'
MEER TIPS VOOR MANAGEN OP AFSTAND
Een vestiging in het buitenland is een bedrijf erbij. Dat vraagt om kennis van wet- en regelgeving over het land in kwestie en sturen op afstand. Hoe houd je grip? Waaraan moet je voldoen? Wat kun of moet je delegeren? Teken het op uit de mond van Jurjen Groot (advocaat bij CMS Derks Star Busmann), Piet Bezemer en Patrick Schneider (CEO van IIC, Vacuvin).