Positive effects of Offshoring on innovation of Firms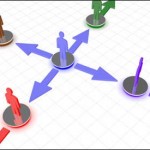 I speak to many people about offshoring and nearshoring. One of the central themes that come up is the move from 'providing people' to 'R&D offshoring' and 'collaborative innovation'. Instead of providing people for specific customer projects, companies look at joint innovation.
Products that are developed for a customer, can be sold in the local market of the offshore provider. Software that is developed by the offshore provider for the local market or another customer in another country, can be sold in the country of the customer. Products can even be developed as a joint investment. I heard someone at a big telecom company from the Netherlands describe this case literally. They had outsourced a big part of their business to a partner in India. They specifically selected the partner on their innovative merits, not only on price or the narrow competencies needed to 'do the operational job'. They have successfully launched products together and sold products back and forth in their respective markets. 
Many companies also establish R&D centers offshore, especially in India. This can be done in collaboration with a partner or as a captive center. In India there are many highly educated engineers, many even studied or worked abroad. These engineers can contribute substantial value to innovation for companies that are established elsewhere. An interesting case I read in a paper from Ferrazzi Greenlight:
Leveraging Remotely-Located Product Teams
For most global companies, teams located in far-flung parts of the globe are a huge untapped resource for innovation. At a large manufacturing company with whom Ferrazzi Greenlight recently worked, most innovation came from research and development teams located in the United States, despite the firm's presence in approximately 180 countries around the world and its research labs in more than a dozen locations. Most products marketed abroad included only minor adaptations for local markets. While some of these were successful, many weren't. Often they were much too costly for the local market. Also, some were developed myopically, without fully understanding local needs
As homegrown competitors in emerging markets started to become a force to be reckoned with, the company began to encourage their own local teams to propose innovations. One such team was located in India, where the overcrowded and poorly maintained infrastructure of roads is shared by trucks, cars, scooters, bicycles, and even livestock. As you might imagine, accidents are commonplace.Using base technology originally developed in the U.S., the company's research unit in India proposed and co-developed a special strap-on bumper for cars that reduced impact and made fewer accidents fatal. The local team's superior understanding of the market's needs – and its price sensitivity – defined the project's parameters, while U.S. team members contributed technical and testing expertise. The resulting product was so successful locally that the manufacturer is considering marketing it in other emerging markets – but not without getting sufficient input from local teams first