Positive effects of Offshoring on innovation of FirmsPositieve effecten van Offshoring op innovatie van bedrijven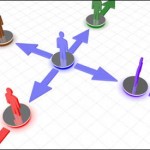 I speak to many people about offshoring and nearshoring. One of the central themes that come up is the move from 'providing people' to 'R&D offshoring' and 'collaborative innovation'. Instead of providing people for specific customer projects, companies look at joint innovation.
Products that are developed for a customer, can be sold in the local market of the offshore provider. Software that is developed by the offshore provider for the local market or another customer in another country, can be sold in the country of the customer. Products can even be developed as a joint investment. I heard someone at a big telecom company from the Netherlands describe this case literally. They had outsourced a big part of their business to a partner in India. They specifically selected the partner on their innovative merits, not only on price or the narrow competencies needed to 'do the operational job'. They have successfully launched products together and sold products back and forth in their respective markets.
Many companies also establish R&D centers offshore, especially in India. This can be done in collaboration with a partner or as a captive center. In India there are many highly educated engineers, many even studied or worked abroad. These engineers can contribute substantial value to innovation for companies that are established elsewhere. An interesting case I read in a paper from Ferrazzi Greenlight:
Leveraging Remotely-Located Product Teams
For most global companies, teams located in far-flung parts of the globe are a huge untapped resource for innovation. At a large manufacturing company with whom Ferrazzi Greenlight recently worked, most innovation came from research and development teams located in the United States, despite the firm's presence in approximately 180 countries around the world and its research labs in more than a dozen locations. Most products marketed abroad included only minor adaptations for local markets. While some of these were successful, many weren't. Often they were much too costly for the local market. Also, some were developed myopically, without fully understanding local needs
As homegrown competitors in emerging markets started to become a force to be reckoned with, the company began to encourage their own local teams to propose innovations. One such team was located in India, where the overcrowded and poorly maintained infrastructure of roads is shared by trucks, cars, scooters, bicycles, and even livestock. As you might imagine, accidents are commonplace.Using base technology originally developed in the U.S., the company's research unit in India proposed and co-developed a special strap-on bumper for cars that reduced impact and made fewer accidents fatal. The local team's superior understanding of the market's needs – and its price sensitivity – defined the project's parameters, while U.S. team members contributed technical and testing expertise. The resulting product was so successful locally that the manufacturer is considering marketing it in other emerging markets – but not without getting sufficient input from local teams first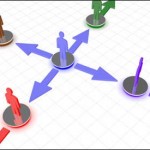 Ik spreek namens velen over offshoring en nearshoring. Een van de centrale thema's die naar voren komen is het verhuizen van 'het verstrekken van mensen' naar 'R&D offshoring' en 'collaboratieve innovatie'. In plaats van het verstrekken van mensen voor bepaalde klantenprojecten, kijken bedrijven naar een samengevoegde innovatie.
Producten die ontwikkeld worden voor een klant, kunnen verkocht worden in de lokale markt van de offshore aanbieder. Software die ontwikkeld is door de offshore aanbieder voor de lokale markt of een andere klant in een ander land, kan verkocht worden in het land van de klant. Producten kunnen zelfs ontwikkeld worden als een samengevoegde investering. Ik heb iemand van een groot telecombedrijf uit Nederland deze situatie letterlijk horen beschrijven. Ze hadden een groot deel van hun bedrijf ge-outsourced aan een partner in India. Ze hadden bewust de partner geselecteerd op hun innovatieve verdiensten, niet alleen op de prijs of de nauwe competenties die benodigd waren om het 'operationele werk te doen'. Ze hebben succesvol samen producten gelanceerd en hebben producten heen en weer verkocht in hun respectievelijke markten.
Veel bedrijven zetten tevens een offshore R&D center op, met name in India. Dit kan gedaan worden in samenwerking met een partner of als een hoofdcenter. In India zijn er veel hoogopgeleide ingenieurs, waarvan vele in het buitenland gestudeerd of gewerkt hebben. Deze ingenieurs kunnen substantieel bijdragen aan innovatie voor bedrijven die zich elders gevestigd hebben.
Een interessante case die ik gelezen heb in een artikel van Ferrazi Greenlight:
Leveraging Remotely-Located Product Teams
Voor de meeste wereldwijde bedrijven, zijn de teams die gelokaliseerd zijn in de afgelegen delen van de wereld een gigantische onaangeraakte bron van innovatie. Bij bedrijven waar Ferrazzi Greenlight recent mee gewerkt heeft, kwam innovatie grotendeels uit onderzoeks- en ontwikkelingsteams gelokaliseerd in de US, ondanks dat het bedrijf in ongeveer 180 landen over de wereld gevestigd zit, met onderzoekslaboratoria in meer dan een dozijn locaties. De meeste producten die in het buitenland verkocht worden vereisen maar kleine aanpassingen voor de lokale markten. Hoewel sommige van deze succesvol waren, waren er ook zeker veel niet succesvol. Vaak waren de kosten te hoog voor de lokale markt. Ook waren sommigen wat kortzichtig ontwikkeld, zonder eerst de lokale behoeften te begrijpen.
Toen inlandse concurrenten in opkomende markten snel kracht kregen, begon het bedrijf hun eigen lokale team aan te sporen om innovatie voor te stellen. Eén zo'n team was gevestigd in India, waar de overbevolkte en slecht-onderhouden infrastructuur van wegen gedeeld wordt met trucks, auto's, scooters, fietsen en zelfs vee. Je kunt je voorstellen dat ongelukken vaak voorkomen. Met het gebruik van basistechnologie die origineel ontwikkeld was in de US, stelde de onderzoeksafdeling van het bedrijf in India een ruimtelijke afneembare bumper voor, die ze ontwikkelde voor auto's om impact te verminderen en zo minder fatale ongelukken te veroorzaken. De lokale teamleider begreep de behoeftes van de lokale markt – en z'n prijssensitiviteit – definieerde de projectparameters, terwijl de teamleden in de US bijdroegen aan de technische- en testexpertise.
Het resulterende product was zo succesvol dat de ontwikkelaar overweegt het te ontwikkelen in andere opkomende markten – maar niet zonder eerst voldoende input van de lokale teams te verwerven.