How to Overcome Cultural differences when Managing Offshore or Nearshore teams?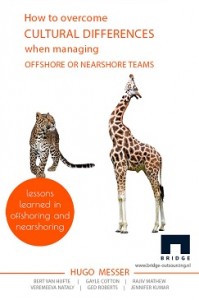 We recently launched our new eBook about offshoring and nearshoring : How to Overcome Cultural differences when Managing Offshore or Nearshore teams
In the world of offshoring and global collaboration, there is no topic that is more widely discussed that cultural differences. Or maybe there is one: communication. People with experience in managing remote teams often cite communication as their biggest challenge. But what is communication? And if communication is the problem, where do we start the solution? In most cases, one of the best starting point is 'culture' (the others being people and process, which we describe in our other books).
The goal of this book is to give you practical insights on how to manage cultural differences when managing offshore or nearshore teams. Culture is a 'soft' topic, more a concept than something driven by analytics and data. There is no step by step 'how to' approach to deal with cultural differences. The only thing to do for people working with other cultures, is to learn as much as possible about the other culture. To make this learning effective, this book presents articles on how to understand culture on a more general level as well as real life experiences on cultural differences for a specific country. All authors come from different backgrounds and write from their own experience.
In the first chapter, Bert van Hijfte, a Dutch culture trainer specialised in Indian culture, writes about culture and communication in the outsourcing industry. Bert has trained many teams at companies like HCL, Aegon, Achmea, in various countries around the world. An industry veteran, he describes the way the outsourcing industry evolved in the past decades and how the current world of high attrition, influences the cultural divide. He cites the famous book of Hofstede and uses this to explain how to approach the cultural differences.
Chapter two is written by a famous cross cultural author from the US, Gayle Cotton. She has written a bestseller 'SAY Anything to Anyone, Anywhere! 5 Keys to Successful Cross-Cultural Communication'. Gayle describes a global 'etiquette', a set of guidelines for behavior across different cultures.
Chapter three is written by Rajiv Mathew, head of Marketing at Compassites Software . He is a hands-on technology marketing & communications professional with proven expertise in multiple facets of the marketing spectrum. Rajiv describesvarious Cultural aspects in international business.
In the forth chapter, I describe the magic of 'empathy' to bridge cultural differences. Based on my own experience, I see a mismatch between technologists and empathy. I describe on what levels (team, company, product, culture) stimulating empathy can improve the odds that globally distributed teams succeed.
Chapter five is written by Natalya Veremeeva. Natalya lives in Ukraine and has worked for several outsourcing providers from Ukraine. She writes a story from the heart about her perception on Ukrainian (and in the broader sense: Soviet) culture. The guidelines she gives make it easier for any Western company to understand the intricacies of Eastern Europe.
Ged Roberts, describes the cultural differences between Dutch and Indians in chapter 6. As a native Brit, he can reflect on the differences from a 'neutral' perspective. He zooms in to some specifics about each culture, which we can use in our daily collaboration between India and the Netherlands.
Chapter 7 is written by Jennifer Kumar who, originally from the US, lives in India since 2011. Jennifer organizes many trainings for Indians about the US culture. In the article, she gives guidelines on how to effectively give and use trainings. This gives us insights in getting the maximum value from a training and gives trainers details to pay attention to while giving a training.
This is the forth eBook in a  series of eBooks that will be published within a couple of months' interval and later on into one printed book. These eBooks are being written through a crowdwriting project and the authors are experts from all over the world. We would appreciate your review on Amazon.
If you are interested in the upcoming eBooks or are an experienced practitioner who would like to contribute with your knowledge, please send an e-mai to h.messer@bridgeoutsourcing.nl