How to not screw up when managing a remote teamManagen van een team op afstand zonder het te verprutsenHow to not screw up when managing a remote teamWie vermasselt man das Managen von einem entfernten Team nicht?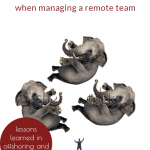 This week, I launched my first ever book. The book is written together with some experts from all over the world. It is part of a series of ebook on managing remote teams. Our aim is to help people who plan to manage or already manage a remote team. I have found in the past years, that many people struggle when part of their team is working offshore or nearshore. The challenges in managing remote teams are a.o. managing the distance, cultural differences and different time zones. Many offshore or nearshore providers today use methods like scrum to bridge the challenges. But Scrum tells you only a small part of the story, it helps a lot to manage a remote team, but there is more to it.
The title of my first book is 'How to not screw up when managing a remote team'. The title explains what you will find in the book, but here is a short overview of the topics.
The first chapter I have written myself on 'why on earth would I setup an offshore team?' In my personal view, the 'best' reason to offshore is 'value creation by attracting talented people'. If the focus is on creating extra value for customers (through faster time to market, higher quality, more innovation, etc.), the success of offshoring is seen from another perspective than with a focus on cost savings. If your measurement is based on how much costs you have saved, then you evaluate everything that happens using these 'glasses'. If on the other hand, you focus on creating extra value, you may measure the number of ideas that have come from your offshore team. My chapter gives an overview of the reasons people go about offshoring.
The second chapter is written by an expert outsourcer from the US, Zhenya Rozinskiy. Zhenya looks at the 'reasons, rewards and risks' of offshoring from the perspective of a 'buyer' of offshoring services. As Zhenya describes: 'Yes, outsourcing has its perks. It requires in person interactions and that means getting on a plane and traveling. How about seeing Taj Mahal or visiting the Great Wall of China while being dined and wined by your outsourcing providers? On the other hand, it also allows you the freedom to take vacations while knowing your project is in safe hands. Once you have a long term, productive relationship with a vendor you can take that trip you have been putting off because the project is stabilized.'
The third chapter is written by Erik Joustra, director of delivery for TechMahindra in the Netherlands. His chapter is named 'Remote project management can be successful'. He looks at the pitfalls of project management. Many approach the 'other side' as a 'black box', which causes all kinds of problems in managing projects. He also describes why there should never be two captains on the ship. To ensure success, project management needs to be organized in a specific way when part of a team is offshore . His third topic is bridging cultural gaps.
Katie Gove, an outsourcing consultant from Denmark, writes on 'The pitfalls of human behavior and managing offshored distributed teams'. She looks at the human side of offshoring, how to communicate effectively and how to build peer-to-peer relationships (as opposed to parent-child).
The last chapter is from Natalya Veremeeva, an outsourcing manager from Ukraine. She gives us some secrets 'Use your remote teams right – industry secrets from an insider'. She dives into goal setting for offshore projects, how to build emotional ties with your remote team and how not to micromanage.
You can download the book here.
I am still looking for authors for the future books, so if you have experience managing a remote team, please drop me an email h.messer@bridge-outsourcing.nl.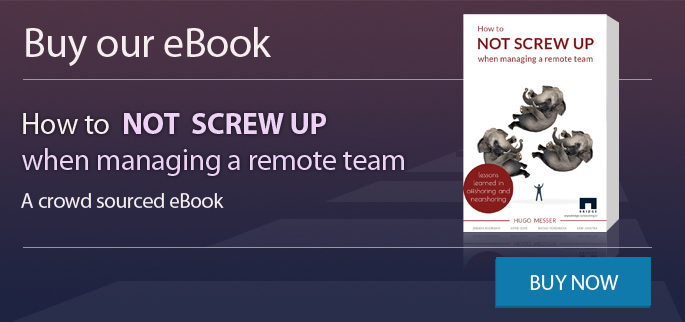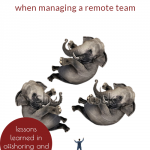 Deze week is mijn eerste boek ooit uitgebracht. Het boek is geschreven samen met een aantal experts over de hele wereld. Onze doel is om mensen te helpen die van plan zijn of al een team op afstand managen. Ik heb in de laatste jaren gemerkt dat veel mensen er moeite mee hebben als een deel van hun team offhore of nearshore werkt. De uitdagingen van het managen van een team op afstand zijn onder andere het managen van de afstand, cultuurverschillen en verschillende tijdszones. Veel offhore of nearshore aanbieders maken tegenwoordig gebruik van methodes als Scrum om deze uitdagingen aan te gaan. Maar Scrum vertelt maar een deel van het verhaal, het helpt wel bij het managen van een team op afstand, maar er komt meer bij kijken.
De titel van mijn eerst boek is 'How to not screw up when managing a remote team'. De titel vertelt precies wat je in het boek kan lezen, maar hier een klein overzicht van de onderwerpen die aan bod komen.
Het eerste hoofdstuk heb ik zelf geschreven over 'waarom zou ik in vredesnaam een offshore team opzetten?' In mijn mening is het 'creëren van waarde door getalenteerde mensen aan te trekken' de 'beste' reden iets offshore op te zetten. Als de focus ligt op het creëren van extra waarde voor de klanten (door sneller op de markt te zijn, beter kwaliteit, meer innovatie, etc.), dan wordt offshoring van een ander perspectief belicht dan met een focus op het besparen van de kosten. Als uw meetstaaf is gebaseerd is op hoeveel kosten u bespaart, dan zal u altijd deze 'bril' op hebben wanneer er iets gebeurd. Anderzijds, als uw focus ligt op het creëren van extra waarde, dan zal uw meetstaaf het aantal ideeën zijn die van uw offshore team komen. Mijn hoofdstuk geeft een overzicht van waarom mensen offshore team hebben opgezet.
Het tweede hoofdstuk is geschreven door een outsourcer expert van de Verenigde Staten, Zhenya Rozinskiy. Zhenya kijkt naar de 'redenen, beloningen en risico's' van offshoring vanuit het perspectief van een 'koper' van offshoring diensten. Zoals Zhenya beschrijft: 'Ja, outsourcing heeft zijn voordelen. Het vereist persoonlijke interacties wat betekent dat u in een vliegtuig moet stappen en moet reizen. Wat zegt u ervan om de Taj Mahal te zien of de Chinese Muur te bezoeken terwijl er tot in de puntjes voor u wordt gezorgd door uw offhoring aanbieders? Anderzijds geeft het u ook de vrijheid om op vakantie te gaan terwijl u weet dat uw project in goede handen is. Wanneer u een langdurige en productieve relatie hebt opgebouwd kan u die trip boeken die al zolang is uitgesteld.'
Het derde hoofdstuk is geschreven door Erik Joustra, directeur van levering voor TechMahindra in Nederland. Zijn hoofdstuk is genaamd 'Projectmanagement op afstand kan succesvol zijn'. Hij kijkt naar de valkuilen van projectmanagement. Velen bekijken het van de 'andere kant' als een 'black box' die allerlei problemen veroorzaakt in het managen van projecten. Hij beschrijft ook waarom er nooit twee kapiteins aan boord moeten zijn van een schip. Om succes te garanderen, moet projectmanagement georganiseerd zijn in een bepaalde manier wanneer een team offshore is. Zijn derde onderwerp is het overbruggen van cultuurverschillen.
Katie Gove, een outsourcing consultant uit Denemarken schrijft over 'De valkuilen van menselijk gedrag en het managen van offhore gedistribueerde teams'. Ze kijkt naar het menselijke aspect van offshoring, hoe er effectief gecommuniceerd kan worden en hoe peer-to-peer relaties opgebouwd kunnen worden (in tegenstelling tot ouder-kind).
Het laatste hoofdstuk is van Natalya Veremeeva, een outsourcing manager uit Oekraïne. Ze geeft ons een aantal geheimen over 'Gebruik uw team op afstand juist – industrie geheimen van een insider'. Ze duikt in het doelen stellen voor offshore projecten, hoe bouwt u emotionele banden met uw team op afstand en hoe niet te micromanagen.
U kunt het boek hier downloaden.
Ik ben nog steeds op zoek naar auteurs voor komende boeken, dus als u ervaring hebt met het managen van een team op afstand, stuur dan een email naar:   h.messer@bridge-outsourcing.nl.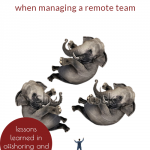 Den här veckan släppte jag min allra första bok. Boken är skriven tillsammans med experter från olika delar av världen. Den är en del av en serie e-böcker som handlar om att leda ett team på distans. Syftet är att hjälpa personer som planerar att göra detta eller redan gör det. Jag har de senaste åren upptäckt att många får det kämpigt när en del av deras team arbetar offshore eller nearshore. Utmaningarna med att administrera distansteam är bland annat att klara av det faktiska avståndet, kulturella skillnader och de olika tidszonerna. Många offshore- eller nearshore- leverantörer använder sig idag av metoder som Scrum för att hantera utmaningarna. Scrum är dock endast en liten del i pusslet, det är mycket hjälpsamt i arbetet att administrera ett distansteam men pusslet består av många fler bitar än så.
Titlen på min första bok är 'How to not screw up when managing a remote team'. Titeln beskriver vad ni kan läsa om i boken, men här följer ändå en snabb överblick över ämnena.
Det första kapitlet har jag själv skrivit om ämnet 'varför I hela världen skulle jag vilja sätta ihop ett offshore-team?'. Enligt mitt personliga sätt att se på saken så är den "bästa" anledningen till att offshorea "värdeökning genom att attrahera talangfulla individer". Om fokus ligger på att skapa extra värde hos kunderna (genom snabbare utförda affärer, ökad kvalité, innovativare, etc.), kommer framgångarna med offshoring ses från ett annat perspektiv, än om fokus ligger på kostnadseffektivisering. Om det du värderar baseras på hur mycket kostnader du sparat in på, analyserar du allt som händer genom dessa "glasögon". Om du däremot fokuserar på att skapa extra värde, värderar du antagligen antalet idéer ditt offshoring-team kommer med. Mitt kapitel ger dig en överblick över anledningar till varför personer använder sig av offshoring.
Det andra kapitlet är skrivet av en expert-outsourcer från USA – Zhenya Rozinskiy. Zhenya tittar på anledningar, vinster och risker med offshoring utifrån perspektivet som köpare av offshoring-tjänster. Som Zhenya beskriver det: "Ja, outsourcing har sina bonusar. Det krävs personliga möten, vilket i det här fallet betyder att kliva på ett plan och resa i världen. Vad sägs om att få se Taj Mahal eller besöka Kinesiska muren, samtidigt som du äter middag med dina outsourcing-leverantörer? Det ger dig dessutom friheten att kunna ta semester eftersom du vet att projektet är i säkra händer. Så fort du skaffat dig en långsiktig, produktiv relation med en säljare kan du åka på den där resan du har skjutit upp – eftersom projektet då är stabilt."
Det tredje kapitlet är skrivet av Erik Joustra, leveranschefen på TechMahindra i Nederländerna. Hans kapitel heter "Projektledning på distans kan vara framgångsrikt". Han tar upp fallgroparna med projektledning. Många förhåller sig till "den andra sidan" som "svarta lådan" vilket skapar alla möjliga olika problem inom projektledningen. Han förklarar också varför det aldrig bör vara två kaptener på en och samma båt. För att garantera framgång måste projektledningen vara organiserad på ett särskilt sätt när en del av teamet arbetar på distans. Hans tredje ämne är att övervinna de kulturella skillnaderna.
Katie Gove, en outsourcing-konsult från Danmark skriver om "Fallgroparna med mänskligt beteende och att leda distansbelagda team". Hon tittar på den mänskliga delen av offshoring, om hur man skapar effektivt kommunikation och bygger jämlika arbetsrelationer (till skillnad från förälder-barn-relationer).
Det sista kapitlet är skrivet av Natalya Veremeeva, en outsourcing-manager från Ukraina. Hon avslöjar några hemligheter för oss "Använd dina distansteam på rätt sätt – arbetshemligheter från en insider". Hon djupdyker i målsättning för offshore-projekt, om hur man bygger känslomässiga band med sitt distansteam och undviker att som ledare vara för kontrollerande.
Du kan ladda ner boken här.
Jag letar fortfarande efter medförfattare till framtida böcker, så om du har erfarenhet inom projektledning av distansteam skicka gärna ett email till mig på                       h.messer@bridge-outsourcing.nl.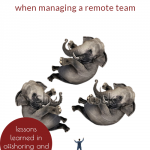 Diese Woche began ich mit meinem allerersten Buch. Das Buch schreibe ich zusammen mit einigen Experten rund um den Globus. Es gehört zu einer E-Book- Reihe über das Managen von Teams aus der Ferne. Unser Ziel ist es Personen zu helfen, die planen oder schon dabei sind ein Team aus der Ferne zu verwalten. Ich habe in den letzten Jahren beobachtet, dass viele Menschen Probleme haben, wenn ein Teil ihres Teams offshore oder nearshore arbeitet. Die Herausforderungen beim Verwalten von entfernten Teams sind z.B. das Managen der Distanz, der kulturellen Unterschiede und der verschiedenen Zeitzonen. Viele Offshore- oder Nearshoreanbeiter benutzen Methoden wie Scrum, um die Herausforderungen zu bewältigen. Aber durch Scrum erfährt man nur einen kleinen Teil der Geschichte. Scrum hilft viel bei der Verwaltung von Teams in der Ferne, aber es gehört mehr dazu.
Der Titel meines ersten Buches ist  'How to not screw up when managing a remote team'.  ("Wie vermasselt man das Managen von einem entfernten Team nicht?) Der Titel beschreibt bereits was man in Buch finden wird, doch hier ist ein kleiner Überblick der behandelten Themen.
Das erste Kapitel habe ich selbst geschrieben 'Warum zum Himmel würde ich ein Offshore Team einrichten?' Aus meiner persönlichen Sicht ist der 'beste' Grund auszulagern die 'Wertschöpfung durch talentierte Personen'. Wenn der Fokus auf der Schaffung von Mehrwert für die Kunden liegt, (schneller am Markt, höhere Qualität, mehr Innovation, etc.), wird der Erfolg des Offshorings aus einer anderen Perspektive betrachtet, als wenn der Fokus auf der Kosteneinsparung liegt.  Ihre Berechnungen basieren darauf, wie viel Geld Sie eingespart haben, dann beurteilen Sie alle Aktivitäten durch diese Brille. Wenn Sie auf der anderen Seite sich auf die zusätzliche Wertschöpfung konzentrieren, könnten Sie die Zahl der Ideen, die von Ihrem Offshore Team gekommen sind, messen. Mein Kapitel gibt einen Überblick über die Gründe, die Menschen gegenüber Offshoring haben.
Das zweite Kapitel ist von einem Outsourcing-Experten aus den USA, Zhenya Rozinskiy geschrieben wurden. Zhenya schaut auf die `Gründe, Chancen und Risiken´ von Offshoring aus der Sicht eines `Käufers` von Offshoring-Dienstleistungen. Wie Zhenya beschreibt: 'Ja, Outsourcing hat seine Vorteile. Es verlangt nach persönlichen Interaktionen und das bedeutet in ein Flugzeug steigen und reisen. Wieso nicht das Taj Mahal oder die chinesische Mauer besichtigen, während Sie von Ihren Outsourcing-Anbietern bewirtet werden? Auf der anderen Seite gibt es Ihnen auch die Freiheit Urlaub zu nehmen, wohlwissend, dass Ihr Projekt in guten Händen ist.  Sobald Sie eine langfristige, produktive Beziehung mit Ihrem Lieferanten haben, können Sie die Reise machen, die Sie früher verschoben haben, weil das Projekt stabilisiert ist.'
Das dritte Kapitel wurde von Erik Joustra verfasst. Er ist Director of Delivery für TechMahindra in den Niederlanden. Sein Kapitel heißt 'Entfertes Projektmanagement kann erfolgreich sein'. Er schaut sich die Tücken des Projektmanagments näher an. Viele gehen mit der "anderen Seite" wie mit einer 'Black Box' um, was zu allen Arten von Problemen beim Managen von Projekten führt. Er beschreibt auch warum es nie zwei Kapitäne auf einem Schiff geben sollte. Um Erfolg zu gewährleisten, muss Projektmanagement auf eine bestimmte Weise organisiert werden, wenn ein Teil des Teams ausgelagert ist. Sein drittes Thema überbrückt kulturelle Lücken.
Katie Gove, eine Outsourcing Consultant von Dänemark, schreibt über 'Die Tücken des menschlichen Verhaltens und des Managens verteilen ausgelagerten Teams'. Sie betrachtet die menschliche Seite von Offshoring, wie man effektiv kommuniziert und  wie man Beziehungen auf Augenhöhe aufbaut  (im Gegensatz zu Eltern-Kind-Beziehungen).
Das letzte Kapitel ist von Natalya Veremeeva, einem Outsourcing-Manager von der Ukraine. Sie schreibt über ein paar Geheimnisse 'Nutzen Sie Ihr Team in der Ferne richtig- Branchengeheimnisse eines Insiders'. Sie taucht in das Gebiet der Zielsetzung für Offshore Projekte ein und beschreibt wie man emotionale Bindungen mit Ihrem Team in der Ferne aufbaut und wie man sich nicht in Details verliert.
Sie können das Buch hier herunter laden.
Ich suche immer noch nach Autoren für die kulturellen Bücher, also wenn Sie Erfahrung auf dem Gebiet des Managens von entfernten Teams haben, senden Sie mir bitte eine E-Mail an h.messer@bridge-outsourcing.nl.