How to hire a nerd?How to hire a nerd?Hire a Nerd?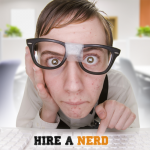 Two weeks ago, I wrote an article about lean distributed startups. The past months, one of the startups within our company that has taken most of my attention is 'hire a nerd'. The main goal of this project is making a product out of our current core service (building offshore and nearshore dedicated teams for software firms and departments). Yes the name is provoking, we're also contemplating launching a second version under our Bridge brand. We try to achieve two things for our customers:
A. To make it incredibly easy to find your next favorite remote developer
To achieve this promise, we have created a vast database of programmers from Ukraine and India. These programmers are either 'candidates' or 'qualified developers'. The qualification is done by us (we do extensive interviews and coding + analytical tests). It is easy to search the database for a programmer that you need. Having found someone, you can schedule an interview or ask us to qualify the person. The system will also provide overviews of availability and reviews from previous customers for the person.
B. To create a collaboration that feels as if the person is sitting next to you
This is a future part of the system. The vision here is to create a dashboard with easy access to tools that give you 'control' on the collaboration. We'll use third party plugins for the core tools such as project management tools, time trackers and version control. And we'll build tools to give you an overview of your team (hours billed, invoice overviews, availability), the communication process, access to trainers and coaches, a best practice area to share experience with other remote team managers.
We have tried to follow the lean startup method as much as possible in this project. And having said that, I must admit that we deviated wildly. First of all, we have built the first version of the platform (partly) for internal use. In the first version, we enabled our sales people to search and share cv's of our talent through a central database. Next, we made many iterations to support what we call the 'search process' (where recruiters and sales people cooperate closely to find the right person for a customer). And now we have reached the stage where the rest of the world can use our platform.
And here's the main challenge we face today: how to gather useful feedback. This challenge has two parts: where to find the people that can provide you with feedback and what to ask/do. There are two main 'forms' of getting feedback:
1. Ask someone 'can you give me some feedback' (as an open question or supported by a survey or interview)
2. Observe behavior of users (and measure using smart metrics)
I have found that asking 'open feedback' (please check my system and tell me what you think) doesn't elicit useful information. It only generates lists of features as people start thinking what could be added to your product. Using a survey or interview with specific questions may work, but limits the feedback to the questions you ask. We are trying this now, so I can tell you more in a few weeks.
The second feedback mechanism is observation. Most teams use google analytics, kissmetrics or some other tool to gather data. But to gather relevant data, you need to first get people to use your site (and so you need something that works in most cases). And you need to define what behavior you want to measure. An interesting case is described in the lean startup book, about Dropbox. The founder actually only launched a site, described what he was building using text and a simple video and got thousands of potential users to subscribe. This feedback tells you 'my idea has viability'. But it doesn't give you insight feedback on what exactly users value and what they don't.
We are experimenting with generating feedback, so I will write more in the weeks to come. If you have some similar experiences, it would be great if you can share them as a comment (and feel free to submit a guest blog article for this blog, just email me at h.messer@bridge-outsourcing.nl).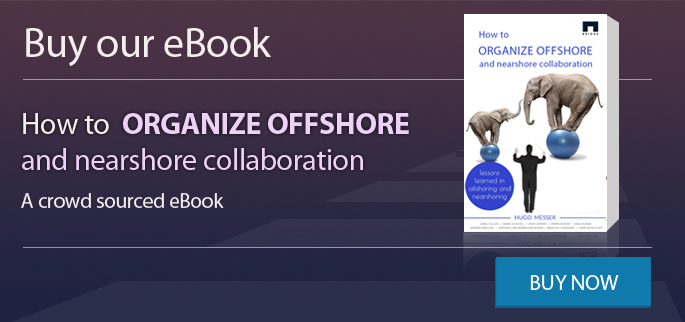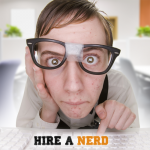 Vorige week heb ik een artikel geschreven over leandistributedstartups. De laatste maanden heeft een van de startups binnen ons bedrijf mijn attentie getrokken, namelijk 'hire a nerd'. Het hoofddoel van dit project is een product maken uit onze huidige kern services (het bouwen van offshore en nearshore toegewijde team voor software bedrijven en afdelingen. De naam is inderdaad uitlokkend en we zijn ook aan het overwegen om een tweede versie onder ons Bridge merk uit te laten komen. We proberen twee dingentebereikenvooronzeklanten:
A. Het ontzettend eenvoudig maken om uw volgende favoriete remote ontwikkelaar te vinden
Om deze belofte na te komen hebben we een uitgebreide database van programmeurs vanuit Oekraïne en India. Deze programmeurs zijn of 'kandidaten' of 'gekwalificeerde ontwikkelaars'. De kwalificatie wordt gedaan door ons (we doen uitgebreide interviews en code + analytische testen). Het is gemakkelijk om de database door te zoeken naar een programmeur die u nodig heeft. Als er iemand is gevonden, kunt u een interview plannen of ons vragen om de persoon te kwalificeren. Het systeem geeft ook een overzicht over de beschikbaarheid en reviews van vorige klanten over deze persoon.
B. Het creëren van een samenwerking die voelt alsof de persoon naast u zit
Dit is een toekomstig onderdeel van het systeem. De visie hier is het creëren van een dashboard met gemakkelijke toegang tot tools die u de 'controle' geven over de samenwerking. We zullen plugins van derden gebruiken voor de kerntools zoals project management tools, time trackers en versie controle. We bouwen ook tools om u een overzicht te geven over uw team (gefactureerde uren, factuur overzicht, beschikbaarheid), het communicatie proces, toegang tot trainers en coaches, een beste practice area om ervaringen te delen met andere remote team managers.
We hebben geprobeerd om de leanstartupmethod zoveel mogelijk te volgen met dit project. Dit gezegd hebbende, moet ik toegeven dat we wild zijn afgeweken. Ten eerste, we hebben de eerste versie van het platform (gedeeltelijk) gemaakt voor intern gebruik. In de eerste versie hebben we onze sales mensen ingeschakeld om CV's te zoeken en te delen van ons talent in een centrale database. Daarna hebben we veel iteraties gemaakt om het zogenaamde 'zoek proces' te ondersteunen (waar recruiters en sales personen nauw samenwerken om de juiste persoon te vinden voor een klant). Nu hebben we het stadium bereikt waar de rest van de wereld gebruik kan maken van ons platform.
En de grootste uitdaging waar we nu voor staan is: hoe verzamelen we nuttige feedback. Deze uitdaging bestaat uit twee delen: waar vinden we mensen die ons feedback kunnen geven en wat moeten we ze vragen/laten doen. Erzijn twee manierenom feedback tekrijgen:
1.Vraag iemand 'kunt u feedback geven' (als een open vraag of ondersteunt met een survey of interview)
2. Het gedrag van gebruikers observeren (en meten door middel van smart metrics)
Ik heb ondevonde dat het vragen van 'open feedback' (wilt u alstublieft mijn systeem checken en vertellen wat u ervan vindt) geen bruikbare informatie oplevert. Het genereert alleen een lijst met features omdat mensen beginnen te denke, wat kan er worden toegevoegd aan uw product. Het gebruik van een survey of interview met specifieke vragen kan werken, maar limiteert de feedback tot de vragen die gesteld worden. We proberen dat op dit moment uit, dus ik kan u daar iets meer over vertellen in een paar weken.
De tweede feedback mechanisme is observatie. De meeste teams gebruiken Google analytics, kissmetric of een andere tool om data te vergaren. Maar om relevante date te krijgen moet u ervoor zorgen dat mensen uw site gebruiken (en dus heeft u iets nodig dat bijna in alle gevallen werkt). U moet ook definiëren welk gedrag u wilt meten. Een interessante case is beschreven in het leanstartup boek, overDropbox. De oprichter heeft eigenlijk alleen maar een site uitgebracht waar hij beschreef wat hij aan het bouwen was gebruik makende van tekst en een simpele video en kreeg daardoor duizenden potentiële gebruikers die zich al hadden ingeschreven. Deze feedback vertelt 'mijn idee heeft levensvatbaarheid'. Maar het geeft geen insight feedback over wat gebruikers precies waarderen en wat niet.
We zijn aan het experimenteren met het genereren van feedback, dus hierover zal ik meer schrijven in de komende weken. Als u soortgelijke ervaringen heeft, zal het geweldig zijn als u deze deelt in een reactie (en voelt u zich vrij om een gasten blog artikel in te sturen voor deze blog, stuur me een email naar h.messer@bridge-outsourcing.nl).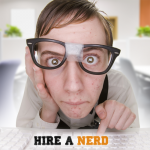 Letzte Woche habe ich mich näher mit Lean Startups im Offshoring-Bereich befasst. Womit ich mich in den vergangenen Monaten hauptsächlich beschäftigt habe, ist unser aktuelles Startup-Projekt Hire a Nerd. Es verfolgt das Hauptziel, aus unserer Kerndienstleistung (Off- und Nearshore-Teams für Softwarefirmen und Softwareabteilungen aufbauen) ein tatsächliches Produkt zu generieren. Klar, der Name Hire a Nerd ist gewagt, deshalb ziehen wir auch für die Zukunft in Erwägung eine zweite Version unter der Bridge Marke zu veröffentlichen. Wir versuchen unseren Kunden dadurch zwei Vorteile zu bieten:
A. Den künftigen Favorite-Developer zu finden wird unglaublich einfach
Damit wir dieses Versprechen auch halten können, haben wir eine umfassende Datenbank mit Programmieren aus der Ukraine und Indien angelegt. Diese Programmierer sind entweder "Kandidaten" oder "Qualifizierte Entwickler". Letztere Kategorie ist eine Qualitätsgarantie von Bridge, die sich auf intensive Interviews, Codier-Proben und analytische Tests stützt, welche ein "Qualifizierter Entwickler" vorab bestehen muss. Die Suche nach speziellen Programmierern innerhalb der Datenbank ist einfach. Sobald man fündig geworden ist, kann man nun per Klick ein Gespräch mit dem vielleicht zukünftigen Mitarbeiter vereinbaren oder uns kontaktieren, um die Qualifikationen des Kandidaten von Bridge prüfen zu lassen. Das System stellt zudem Informationen zur Verfügbarkeit sowie Kundenberichte und Bewertungen der Person von früheren Kooperationspartnern bereit.
B. Die Zusammenarbeit so gestalten, als ob die Person direkt neben einem säße
Dies ist der zukünftige Teil des Systems . Die Vision dabei ist, ein Dashboard mit einfachem Zugang zu Werkzeugen zu schaffen, die Ihnen "Kontrolle" über die Zusammenarbeit gibt. Wir werden dafür Plugins von Drittanbietern als zentrale Management-Tools für Projektmanagement, Time Tracking und Versionsverwaltung nutzen. Außerdem soll es möglich sein einen Überblick über das Team (bezahlte Stunden, Rechnungsübersicht, Verfügbarkeit), den Kommunikationsprozess, Zugang zu Trainern und Coaches sowie von einer Best Practice Seite zu profitieren, auf der man sich mit anderen Remote-Team-Mangagern austauschen kann.
Bei diesem Projekt haben wir versucht, so weit wie möglich, der Lean Startup Methode zu folgen. Allerdings, das muss ich zugeben, sind wir davon völlig abgewichen. Zunächst haben wir die erste Version der Plattform (teilweise) nur für den internen Gebrauch gebaut. Diese erste Version ermöglichte es unseren Vertriebsmitarbeitern die zentrale Datenbank nach Lebensläufen unserer Talente zu durchsuchen und zu teilen. Um den Suchprozess zu verbessern, haben wir im nächsten Schritt viele Anpassungen gemacht, um eine enge Zusammenarbeit zwischen Recruitern und dem Vertriebspersonal gewährleisten zu können – denn nur so kann am Ende der passende Mitarbeiter für den Kunden gefunden werden. Nun haben wir die Phase erreicht, in der auch der Rest der Welt unsere Plattform nutzen kann.
Die derzeit größte Herausforderung für uns? Herauszufinden, wie wir nützliches Feedback einholen können. Diese Herausforderung besteht erstens darin Leute zu finden, die diese Plattform bewerten wollen und können sowie zweitens, die richtigen Fragestellungen zur Feedbackgenerierung zu finden.
Allgemein gibt es zwei Formen, Feedback zu erhalten:
1. Jemanden mithilfe einer offenen Fragestellung (Umfrage oder Interview) fragen, zum Beispiel "Kannst du / Können Sie mir bitte Feedback geben"?
2. Das Userverhalten beobachten und mithilfe von smarten Meßmethoden analysieren.
Ich denke, dass Variante eins, offenes Feedback à la "Bitte testen Sie unser System und teilen Sie Ihre Meinung mit uns" keine nützlichen Informationen hervorbringen wird. Stattdessen kommt so eine Auflistung von Features zustande, welche die Testpersonen zur Website noch gerne hinzufügen würden. Eine Umfrage oder ein Interview mit spezifischen Fragen kann funktionieren, beschränkt die Stellungnahme jedoch auf die Fragen, die tatsächlich abgefragt werden. Dieser Methode wollen wir in den nächsten Woche eine Chance geben – ob es funktioniert hat, kann ich erst danach sagen.
Die zweite Feedback-Methode ist die Beobachtung . Die meisten Teams verwenden Google Analytics, KISSmetrics oder ähnliche Tools, um Daten zu sammeln. Aber um relevante Daten zu sammeln, muss man die User natürlich erst dazu bringen die Website zu besuchen – man braucht also etwas, was die Leute neugierig macht. Vorab muss natürlich auch festgelegt werden, welches Verhalten genau gemessen werden soll. Ein interessanter Fall ist in dem Lean Startup Buch beschrieben, es geht dabei um Dropbox. Der Gründer hat lediglich eine Website ins Leben gerufen, mit simplem Text und einfachen Videos beschrieben, wie es funktioniert – und Tausende von potentiellen Nutzern abonnierten seine Seite. Dieses Feedback zeigt einem "meine Idee hat Potential".Was einem das Feedback jedoch nicht verrät ist, was genau die User wertschätzen und was nicht.
Wir experimentieren nun mit verschiedenen Möglichkeiten, Feedback zu erzeugen. In den kommenden Wochen werde ich darüber berichten, wie und ob es geklappt hat.Wenn Sie ähnliche Erfahrungen gemacht haben oder vor derselben Herausforderung stehen, wäre es toll , wenn Sie Ihre Gedanken in einem Kommentar oder als Gastblog-Artikel (bitte an h.messer@bridge-outsouring.nl) mit uns teilen.