Halloween E-Commerce Sales – 5 Last Minute Tips to Boost It!
Halloween e-commerce sales can climb up at an accelerated speed if e-commerce merchants adopt some 'spooky tricks and treats'. Read some of the best last-minute tips to boost your e-commerce sales this Halloween.
The world around you is getting ready for the spookiest night of the year. But, do you feel that your e-commerce sales are not picking up as expected? Has the pandemic impact turned your Halloween spirit cold? Do not fret. The situation is not so bleak. People are ready to spend. You are going to discover some eleventh-hour tips and tricks to boost your 2020 Halloween e-commerce sales to soaring heights.
Halloween in a COVID-affected world!!!
We agree that the COVID-19 edition Halloween will be a little different. Many people choose to sit at home without involving in the traditional trick-or-treating. Matthew Shay, the president and CEO of the National Retail Federation, stated that consumers would continue to place importance on celebrating their traditional holidays, following untraditional standards. Source
The annual Halloween survey conducted by NRF in association with Prosper Insights & Analytics reveals that those who are celebrating plan to spend $92.12 on average compared with $86.27 in 2019.
So, brace up to explore some 'spooktacular' tips to lift your mood and Halloween e-commerce sales. The celebration is not just about diffusing fear and fright in the air. It's also about unleashing your creativity to grab more customers.
So…Get Set Go…
Some 'Spine-Chilling' Tricks to Boost Your Ecommerce Halloween Sales
Halloween marks the beginning of a larger holiday season, a time when sales across the entire retail segment multiply. It is indeed a big opportunity for e-commerce merchants to turn around their sales to immaculate heights.
1. Give your website a Halloween-inspired mood
Give your website a Halloween touch to announce to the world that you are Halloween-ready. It's a perfect way to connect with your target audience and get them engaged with your brand.
Just as brick and mortar stores transform themselves into a spooky look by adding Halloween elements, e-commerce entrepreneurs should also resort to those tactics. Add some simple holiday elements to your website or customize them without messing up with the code. Transform your content to match the changed theme.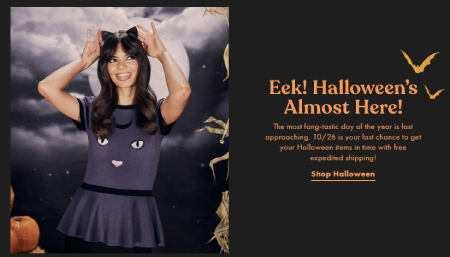 Quick tips to spice up your website this Halloween 2020 sales season.
Add a Halloween scare to your logo
Change the font on your website to some spooky style (like typographic pairings from Google Fonts like Creepster, Eater, Robot Light, etc.). Make sure that the writing is legible.

Eerie pop ups that lead visitors to a campaign or collect their email addresses.
Spooky calls to action (CTAs) buttons with creepy texts prompting visitors to take sure-shot actions. (For example: Explore our spooky Items). Do not ignore Halloween-themed copywriting.
If you are running a Magento Store, you can integrate attractive yet scary themes with the help of creative Magento developers.
2. Run an urgent and irresistible discount promotion
Deals are everything that matters for customers during Halloween. This is the best time to create a sense of urgency and FOMO (fear of missing out) in the minds of your prospective customers.
Create a catchy Halloween sale slogan and roll out a discount promotion as fast as you can.
Halloween-themed contests with some freebies also work perfectly well.
Creative banners or sliders illustrating an interesting plot and 'haunting' promo.
Send gift cards to customers to inspire them to come back regularly
Keep your customers enchanted with some extra-hour sales, once-in-a-lifetime discounts, lucky draws, etc. to cash in the festive mood of people during Halloween.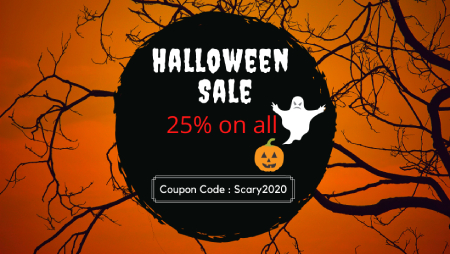 Keep your customers enchanted with some extra-hour sales, once-in-a-lifetime discounts, lucky draws, etc. to cash in the festive mood of people during Halloween.
3. Blog about Halloween
Halloween-related topics are consumed like hot buns this season. Lighten up your e-commerce blog section with interesting topics to push traffic to your site. You can choose topics matching the products you are selling to boost Halloween e-commerce sales.
If you are an apparel seller, choose Halloween outfit ideas, costume and accessory tips for the season, etc. DIY businesses can focus on an array of blog topics like home decoration ideas for Halloween, popular craft projects to inspire spookiness, etc.
'Halloween Gift Ideas' and other similar topics enjoy high search volume just before Halloween. Writing a blog on these and optimizing your e-commerce site are great ideas to boost Halloween e-commerce sales in 2020.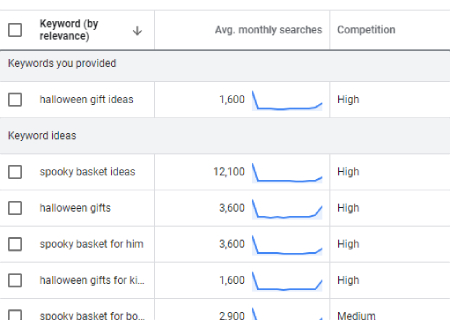 4. Give your email template an eerie look
If email marketing is a core marketing strategy of your e-commerce business, this cannot be overlooked. If you send a newsletter to your customers regularly, make sure to design your template to do justice to the festive season. Use this promotion to inform your customers about the new Halloween collections.
Make sure to write a subject line that vibrates the spookiness of the season. Use season-worthy images and GIFs to increase the likelihood of conversions. Along with the Halloween-specific design and deals, use creative copy that echoes with fun suspense of the holiday.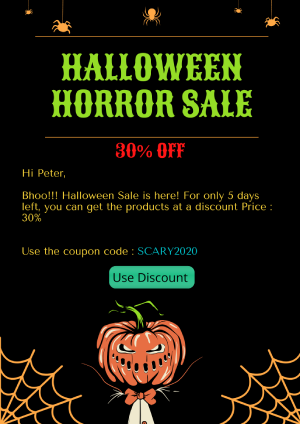 5. Make your e-commerce store mobile-ready
Besides adding SEO-optimized content and Halloween-specific products to your online store, you need to optimize your store for mobile shopping. Your e-commerce shop has all the reasons to be mobile-ready as there are about 200 million mobile shoppers in the U.S.
Poor browsing and pathetic shopping experience on mobile phones will scare your customers away no matter how wonderful your products and services are. Make all the necessary steps to make your website mobile-responsive to smooth out your customer's buying journey.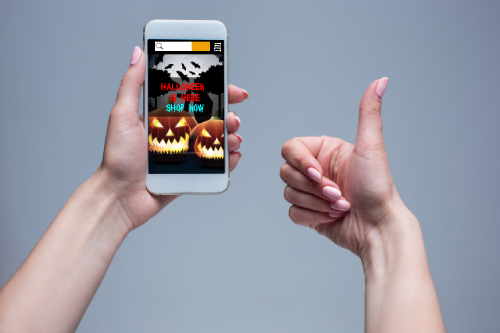 As per a study by Statista, digital buyers in the United States are more likely to make their mobile purchases via mobile apps than via mobile websites. So, are you wondering if you should make a mobile app for your e-commerce store? Collaborate with an experienced mobile app development company that understands your business vision and strategy. This is the best way to tackle your sales worries in the coming holidays.
Wrapping Up
Still wondering about the futility of starting off your digital marketing efforts so late for the Halloween season 2020? There is no time to stay downhearted any more. Do you know that Halloween is the fourth most popular holiday after Christmas, Thanksgiving, and Easter?
Yes, it's one of the best times of the year to cheer up your e-commerce sales.
Your customers are excited to shop. Be ready to thrill them with amazing deals, gifts, and Halloween-inspired digital appearance. Make this Halloween an amazing time to boost your e-commerce sales.