Global Staffing: creating co-workersGlobal Staffing: medewerkers creërenGlobal Bemanning: Att skapa medarbetareGlobal Staffing: Mitarbeiter schaffen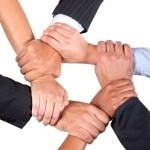 Yesterday, I visited a seminar in Amsterdam about offshoring and afterwards had a long discussion with a project manager from Accenture. The main message of the day for me was that if you want to work with people on a distance successfully, you need to create co-workers. 
Innovites is a small Dutch company with 3 people in the Netherlands and 5 in India. Albert Groothedde, CEO of Innovites shared some best practices on the seminar. His key advice: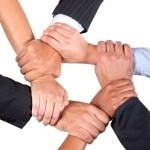 Gisteren bezocht ik een congres over offshoring en achteraf had ik een lang gesprek met een projectmanager van Accenture. Wat mij voornamelijk is bijgebleven van dit gesprek is dat als je op afstand met mensen wil werken, je medewerkers zult moeten creëren.
Innovites is een klein Nederlands bedrijf met 3 mensen in Nederland en 5 in India. Albert Groothedde, CEO van Innovites deelde zijn ervaringen tijdens het congres. Zijn voornaamste advies: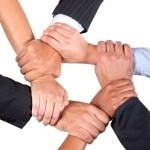 Igår var jag på ett seminarium i Amsterdam om offshoring och efteråt hade jag en lång diskussion med en projektledare från Accenture. Det viktigaste budskapen för dagen för mig var att om du vill arbeta med folk på distans, och göra det framgångsrikt, måste du göra dem till dina medarbetare.
Innovites är ett litet holländskt företag med tre anställda i Nederländerna och fem i Indien. Albert Groothedde, VD:n på Innovites delade med sig av några av de bästa metoderna på seminariet. Här är hans främsta råd: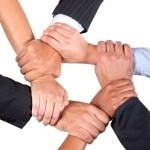 Gestern habe ich ein Seminar über Offshoring in Amsterdam besucht und hatte danach eine lange Diskussion mit einem Projektmanager von Accenture. Die Quintessenz dieses Tages für mich war, dass wenn man mit Personen über eine Distanz erfolgreich arbeiten will, muss man kollegiale Beziehungen erschaffen.
Innovites ist ein kleines holländisches Unternehmen mit drei Personen in den Niederlanden und fünf Personen in Indien. Albert Groothedde, der CEO von Innovites teilte sein Erfolgsrezept mit den Seminarteilnehmern. Sein hauptsächlicher Rat:
1. Ensure that you work with a partner that is good at search and selection
2. Make sure that you get the right people in your team
3. Engage a partner that can organize everything offshore and is able to bridge the cultural gap
4. Integrate the offshore people in your organisation
He stated that according to his experience a client-supplier relation doesn't work. The important thing is to make it a 'cooperation' in which the global team members operate in the same team, according to the same values and become an integral part of your organisation. The interesting part of his story is that offshoring worked so well for them, that they even started selling their niche product on the Indian market.
With Jeroen Tiekstra I discussed the way Accenture works with their Indian people. Jeroen is very positive about his cooperation with his Indian colleagues. For each project, he can send their Indian office profiles of the people they need. The Indian HR department will propose team members and Jeroen eventually picks them. During the projects, he has a permanent connection to his colleagues in Bangalore and they visit back and forth regularly. There are daily meetings to discuss progress in the team and bi-weekly meeting with the customer in the Netherlands to deliver iterations and report on project status.
An interesting part of Accenture's method is that the team members (both on and offshore) have personal development plans. At the beginning of each project, each person indicates what his personal goals (what he will add extra on top of the basic technical requirements) are for the project. All colleagues as well as the customer gives regular feedback on the achievement of these goals. This way, people are dedicated to making their goals and receive 360 degree feedback on their progress and achievements.
The past years, people have experimented with different models for managing people across the globe. The above cases both show that a very crucial ingredient is to integrate anyone who's working in your organisation anywhere on the globe, into your organisation. To treat people far away similar to people in your office, to apply the same management practices, feedback systems, personal development methods and the same logic for setting goals and priorities. Once the right management methods and processes are in place, it becomes easier to integrate people on different locations into your value creating activities.
If you are interested to learn more about global IT staffing, Hugo recommends you to visit www.bridge-global.com