Feedback needed for a new platformFeedback dat nodig is voor een nieuw platform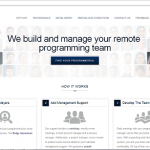 The past year we've been working on an online platform, Bridge Teams. I have done a lot of research on outsourcing/recruitment/hiring platforms and would like to get your feedback on the use of this type of services.
Bridge Teams enables companies to select (a team of) A-player developers. Users can find detailed profiles and can request an interview. Many programmers are screened by us and get the label 'guaranteed'. Once the teams is selected, the team (all employees of a company) will work from our (or one of our partner's) office. A process manager will be assigned to facilitate the communication between the team and the customer. We'll manage and improve the team step by step (using a structured personal development process, team activities, training).
The current solution is aimed at software product and service companies and enterprises with large scale (ongoing) software development needs. As it's hard to find good developers in many countries, companies can hire them outside their borders. The work will then be done remotely from our office (India/Ukraine) or the people can relocate.
Right now, the team can be assembled by picking individuals based on skills, technologies. The longer term vision is to enable users to search existing teams that have worked together before on a certain domain, industry, solution or technology.
The main thing I found on comparable platforms is that they all focus on 'freelancers'. My vision is that although freelancers can take on projects, for larger scale projects it's not always the best solution. In bigger projects, you want a team to work from one place, because it's already complex enough to work with 2 locations. In addition, freelancers became freelancers to be 'free' > meaning you can't always rely on their availability as they often have other projects .
Major platforms I have in mind are:
Odesk > this is the biggest platform for freelance work
Elance > recently merged with Odesk, the offering is similar to Odesk
These two platforms work well for smaller scale projects and for time-rich-cash-poor companies. The main hurdle is picking the right people. For that, you need to invest a lot of time (even though the reviews from previous projects help, you'll get many results or many offers that you'll need to go through).
Recently, I found a few variants that aim at solving specific problems compared to the 'Odesk model':
Ziptask  > adds a project management layer. You pick a PM, the PM picks + manages the team/project.
Toptal >  pre-screens the freelancers for you. Before you can search for the people, you get an intake with a sales person and they provide the best fit.
Matchist > you post a project, they match the project with a pre-screened freelancer.
If you think we miss any other service, please put it in a comment or drop me an email.
It would help us a lot to get your feedback on our own platform. Here are some questions I would like you to address (put it as a comment or drop me an email).
1.      What would you say about the concept/value proposition of the staffing marketplace/platform (e.g. is it clear, would it appeal to you)?
2.      How distinct/similar is it comparing to other (known to you) staffing solutions?
3.      What would you say about the user experience, usability, layout etc. of the site?
4.      Would you sign-up/register (please do if you feel like doing so)? Please elaborate
5.      Would you immediately transact on the platform? If not, what would it take to make you transact? Please elaborate.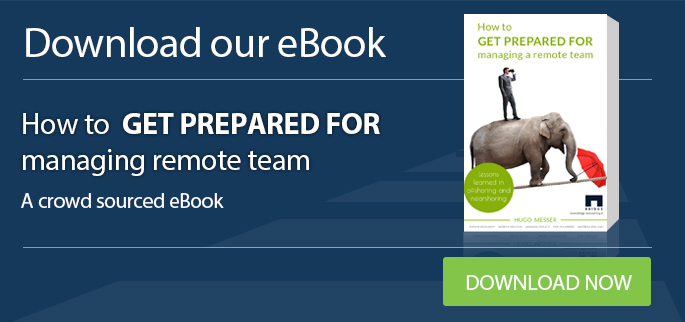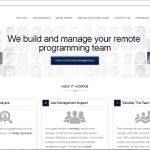 De laatste paar jaren hebben we gewerkt aan een online platform, Bridge Teams. Ik heb veel onderzoek gedaan naar outsourcing/recruitment/platforms huren en zou graag uw feedback ontvangen over het gebruik van deze types van service.
Bridge Teams stelt bedrijven in staat om (een team van) A-player ontwikkelaars. Gebruikers kunnen gedetailleerde profielen zien en kunnen om een interview vragen. Veel programmeurs zijn gescreend door ons en krijgen de label 'guarenteed'. Als het team eenmaal is geselecteerd, het team (alle werknemers van een bedrijf) zullen vanaf ons (of een van onze partners) kantoor werken. Een proces manager zal worden toegewezen om de communicatie te faciliteren tussen het team en de klant. Wij managen en verbeteren het team stap voor stap (gebruik makend van een gestructureerd persoonlijk ontwikkelingsproces, team activiteiten, training).
De huidige oplossing is gericht naar een software product en service bedrijven en enterprises de behoefte aan grote schaal (doorlopende) software ontwikkelingen. Omdat het moeilijk is om goede ontwikkelaars te vinden in veel landen, huren bedrijven ze in buiten hun eigen grenzen. Het werk zal gedaan worden vanuit ons kantoor in het buitenland (India/Oekraïne) of de personen kunnen verhuisd worden.
Op het moment kan het team samengesteld worden door het uitzoeken van individuen gebaseerd op hun skills en technologieën. De lange termijn visie is gebruikers in staat te stellen op bestaande teams te zoeken die vaker met elkaar gewerkt hebben in een bepaald domein, industrie, oplossing of technologie.
Het belangrijkste dat ik gevonden heb op vergelijkbare platformen is dat zij allemaal focussen op 'freelancers'. Mijn visie is dat hoewel freelancers projecten kunnen aannemen maar dat voor grootschalige projecten dit niet altijd de beste oplossing is. In grotere projecten wilt u een team dat werkt vanuit één plek, omdat het al meer dan genoeg complex is om vanuit 2 locaties te werken. Daarbij komt dat freelancers freelancers zijn geworden om 'free' te zijn > dat betekent dat u niet altijd kunt uitgaan van hun beschikbaarheid omdat ze vaak meerdere projecten hebben.
Grote platforms die ik gedachte heb zijn:
Odesk > dit is het grootste platform voor freelance werk
Elance > recentelijk samen gevoegd met Odesk, het aanbod is vergelijkbaar met die van Odesk
Deze twee platforms werken goed voor kleinschalige projecten en voor tijd-rijke-geld-arme bedrijven. De grootste hindernis is het uitzoeken van de juiste mensen. Daarvoor moet u veel tijd investeren (ondanks dat reviews van vorige projecten kunnen helpen, zult u vele resultaten krijgen met een groot aanbod waar u door heen moet).
Recentelijk heb ik een paar varianten gevonden die zich richten op het oplossen van specifieke problemen vergeleken met het 'Odesk model':
Ziptask > voegt een project management laag toe. U kiest een PM, de PM zoekt en managed het team/project
Toptal >  pre-screens de freelancers voor u. Voordat u kunt zoeken naar mensen, krijgt u een intake met een sales person en zij voorzien u van het beste mogelijke team.
Matchist > u post een project, zij matchen het project met een pre-screened freelancer.
Als u denkt dat we nog andere services missen, zet dat dan alstublieft in een commentaar of stuur me een email.
Het zal ons erg veel helpen om uw feedback te horen over ons eigen platform.  Hier zijn een aantal vragen die ik aan u wil stellen (zet het in het commentaar of stuur me een email).
1.      Wat zegt u van het concept/value proposition van de staffing marketplace/platform (oftwel: is het duidelijk en zou het u aantrekken)?
2.      Hoe onderscheid/is het gelijk aan vergelijkbare (bekende) staffing solutions?
3.      Wat zou u zeggen over de gebruikers ervaring, usability, layout etc. van de site?
4.      Zou u zich registreren (doe dit vooral als u dit wilt)? Vertel er graag meer over
5.      Zou u onmiddelijk verhandelen op het platform? Zo niet, wat zou er voor nodig zijn om dit wel voor elkaar te krijgen? Vertel hier graag meer over.