Does the situation in Ukraine affect nearshoring?Heeft de situatie in Oekraïne invloed op nearshoring?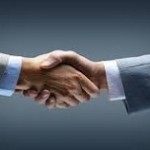 The past weeks I often get questions about Ukraine from people. They wonder whether we notice anything of the unrest in Ukraine and whether it affects the work our nearshore teams do.
From my perspective, it's simple: as long as nobody barricades our office or cuts the internet or power lines, business can go on. Our developers love their work and as long as they can do their work, they will. On the longer term, a change in government might affect laws, which may have an impact on the way nearshoring is organized. But the past years, Ukrainian government has discussed changing tax laws and only a very small new tax was added last year. So I am not worried about our office in Kiev and Odessa.
I spoke to a Dutch person working at one of our competitors in Kiev on monday. His remark was that the media make things look much worse than it is from the ground. He lives near Khreshchatyk in Kiev, the street that crosses the Maidan, where protestors 'live'. He even took some of his customers there, because the atmosphere is friendly and peaceful. A block away, near to the embassy area, there are more unrest, some people are demonstrating with a bit more agression. But that's just a small square close to a small park. So not much to worry about right now.
Dmitry Portnov, our director in Kiev shared his view too:
As you know, now we have a demonstration in Kiev, and in some other big Ukrainian cities. In Kiev the demonstration is going on in the 2 main streets and it doesn't  affect the operation of companies. All businesses still work in the same way as they worked 1-2-12-… months ago. Also our government is in a process of negotiations with the demonstrators, so it is not now in a very active phase and I hope that they will be able to find a good decision. So, the situation doesn't affect me and our employees in Kiev, except one programmer who asked me last week about vacation and he took part in the demonstrations.
About the labor market: it also doesn't affect the labor market and the situation on the market is still the same as 1-2-12-… months ago. I also monitor the community of IT outsourcing companies and it shows that the requests for services have increased in comparison with the last quarter of last year. As I have seen in Q4 2013, many companies had people on the bench and were looking for projects, but now we have the situation that they need new people and ask other companies for subcontracting.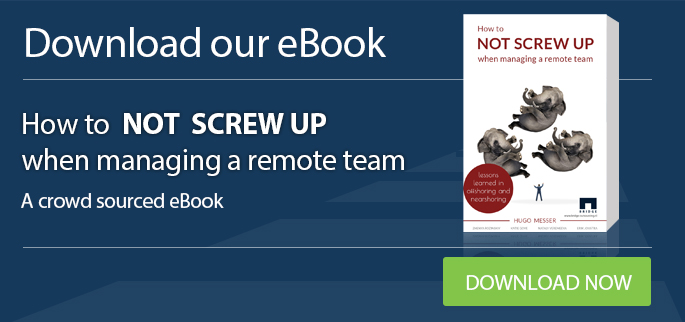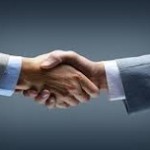 De laatste weken krijg ik vaak vragen over Oekraïne. Ze vragen zich af of we iets merken van de onrust in Oekraïne en of dit invloed heeft op het werk dat onze nearshore teams afleveren.
Vanuit mijn perspectief is het simpel: zolang niemand ons kantoor barricadeert of het internet of het stroom doorknipt, dan kunnen we gewoon werken. Onze ontwikkelaars houden van hun werk en zolang zij dit kunnen doen, dan doen zij dit ook. Op langere termijn, een verandering in de overheid kan wetten beïnvloeden die impact hebben op de manier van organiseren van nearshore werk. Maar de laatste paar jaar heeft de Oekraïense overheid het veranderen van de belasting bediscussieerd en een maar zeer kleine belasting was toegevoegd afgelopen jaar. Daarom ben ik niet bang voor ons kantoor in Kiev en Odessa.
Ik heb maandag met een Nederlander gesproken die werkt bij één van de concurrerende bedrijven in Kiev. Zijn opmerking was dat de media dingen erger laat lijken dan het in werkelijkheid is. Hij woont vlakbijKhreshchatyk in Kiev, de straat die de Maidan kruist, waar de demonstranten 'leven'. Hij heeft zelfs klanten van hem meegenomen daarheen omdat de sfeer daar vriendelijk en vredig is. Een blok verderop, vlakbij de ambassade, daar is meer onrust waar mensen met iets meer agressie demonstreren. Maar dat is maar een klein plein vlak bij een klein park. Dus weinig om druk over te maken op het moment.
DmitryPortnov, onze directeur in Kiev heeft zijn visie ook gedeeld:
Zoals u weet zijn er op het moment demonstraties in Kiev en in sommige andere grote Oekraïense steden. In Kiev zijn demonstraties gaande in 2 hoofdstraten en hebben geen effect op de bedrijven. Alle kantoren werken op dezelfde manier als 1-2-12-… maanden geleden. Daarnaast is de overheid bezig met onderhandelingen met de demonstranten, dus we zitten nu in een minder actieve fase en ik hoop dat ze een goed besluit kunnen maken. Dus, de situatie heeft geen invloed op mij en op de werknemers in Kiev, behalve één programmeur die me vorige week vroeg om vakantie die nu deelneemt aan de demonstraties.
Over de arbeidsmarkt: het heeft geen invloed op de arbeidsmarkt die nog steeds hetzelfde is als 1-2-12-… maanden geleden. Ik monitor ook de gemeenschap van ICT-outsourcing bedrijven en dat laat zien dat de aanvraag voor services zijn toegenomen vergeleken met het laatste kwartiel van vorig jaar. Zoals ik heb gezien in Q4 in 2013 hadden veel bedrijven mensen op de bank zitten die op zoek waren naar projecten, maar nu hebben we de situatie dat ze op zoek zijn naar nieuwe mensen en andere bedrijven vragen voor uitbesteding. 
Als je meer wilt weten over de geschiedenis van Oekraïne dat heeft geleidt tot de huidige situatie, kijk dan dit: 2 minuten Washington Post video.