Distributed sprint planningDistributed sprint planningDistribuerad sprintplaneringDezentrale Sprint – Planung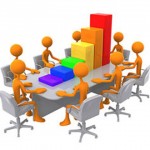 The past years I have been experimenting a lot with scrum in our offshore and nearshore cooperations. One of the most challenging parts of distributed scrum (the variant of scrum where team members cooperate from different locations) is organizing the sprint planning well.
The typical situation in smaller teams (especially for companies that recently started with offshoring, they typically start with few developers) is to have the product    owner and scrum master in one location and the developers in another location.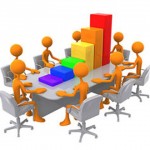 De afgelopen jaren heb ik veel geëxperimenteerd met scrum in onze offshore en nearshore kantoren. Een van de meest uitdagende onderdelen van distributed scrum (de versie van scrum waarin de teamleden vanuit verschillende locaties samenwerken) is het goed organiseren van de sprint planning.
De typische situatie in kleinere teams (in het bijzonder voor bedrijven die recentelijk zijn begonnen met offshoring, zij beginnen meestal met weinig ontwikkelaars) is om de product eigenaar en scrum master op een locatie en de ontwikkelaars op een andere locatie te hebben.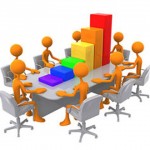 De senaste åren har jag experimenterat mycket med scrum i våra offshore och nearshore verksamheter. En av de mest utmanande delarna av distribuerad scrum (den varianten av scrum då teammedlemmar samarbetar från olika platser) är att organisera sprintplaneringen bra.
Den vanligaste situationen i mindre team (särskilt för företag som nyss har börjat med offshoring, de börjar oftast med ett få antal utvecklare) är att ha produktägaren och scrum-mastern på en plats och utvecklarna på en annan.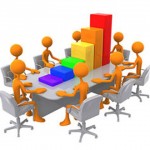 In den letzten Jahren habe ich viel mit Scrum in unserem Büro experimentiert und mit Nearshore Kooperationen. Einer der herausforderndsten Abschnitte mit einem dezentralen Scrum (die Variante, bei der Teammitgliedern von verschiedenen Orten zusammenarbeiten) ist die gute Organisation der Sprint-Planung.
Die typische Situation in kleineren Teams (besonders für Firmen die kürzlich erst mit Outsourcing begonnen haben, da sie typischer Weise nur mit wenigen Entwicklern anfangen) ist es, dass der Scrum Master und der Produkteigentümer am selben Ort sind und die Entwickler an einem anderen.In some cases there might be even more locations even in smaller teams, for example a designer working from home, the scrum master and html coder in one office and the coders in another country.
In the situation sketched, usually the product owner and scrum master do sprint pre planning meetings, either formal or scattered throughout the week. They add stories to the backlog in an online tool and have extensive discussions about the content of each story and maybe even describe tasks and subtasks. The sprint planning is then organized via Skype with the scrum master and the developers remotely.
The challenges that arise in this case:
– The developers miss all interaction with the product owner. For the scrum master, things may already be clear but developers get second hand information and miss the power of discussing each user story with the product owner.
– You risk creating mini- waterfall projects in which all information is gathered by the scrum master (who basically becomes the project manager), who described the requirements and assigns them to the developers. This misses one of the main points of scrum which is interaction.
– Because the scrum master has clarity about what each story is about, he will make assumptions that he may not convey to the remote team. The remote team, especially when they are from another culture, may not be asking enough to get the same clarity and hence start development with incomplete information.
To avoid communication problems, some solutions can be:
– Organize the sprint planning with the whole team in one conference call and include the product owner.
– Create a bigger team and have the scrum master on the same location as the developers. This gives the remote team much more responsibility and ownership of what they are making.
– Limit the sprint preplanning where only scrum master and product owner participate, to describing user stories only on a high level. Let the scrum master fill all the details in the sprint planning with the developers.
Maybe you have some additional solutions from your own experience?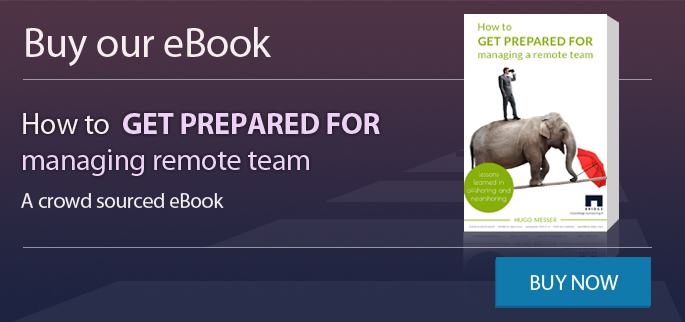 In sommige gevallen zijn er zelfs nog meer locaties, zelfs in kleinere teams, bijvoorbeeld nog een ontwerper die vanuit huis werkt, de scrum master en html programmeur in een kantoor en de programmeurs in een ander land.
In de geschetste situatie houden de product eigenaar en scrum master meestal sprint pre planning vergaderingen, of formeel of verspreid over de week. Ze voegen verhalen toe in een backlog in een online tool en hebben uitgebreide discussies over de inhoud van elk verhaal en beschrijven misschien zelfs taken en subtaken. De sprint planning wordt vervolgens georganiseerd via Skype met de scrum master en de ontwikkelaars op afstand.
De uitdagingen die zich voordoen in dit geval:
– De ontwikkelaars missen alle interactie met de product eigenaar. Voor de scrum master kunnen dingen al duidelijk zijn, maar ontwikkelaars krijgen tweedehands informatie en missen de kracht van het bespreken van het verhaal met de product eigenaar.
– Je riskeert het creëren van mini-waterval projecten waarin alle informatie word verzameld door de scrum master (die in principe project manager word), die de eisen beschrijft en ze toe wijst aan de ontwikkelaars. Deze mist een van de belangrijkste punten van scrum, namelijk interactie.
– Omdat de scrum master duidelijkheid heeft over waar elk verhaal over gaat, zal hij aannames maken die hij niet kan overbrengen naar het team op afstand. Het team op afstand vraagt misschien niet genoeg door om dezelfde duidelijkheid te krijgen, vooral als ze uit een andere cultuur komen, en beginnen daardoor de ontwikkeling met onvolledige informatie.
Om de communicatie problemen te voorkomen, kunnen sommige oplossingen zijn:
– Het organiseren van de sprint planning met het hele team in één conference call, inclusief de product eigenaar.
– Maak een groter team en zet de scrum master op dezelfde locatie als de ontwikkelaars. Dit geeft het team op afstand veel meer verantwoordelijkheid en eigendom van wat ze maken.
– Beperk de sprint pre planning waar alleen de scrum master en de product eigenaar aan deelnemen tot het beschrijven van user stories op een hoog niveau. Laat de scrum master in de sprint planning met de ontwikkelaars alle details invullen.
Misschien heb je wat extra oplossingen vanuit uw eigen ervaring?
I vissa fall finns det ännu fler platser även i ett mindre team, som t.ex. en designer som jobbar hemifrån, scrum-mastern och html-kodaren på ett kontor och kodarna i ett annat land.
I dessa situationer har produktägaren och scrum-mastern oftast ett möte inför springplaneringen, antingen ett formellt eller flera, utspridda under veckan. De lägger till saker till eftersläpning i ett onlineverktyg och har långa diskussioner om innehållet av varje story och kanske även beskrivandet av uppgifterna och underaktiviteterna. Springplaneringen är sen organiserad via Skype med scrum-mastern och utvecklarna på distans.
Utmaningarna som uppstår i det här fallet:
– Utvecklarna missar all interaktion med produktägaren. För scrum-mastern kan saker redan vara tydliga medans utvecklarna får andrahandsinformation och missar möjligheten att diskutera varje user story med produktägaren.
– Du riskerar att skapa mini-vattenfallprojekt där all information är samlad av scrum-mastern (som i princip blir projektledaren), som beskriver kraven och tilldelar dem till utvecklarna. Här missar man en av huvudsakerna till att man använder scrum – nämligen interaktionen.
– Eftersom scrum-mastern har klarhet av vad varje story handlar om, kommer han att göra antaganden som kanske inte förmedlas till det distanserade teamet. Teamet, särskilt när de är från en annan kultur, kanske inte frågar tillräckligt för att få samma klarhet och börjar därmed utveckla utan all information.
För att undvika kommunikationsproblem, kan några lösningar vara:
– Organisera en sprintplanering med hela teamet i ett konferenssamtal och inkludera produktägaren.
– Skapa ett större team och ha scrum-mastern på samma ställe som utvecklarna. Det här ger det distanserade teamet mycket mer ansvar och ägarskap över det de skapar.
– Begränsa mötet inför sprintplaneringen till att enbart scrum-mastern och produktägaren deltar, för att förklara varje user story på en högre nivå. Låt därefter scrum-mastern fylla i alla detaljer till planeringsmötet med utvecklarna.
Kanske har du några andra lösningar från egna erfarenheter att bidra med?
In einigen Fällen können es auch mehr Standorte sein, sowohl in kleineren Teams. So kann zum Beispiel ein Designer von zuhause arbeiten, der Scrum-Master und der Html-Programmierer können in einem Büro sitzen und die anderen Programmierer in einem anderen Land.
In der skizzierten Situation treffen sich der Scrum-Master und der Produkteigentümer zu Sprint- Vorabbesprechungen entweder formal oder in der Woche über verteilt. Sie fügen Stories zum Backlog mittels eines Online-Programms und haben umfangreiche Diskussionen über den Inhalt der einzelnen Geschichten und beschreiben vielleicht sogar Aufgaben und Teilaufgaben. Die Sprint-Planung wird dann via Skype mit dem Scrum-Master und dem Produkteigentümer aus der Ferne organisiert.
Die Herausforderungen, die in diesem Fall auftreten:
– Die Entwickler verpassen alle Interaktionen mit dem Produkteigner. Für den Scrum-Master können Dinge bereits klar sein doch bekommen die Entwickler nur Informationen aus zweiter Hand und vermissen die Befugnis jede User-Story mit dem Produkteigner zu diskutierten.
– Sie riskierten die Schaffung von Mini-Wasserfall-Projekten, bei denen alle Informationen vom Scrum-Master gesammelt werden (der im Grunde der Projekt-Manager wird). Dieser beschreibt die Anforderungen und weist sie den Entwicklern zu. Damit geht einer der wichtigsten Punkte von Scrum verloren, die Interaktion.
– Da der Scrum-Master die Klarheit hat über was jede Geschichte handelt, wird er Annahmen treffen, die er dem Team in der Ferne vielleicht nicht vermitteln kann. Das entfernte Team, besonders wenn sie einer anderen Kultur angehören, wird eventuell nicht genug fragen um die gleiche Klarheit zu erlangen und damit beginnt eine Entwicklung mit unvollständigen Informationen.
Um Kommunikationsprobleme zu vermeiden, gibt es folgende Lösungen sein:
– Organisiere die Planung des Sprints mit dem gesamten Team mittels einer Telefonkonferenz inklusive des Produkteigners.
– Erstelle ein größeres Team und platziere den Scrum-Master am selben Ort wie die Entwickler. Das gibt dem dezentralen Team viel mehr Verantwortung und Eigentumsgefühle an dem was sie kreieren.
– Begrenzen Sie die Vorabplanung des Sprints, an der nur der Scrum-Master und der Produkteigentümer teilnehmen, nur um die User-Stories auf einem höheren Niveau zu beschreiben. Lassen Sie den Scrum-Master alle Details der Planung des Sprints mit den Entwicklern zusammen einfügen.
Vielleicht haben Sie zusätzliche Lösungen aus ihren eigenen Erfahrungsschatz?