Digging and digging into Drupal open source cms

There is a really 'open' revolution going on. Not only in software business, there are many other products and projects based on 'open source' collaboration. Some say it's the next logical step in evolution of mankind.
We (Lucius Websystems) are strongly focused on the magnificent Drupal cms: an example of a world leading open source project. We don't build the core, but we provide services for the free product. So companies have someone to lean on. Things like consulting, training, writing documentation and coding for custom functionalities. So no charge for the product, but the services you provide for it. Currently we are also working on some modules and themes to contribute to the community. And I think a lot of products will evolve like this, were the internet provides the collaboration tools. And Google walks up front, with their free and distributed product models. With products, I also mean computer hardware, cars, food, you name it. Even Microsoft is doing some open source projects nowadays.
On http://www.ohloh.net there are over 433,883 (software only) open source projects listed right now, with over 524,039 people involved.
See also this article about open source hardware & crowdsourcing: "In the Next Industrial Revolution, Atoms Are the New Bits": http://www.wired.com/magazine/2010/01/ff_newrevolution/all/1
"Standing out, not standing in" – Jay Abraham
Why and how Drupal open source
After 1 year of Joomla! cms development, we shifted our full focus towards Drupal cms development about 4 years ago. Want to know what Drupal is all about? Check out http://drupal.org. See also http://drupal.org/features for full list. And "Drupal in 57sec." : http://www.pingvision.com/videos/1/what-drupal-57-seconds
This is why we choose Drupal:
Well, there are many reasons to go for Drupal, here are some of them:
Features out of the box:

Multi-langual
Multi-site
Very search engine friendly
Taxonomy, extensively categorize your content
Extensive user Access Control List / User management
Content type and field defining
Comment system
Version control
Download system
Logs -and error reporting
Search engine
RSS & RSS aggregator

Non-technical:

Open source: no licensing fees
Open source: no vendor lock-in
Large and dedicated community
Steady association (association.drupal.org)
Future proof: no brick walls. Because of the API core-functionality can be altered nice and clean in a module.
Lots of free Modules and Themes (3500+), http://drupal.org/projects
Migrating to Drupal is relatively easy
Help all over the place:

Over 250 000 users op Drupal.org, 300 new users per day.
Over 375 000 discussion threads on Drupal.org: forums, mailing lists, groups, etc.
375 000 discussion threads: forums, mailing lists, groups, etc.
30+ IRC Chat channels

Drupal distribution: ready to go Drupal installs:
Technical:

Great API, use Drupal as a framework for high-end websystems or easily and clean extend existing features
Hooks system
Very scalable
Modular built
Caching system
Content type and field defining
Node based system: consistency for content handling
Multi-database
All designs can be implemented, pixel perfect.
Drupal / open source, 2 most asked Questions I get from companies that are looking around:
1) What about the future, if I choose this product; will it still exist and be supported in the (near) future?

Drupal has got a very strong, dedicated and well organized community. That doesn't support commercial sale of modules. In some other communities, the core programmers earn lots of money in selling their own product / service. So they can't pay much attention anymore for the core project. Which is really a pity.
Drupal has an official association (association.drupal.org) that makes sure the project and trademark (http://www.drupal.com/trademark) will not be mis-used. They also organize DrupalCons. Next up is San Francisco (http://drupalcon.org)
There are more and more companies and freelancers that support Drupal.
2) Is open source safe?

Yes, it is. But tomorrow that can change. With a strong community, a patch for high security vulnerability will be produced and distributed very fast. So, if you programmed and deployed your websystem the right way, patching and keeping it safe is relatively easy.
Who uses Drupal
Some examples of Drupal based websites. For most prestige's cases, check out: http://buytaert.net/tag/drupal-sites

"The greatest amount of wasted time is the time not getting started" — Dawson Trotman
Getting started: Drupal installation and configuration
With Drupal it's possible to build a professional website, without technical knowlegde. With help of modules and themes you can build your site. Following links might help you with that:
Geting started: Drupal development
To develop a professional, scalable and future proof Drupal system, following links might come in handy:

"Give a man a fish; you have fed him for today.  Teach a man to fish; and you have fed him for a lifetime"—Author unknown
Drupal training

"One faces the future with one's past." – Pearl S. Buck
Drupal 7: The future
The brand new Drupal is currently in 'Alpha 1':

Books about open source / free business models
If you are interested in open source and the 'Freemium' model then you really should consider reading these books. They provide a really nice insight about the whole open source, free, gratis model:
'Free' — Chris Anderson:
http://www.amazon.com/Free-Future-Radical-Chris-Anderson/dp/1401322905/ref=sr_1_1?ie=UTF8&s=books&qid=1258817407&sr=1-1
'What would Google do' — Jeff Jarvis:
http://www.amazon.com/What-Would-Google-Do-LP/dp/0061719919/ref=sr_1_1?ie=UTF8&s=books&qid=1258817367&sr=8-1
And this one is more marketing focused, but also very interesting and covers some free models:
The Sticking Point Solution — Jay Abraham:
http://www.amazon.com/Sticking-Point-Solution-Business-Stagnation/dp/1593155107/ref=sr_1_1?ie=UTF8&s=books&qid=1258817478&sr=1-1
A very interesting documentary that covers some current open source deployment:
GNU / Linux : The Codebreakers: http://blip.tv/file/388239/
Greetings,
Joris Snoek
Lucius Websystems
www.luciuswebsystems.nl (redesign will be live in 2 weeks ;-) )
I tried my best, but I knów there is feedback. There luckily always is, so……
…please hit me!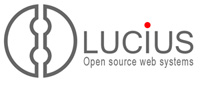 joris@luciuswebsystems.nl
http://www.twitter.com/joris_lucius
http://nl.linkedin.com/in/jorislucius