Cultural differences: is offshore or nearshore easier?Culturele verschillen: is offshore of nearshore makkelijker?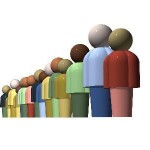 When people across cultures collaborate, there's always an influence of culture on the communication. When they're working distributed across the globe, there are other factors that can influence communication. What I always find striking is that people assume there are 'more' or 'less' cultural differences between one country or another. I always wonder whether it's true and whether it matters.
I visited Spain during my vacation and the past year I have heard several stories about Dutch companies working with Spanish people. Some moved them to their office in Holland, others sent their work to Spain. What I found striking in Spain is the working hours. I was all the way in the south, so in July it's HOT. Between 1 pm and 6 pm you'd better not move. And that's what really happens. People close everything from 2 pm till 5-5.30 pm. I was used to the timings in France, where they usually close between 1 pm and 3-3.30 pm. In Holland, 2-6 pm are working hours.
I heard some stories from companies who got Spanish people into their offices. They find their siesta so important that they just would demand it. Having a team of 4-5 people makes for a strange cultural change inside your own office as a big part of the team just stops working for several hours. Hours that you presume are productive, important working hours.
People say that working with India is harder than working with people in Eastern Europe, because the culture is 'more' different than with Eastern Europe. The same is said on Spain. I found some characteristics with Eastern Europeans as well. One of the things I have experienced many times is that they are comfortable speaking up and telling you things can be done differently (or just that you're dead wrong!). The flipside is what I call 'heals in the sand' > people can just take a stance and stay there, no movement. In India, people are often uncomfortable in confronting you when they think you're wrong. They are also used to getting told what to do.
When I work in a team, there are several individuals. To become an effective manager, I need to learn each team member's strengths, weaknesses, behaviors, values, convictions, dreams. By knowing my team members well individually, I can create understanding among the team members, distribute tasks and roles based on strengths.
In this last paragraph, did I describe a local team or a distributed team with people from different cultures? I had in mind a local team, but read it again and you'll see that the logic is the same for a distributed inter cultural team. The key is in understanding each person and in case of foreign team members, that means taking his cultural background into consideration (but that's not the only part of ones behavior).
I believe it doesn't matter where the person's from. What matters is that you accept the fact that there are differences. Based on this acceptance, you try to understand what the person's strengths, weaknesses, (cultural) values and drives are (as opposed to clinging to ones own cultural values and expecting the foreigner to adopt those values). With this understanding, you can create a cohesive, productive team.
So is someone from Spain or Ukraine easier or harder to work with than someone farther away? It depends. On that person. On you. On the maturity of your organisation. And on the way you manage the (cultural) differences.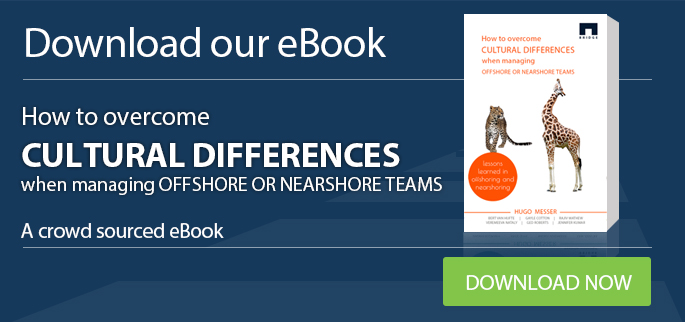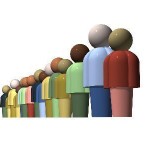 Wanneer mensen van verschillende culturen samenkomen, is er altijd een invloed van cultuur op de communicatie. Als ze verspreid over de wereld samenwerken, zijn er andere factoren die invloed kunnen hebben op de communicatie. Wat ik altijd interessant vind is dat mensen aannemen dat er 'minder' of 'meer' cultuurverschillen tussen het ene land en het andere zijn. Ik vraag me altijd af of het waar is en of het uitmaakt.
Ik bezocht Spanje tijdens mijn vakantie afgelopen jaar en ik hoorde verschillende verhalen over Nederlandse bedrijven die werkten met Spaanse mensen. Sommige verhuisden ze vanuit hun eigen kantoor in Nederland, anderen stuurden hun werk naar Spanje. Wat ik interessant vind, is de werkuren in Spanje. Ik was helemaal in het zuiden, dus in Juli is het daar HEET. Tussen 13.00 en 18.00 uur kan je maar beter niet bewegen. Ik was gewend aan de tijden in Frankrijk, waar ze meestal sluiten tussen 13.00 en 15-15.30 uur. In Nederland zijn 14.00-18.00 uur gewoon werktijden.
Ik heb verhalen gehoord van sommige bedrijven die Spaanse mensen in hun kantoren kregen. Ze vinden hun siësta zo belangrijk, dat ze het eisten. Het hebben van een team van 4-5 mensen geeft een vreemd cultuurverschil binnen je eigen bedrijf als een groot deel van het team simpelweg stopt met werken voor een paar uur. Uren waarvan je ervan uitgaat dat ze productieve, belangrijke werkuren zijn.
Mensen zeggen dat werken met India moeilijker is dan werken met mensen in Oost-Europa, omdat de cultuur 'meer' verschilt dan met Oost-Europa. Hetzelfde kan gezegd worden over Spanje. Ik heb ook wat karakteristieken van Oost-Europezen gevonden. Een van de dingen die ik vaak ervaren heb is dat ze comfortabel hun mening uiten en zeggen dat dingen anders gedaan kunnen worden (of simpelweg dat je fout zit!). De keerzijde is wat ik noem 'hakken in het zand' > mensen kunnen een houding aannemen en daarin blijven, geen beweging mogelijk. In India zijn mensen vaak oncomfortabel met het confronteren wanneer ze denken dat je fout zit. Ze zijn gewend aan verteld worden wat ze moeten doen.
Als ik in een team werk, zijn er verschillende individuen. Om een effectieve manager te worden, moet ik de krachten, zwakheden, gedrag, waardes, veroordelingen en dromen van elk teamlid leren kennen. Door mijn teamleden individueel goed te kennen, kan ik onderling begrip in het team creëren en taken en rollen uitdelen gebaseerd op hun sterktes.
Heb ik in deze laatste paragraaf een lokaal of gedistribueerd team met verschillende culturen beschreven? Ik had een lokaal team in gedachten, maar lees het nog eens en je zult zien dat de logica hetzelfde is voor een gedistribueerd intercultureel team. De sleutel is het begrijpen van ieder persoon en in het geval van buitenlandse teamleden betekent dat het in acht nemen van zijn culturele achtergrond (al is dat niet het enige onderdeel van iemands gedrag).
Ik geloof dat het niet uitmaakt waar een persoon vandaan komt. Wat uitmaakt is dat je het feit dat er verschillen zijn accepteert. Gebaseerd op acceptatie, kan je proberen te begrijpen wat iemands sterktes, zwakheden en (culturele) waardes zijn en wat ze motiveert (in tegenstelling tot vasthouden aan je eigen culturele waardes en verwachten dat een buitelander zich hieraan aanpast).
Met dit begrip, kan je een samenhangend, productief team vormen.
Dus is iemand uit Spanje of Oekraïne makkelijker of moeilijker om mee samen te werken dan iemand verder weg? Dat hang ervan af. Van die persoon. Van jou. Van de ontwikkeling van je organisatie. En van de manier waarop je omgaat met de culturele verschillen.