Bridge Global Expands Its Microsoft Gold Partner Certification Competencies
Bridge Global, a premier software solutions company based in Amsterdam, Netherlands, has achieved Microsoft Gold Partner Certifications in two more competencies.
The newest Microsoft Gold Partner Certifications are for 'Application Development' and 'Application Integration'. The organization already holds a Gold certification in DevOps and a SIlver certification in 'Datacenter'.
Microsoft Gold Partner Certification - What Does It Mean?
Microsoft Gold Certified partnership is the top certification obtainable by Microsoft Partners. Organizations need to enhance their Microsoft competencies to suit Microsoft's constantly advancing solutions. A Microsoft Gold-Certified partner is a company that has consented to have a close collaborative relationship with Microsoft. Having this title means the company joined in the Microsoft Partner Network community, qualified for membership, and satisfied the requirements set forth by Microsoft.
The certification means that Bridge Global keeps up with Microsoft's evolving solutions and can deliver expert Microsoft development services. It also means that we can meet the meticulous standards set by Microsoft; our competent professionals can help clients with the required technology solutions; we have direct access to advanced support partners within Microsoft Business Solutions; we are privileged to access diverse product licenses; and so on.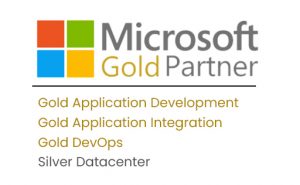 Krishna Jothis, CEO of Bridge Global commented, "We are glad to stay on top of the competency requirements put forth by Microsoft. We are eager to use our specialized skill set to implement particular tech solutions for our clients. Kudos to our .NET team for achieving this certification".
Vishnu K J, Project Manager at Bridge Global said, "We are elated to get this authentic attestation from Microsoft that we are fully capable of leveraging the latest Microsoft technology to help clients to succeed in their business".
Microsoft kickstarted the Partner Program in December 2003. It epitomizes Microsoft's ongoing commitment its global partners' success. The program lays out an exclusive partnering framework to appreciate partner expertise, to acknowledge the total impact that partners have in the technology marketplace, and to offer more value to partners' businesses.