Basic rules for creation sites for users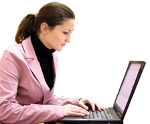 Lately, website usability is the favorite subject for a lot of people to talk. It is very popular word especially if you work in IT sphere.
Usability, user-friendly – it is a kind of mantra for project-managers, designers and developers. It is not enough just create a web site or a program, which will do certain functions, everybody feel the need to improve their sites, to make them easier and more pleasant to use, to increase their conversion rates etc.
When user first time visits the site he should not think about how it works, he should immediately start using it and easily find info he needs. Don't make users strain their brain, don't make them think; just provide them with the access to necessary information.  If it's not obvious it is not usability – that's the main idea.
There are lot of definitions for this term , and since usability it is a kind of not measurable and  pretty subjective  thing, everybody try to explain it as literary as they can. Thousands of books and articles are written on that subject, but now I'd like to stop on Eric Reiss since some time ago I had possibility to visit his lecture and still quite impressed.
Eric Reiss, one of the most influential figures on the European information architecture/usability/user experience scene.
The lecture was devoted to a set of rules (Eric calls it a dogma), following which will help to create sites for users, free from the dictates of technology and fashion.
Here are those rules:
Everything that exists only to meet internal politics of a site owner must be eliminated.
Everything that exists only to satisfy the designer's ego must be eliminated.
And no matter how creative designer is.
Usability must never be sacrificed in the name of style guide.
Anything that does not correspond to the page content must be eliminated.
Content must be possible to read, possible to print, possible to download.
Any feature or technology, which hinders the freedom of site navigation, must be corrected or eliminated.
Any interactive object that forces the user to guess its purpose must be corrected or eliminated.
No additional software, apart from the browser itself, must be required to get the site to work correctly.
No visitor must be forced to register or send personal data unless the site owner is unable to provide a service or complete a transaction without it.
Can you remember now how many sites personally you left after you got lost in its navigation nets, how many sites irritated you with their "genius" flash intro or banners? No, I don't think you remember those sites. You just closed them immediately and forget about their existence. That's normal reaction, but that's not what site owners expected when they launched the site.
So it may sounds silly, but simple control If site structure, design and content are following these rules will help to make it better, easier and more popular.