An Android based tablet for $60…!!Een Android tablet voor $60…!!En Android-baserad surfplatta för $60…!!Ein Android basiertert Tablet-PC für $60…!!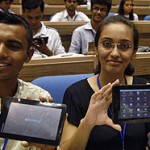 An android based tablet computing device with 350 gm weight, 7" size touch screen, 800 x 480 pixel resolution, OS:Android 2.2, 256 RAM,2GB storage capacity, 366Mhz processor, 3 hour battery back-up, 2 USB ports, support Wi-Fi connectivity, supports more than 150000 apps, supports almost all image formats, Video formats, audio formats and the price….. $60..!!!!
The name of this Indian tablet is called "AAKASH" means "sky". This amazingly ultra low price device that offers good quality and packs all common features found in Android tablets is a wonder for the tech world.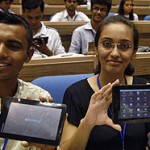 Een android tablet dat 350 gram weegt, een 7 inch touch screen heeft, 800 x 480 pixel resolutie, OS:Android 2.2, 256 RAM, 2GB opslag capaciteit, 366Mhz processor, een extra back-up batterij die het 3 uur volhoudt, 2 USB poorten heeft, en ook nog Wi-Fi, meer dan 150000 apps  en bijna alle beeld, video en audio bestanden ondersteunt. En hij kost: …. $60..!!!!
De naam van deze tablet van Indiase makelaardij is "AAKASH" wat  "lucht" betekent. Deze tablet biedt goede kwaliteit en alle normale functies van een Android tablet voor een extreem lage prijs. Hier is hierdoor een geweldige aanwinst voor de wereld van de technologie.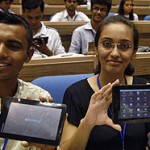 En Android-baserad surfplatta med en vikt på 350 gram, 7-tums touch-screen, 800 x 480 bildpunkters upplösning, OS: Android 2,2, 256 MB RAM, 2GB lagringsutrymme, 366Mhz processor, 3-timmars batteritid, 2 USB-portar, stöd för Wi-Fi anslutning, stöd för mer än 150 000 appar, stöd för nästan alla bilformat-video och- ljudformat, och priset….$60..!!!!!
Den heter "AAKASH" vilket betyder "himmel". Denna fantastiska enhet med ett ultralågt pris erbjuder bra kvalitet och rymmer alla vanliga funktioner som finns i Adroid-tablets är ett under för teknikvärlden.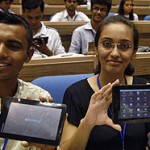 Ein Android basierter Tablet-PC mit einem Gewicht von 350g, einem 7" Touchscreen, einer 800 x 480 Pixel Auflösung, OS: Android 2.2, 256 RAM, 2GB Speicherkapazität, 366 Mhz Prozessor, 3 Stunden Akkulaufzeit, 2 USB-Anschlüsse, unterstützt Wi-Fi Verbindungen, unterstützt mehr als 150000 Apps, unterstützt fast alle Bildformate, Videoformate, Audioformate und der Preis ….. $60..!!!!
Der Name dieses indischen Tablet-PCs ist "AAKASH" was "Himmel" bedeutet. Dieses erstaunlich günstige Gerät, das gute Qualität bietet und alle gängigen Features, die es bei Android Tablet-PCs gibt, in sich beinhaltet, ist ein Wunder für die technische Welt.
This device is developed by B.Tech students of Indian Institute of Technology(IIT), Rajasthan in partnership with DataWind, a London-based manufacturing company and took six years to develop. Aakash is assembled at DataWind's new production centre in the southern city of  Hyderabad, India.
Aakash has been developed as a part of the National Mission on Education through Information and Communication Technology and with the objective to link 25,000 colleges and 400 universities for an e-learning programme. This tablet targets students who admires tablets but cannot afford its high cost. Soon, its subsidized $35 version will be made available to every student and teacher in school in India. This hand held device is going to create a drastic change in the educational sector of India.
Country's premium educational institutions like IITs, IIMs and top business schools already started teaching via electronic class rooms and using digital content to their students. The company is targeting 220 million Indian students market initially, before going in to the other world markets.
Products and services with 'made in India' tag  is becoming more and more attractive and valuable. India's great talent pool and motivated professionals are the key factors that contribute to this.