5 Tips to Avoiding Bad Website Design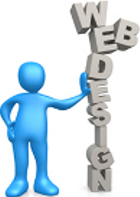 There are many guides on the internet telling you how to perfect your cool web design skills. Some will tell you that you need to take a course that will give you the required skills, and others say that practice makes perfect. In reality, a combination of both is probably the best, and most people can learn what to do to make a website look good. However, some common web design mistakes could make a website unpopular, no matter how good the content is.
Too Many Colors
A splash of color can add a lot to a bland website, but some people take it too far. It is a lot better to use a nice simple design with a simple contrasting color scheme than one with far too many colors, and worst still, text in a color that is unreadable against the background. Always try to have lots of contrast between the background and text to make it as readable as possible and avoid using similar colors for both. If visitors can't read the text they won't stay, no matter how much they're interested in the content.
Too Much Information
Some sites have a lot of information that the visitor might be interested in, but there is no need to have all the information on the same page. The same goes for making it difficult to find that valuable information. If somebody wants to visit your website to buy a product and they cannot find it easily then poor website design has essentially lost your company a sale. Make all of the content on each webpage relevant and interesting, and remember not to put too much information in one place. By having a site with great content, you just might win links from other sites, which will ultimately increase your traffic and rankings.
Slow To Load
You might have a lot of great content on your website, but if has a large amount on the home page and takes a long time to load then visitors simply won't come back. You might have a great video advertisement, but you shouldn't force every visitor to have to sit through it every time they come to your site. By all means give them the opportunity to watch it if they want to, but don't force them into it. The longer a site takes to load up, the less likely visitors are going to stay around.
Stop Potential Sales
If you are trying to sell products on your website, then one of the most important errors to avoid is making it difficult to buy your product. Have a clear link to the sales page from every page of content and make it available to as many potential visitors as possible. It's no use having a great homepage design that uses all of the great new features of Internet Explorer 9, if only 20 percent of your potential customers use that browser. You would be instantly cutting out 80 percent of your potential market.
Too Many Errors
All the text on your website needs to be accurate and all of your links must work. Any factual errors will stop visitors from coming back and are easy to avoid. There is nothing worse than clicking on a link just to receive a "Page Not Found" error, especially if the link is to another page on your site. It's more understandable if it links to another site and they have moved it, but even so it all links should be tested on a regular basis.
As you can see, most of these are fairly basic mistakes that are simple to avoid with your homepage design. If you don't have the skills to create a website on your own, then think about hiring one of the experts to do it for you. After all, if you're going to build a site, shouldn't it be designed to propel you to success?