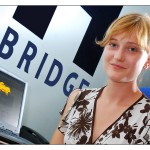 When I was asked to write a short piece of text about myself and why I am a contributor to the Bridge Blog, I was wondering what I should write, something about my life, my career? Finally I came to the conclusion to write about both. So let me start with …
… I was born in a small city near Berlin, Germany, around 23 years ago. I grew up like all children in Germany, visited the Kindergarten, the primary school and graduated from secondary school. After finishing secondary school I decided to study something referring to business administration, and due to the reason that I was also interested in learning about other cultures and languages, I went out to study tourism management at the University for Applied Science "Hochschule Harz" in a small city called Wernigerode. During 2 ½ years of studying I got to know about the international student organization called AIESEC, which had a local committee at my university. This organization arranges cultural exchange of students from all over the world via internships abroad, discussions about cultural and social issues or international as well as national conferences. I was simply impressed by the effort AIESEC members all over the world take to built up a cultural understanding and so I took my chance and became a member as well. For nearly 2 years a worked for AIESEC at my university, one year as the financial vice president or in other words as the bookkeeper of my local committee. Due to the reason that doing an internship is an obligation to finish my studies I decided to go for an internship abroad with AIESEC. After lots of applications in countries like the USA, China, Japan or Korea, I finally got the offer to work for Bridge in India. That is why I am now living in Kochi, Kerala, India and work as an Account Manager for Bridge India. My work is mainly about the communication to our German clients and about showing the advantages of outsourcing with Bridge India to any new clients.
The decision to go to India and work for Bridge was truly one of the best I ever made. Every day I discover something new about the country, so far away from my home country, India. I found a lot of new friends, at work, from AIESEC in Kochi and surely some other Europeans trying to get to know the secrets about India.