Open Coffee Alkmaar donates stitching machine in IndiaOpen Coffee Alkmaar doneert naaimachine in IndiaOpen Coffee Alkmaar donerar sy maskin i IndienOpen Coffee Alkmaar spendet Nähmaschine in Indien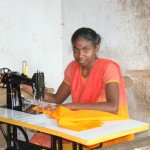 After making a donation for the education of Meenu, an orphan from Kochi, we got to help out the twenty year old Neethu with another donation of members of Open Coffee Alkmaar, Netherlands.
Neethu was born in a poor family. Her father is a laborer in Adimaly, Kerala and her mother helps him by going for some labor works. After her 9th standard she couldn't continue her studies as her parents were not able to afford the expenses of the studies of their 3 children. Helping her parents became her priority which made her work at a nearby stitching shop. She works there for 2 years now and would like to start working independently as she receives a very low salary. Although she was getting some enquiries, she was not able to take up the jobs as she did not have a sewing machine.
At this point we got the chance to help Neethu. Buying her a stitching machine would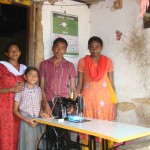 really help her to start working independently. We delivered it to her and her face was shining like a bright star. The whole family looked at us with such great gratitude! She would like to start a shop if everything works out well. She hopes that she could help her siblings with their studies. At the beginning she expects to make 150-200 Rupees a day. Let's hope everything works out great for her!
AneeshSreedharan
Programmer, Bridge India