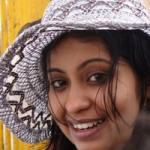 Its been a wonderful journey with Bridge for an year. I joined Bridge in 2009 February and have enjoyed being part of the company during the ups and downs. I have not known another company that could beat the work atmosphere here and the team is 'the' best!
I am from a town called Allepey in Kerala , where you have the backwaters and houseboats.  My tryst with IT started around 5 years ago and in the course have been happily married and a mother of a naughty 2 yr old.
Looking forward to a great work relationship with Bridge in the years to come.