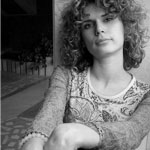 Ksenia was born in creative family – parents and grandfather are artists. So she never had a problem with occupational choice, she always knew that she will be a designer. However Ksenia doesn't have any artistic education except that her family gave her. She has graduated the Informational Technologies faculty of Moldavian State University.
Ksenia has been working for different Moldavian companies as a web-designer, flash-animator, illustrator and tech-designer for the last 10 years. In June of 2008 she became a designer, flasher-animator and illustrator for a Dutch company Techno Design IP. http://www.technodesignip.com/
Her work is to make interactive creations for social network sites, such as Windows LiveTM Messenger, Facebook and Hyves,  as well as for websites and applications.
She considers it an honor to work for such clients as Nike, Adidas, Ford, Alfa Romeo, Disney, 20th century Fox, T-Mobile etc. In addition of that Ksenia has very interesting projects for www.Quebles.com – here she can realize her own ideas on any different subjects.