Digital Marketing Trends that Are Going to Rule the World in 2020
Digital Marketing is marketing your product/service through the means of digital media. You can increase conversion by promoting it via digital media platforms. As digital marketing is creating a big buzz these days, it has taken a giant leap and it has become the driving force of any firm.
Digital strategies are always changing as per the search engine updates. The main challenge faced by every marketer is the need to adopt other avenues to outpace the competition. For many years it is affirmed that long term keywords, content optimization, and search-engine-optimized websites help many businesses to live in success. However, these facts alone won't help you rank. To ensure your ranking at the top of the search engine ranking page, it's important to innovate and improve upon existing trends and strategies.
Digital Trends With the Power to Shape 2020
The year 2019 has witnessed many changes in the realm of digital marketing from web design trends to the emergence of micro-moments. Looking beyond 2019, these are the few potential digital marketing trends of 2020 which is going to rule the world.
1. Mobile OS Optimization
Marketers emphasize more on making their content mobile-friendly as Google has recently prioritized mobile-first indexing. Mobile optimization is the process of ensuring that your customers who are accessing your content from mobile feel more comfortable.
If you have a well-optimized website for search engines, there are only a few more factors to do for optimizing your site for mobile devices. Those are page speed, Don't block CSS, JavaScript, or image, site design for mobile, optimized meta title and description, optimize the site for local search, Use Schema.org structured data, etc.,
2. AR & VR Marketing
Many companies like AMC theaters are experiencing AR and VR marketing techniques. By 2020, even more companies are expected to jump on this bandwagon. To keep the e-commerce business going well, business owners need to create an interactive shopping channel, add new features, optimize the user experience and personalize it according to a buyer persona. This will finally end up with AR and VR marketing. Also if the businesses are willing to use this AR and VR marketing, they need to optimize their content for AR and VR devices.
3. Live Videos to Spread Your Business
Live content is the fastest-growing segment of internet video traffic thanks to Facebook, YouTube, and Instagram. Live streaming of content also provides real-time user engagements. Viewers need to view user content based on your time, not theirs.
Live streaming content allows marketers to easily approach their leads, following up on them, improve their relationship with the followers, reach a broader audience and boost their social channels traffic.
4. Give Prominence to Psychological Variables
Giving prominence to your consumers' psychological drivers will help you optimize your marketing campaigns.
The options like demographics and ad copy A/B tests by Facebook help users to see which approach will work and understand the target individuals than a broad audience.
Smart marketers will use analytics tools such as heat map to understand the audience behavior on the website. This may force a psychological variable to become a norm in 2020.
5. The Emergence of Smarter Chat
Smarter chatbots are rising in the marketing industry from a few recent years and which will persist in 2020. Chatbots play a very important role in the industry as they improve the customers' experience with the website. They also allow marketers for better engagement with the customers – without really doing much. They offer real-time and dedicated support to users. Proactive interaction happens when they share their requirements via chat support.
6. Sentiment Analysis
The robots of Google and Sony already started writing music. About 10 years ago nobody dreamed such a thing.
When we express our review of a product or something as a comment or tweet we normally use some keywords such as fantastic, excellent, and sometimes terrible. AI studies subtleties of human communication and analyses whether the post is positive, negative or neutral. This new trend is called Sentiment Analysis.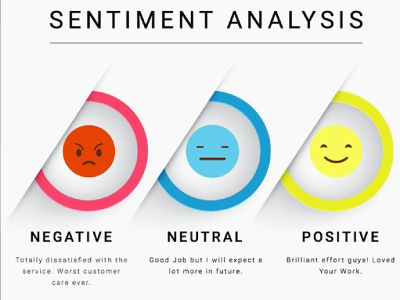 Summing Up
Understanding the future of Digital marketing trends and the effective use of them makes a useful step for brand promotion and hence the business. The 2020 customers are on their way. Are you digital ready? Share your thoughts in the comments below!